The Venice, CA Condominium Market Trends Report is published... lately all I read on the Internet and in the News Media is bogus or bad information. Hence I felt obligated to provide Real and Quality Information. Take my word for it the greater Los Angles Real Estate Market is still hot.
So with that said let's look at the Venice Condominium Market Trends!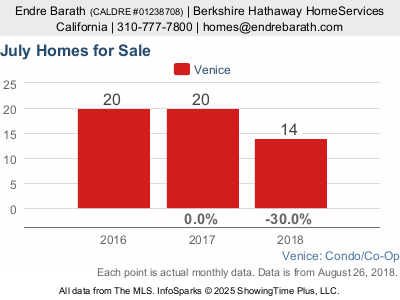 As you can see from the above chart Inventory is still tight and looks like it remains tight. Clear sign that it will be and still is a Seller's Market in Venice, CA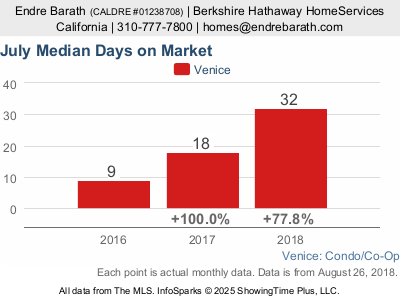 Looking at the Days on Market you would think the world is coming to an end if you went with the Per Cent Statistics. On the other hand if you look at the days on market, must admit it is not on fire like in 2016, but in spite of it it is still a fast market.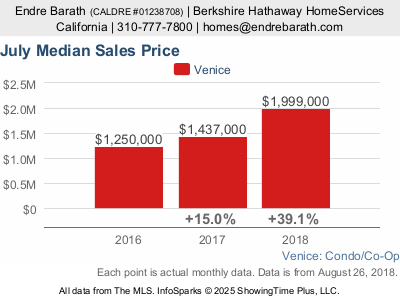 Most of my readers would understand it the prices increased by $700,000+ in three years it would be understandable why now it takes about 32 days to sell a property. Not every one has about $1.8 million to purchase a condominium.
Never the less if you know Venice, that means the Pacific Ocean is your back yard and on either side of it Marina Del Rey and Santa Monica are even more expensive. Hence Venice is still a good value even at these price points.
Now, if you are looking for a knowledgeable, focused and goal-oriented Realtor in the Beverly Hills area who will help you achieve your Real Estate goals, please reach out to me directly!
If you are looking for a pet friendly Beverly Hills Realtor who can handle and sell the most difficult properties that no one else could, please reach out to me directly!! If you are considering buying or selling a home, a luxury home, luxury investment real estate, luxury vacation homes, or luxury beach properties in Southern California, Los Angeles, Century City, Westwood, West Hollywood, Beverly Hills, Marina Del Rey, Venice or Malibu, feel free to contact me at 310.486.1002 (m) or homes@endrebarath.com or visit one of my websites at https://www.endrebarath.com  I contribute a portion of my commission to local animal rescue organizations.