The streets were busy again this morning as Charlotte Mecklenburg Schools started its 2018-2019 school year.  CMS has some fantastic schools supported by strong PTOs.  Today's spotlight is on PROVIDENCE HIGH SCHOOL -- where both of my daughters graduated -- and the homes for sale in the Providence High School Zone.
Providence High is in Charlott'e South Charlotte area and serves over 2,000 students grades 9-12.  It ranks among the top 5% of high schools in NC and places high emphasis on academic rigour as well as exrta curricular activities.  Provdience students have the highest SAT average and Avdvanced Placement (AP) passage rate in the region.  It ranks among the top high schools in the are in US News and World Reports ranking of high schools in america.  Providence also places a strong emphahsis on sports and clubs/organizations to appeal to all students.  
Real Estate Market Actitivy for homes for sale in the PROVIDENCE HIGH SCHOOL AREA 
Average Sales Price for Homes For Sale in PROVIDENCE HIGH SCHOOL ZONE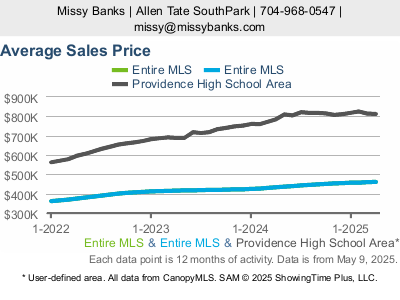 Average price per square foot for homes for sale in PROVIDENCE HIGH SCHOOL 
Providence Plantation homes for sale
Townhomes/comdos for sale in Provdience High School Zone
Single Family homes for sale in Provdience High school Zone
Written by Missy Banks, REALTOR with Allen Tate Real Estate.  Missy and AgentBecky.com are your source for home buying or selling in Charlotte NC.  AgentBecky.com is the most user friendly and comprehensive real estate search tool in the market.  Whether buying or selling in the Charlotte area, call Missy 704-968-0547.