#SellYourHomeForMoreandPayLess #TimeToSell #ChrisBJohnsonRealtor #SellersPayZEROCommission  #ListYourHome&PayNoCommission #BetterThanFSBO #5StarREALTOR®
Your home is probably the biggest asset you own. This is why you should hire a professional to guide you through all your real estate transactions. My goal is to help 24 to 28 families each year either buy or sell a home. I am NOT interested in Selling 100 or 200 homes a year because I would not be able to give each family the time, attention and energy they deserve........
Rising home prices have been in the news a lot lately and much of the focus has been on whether home prices are accelerating too quickly, as well as how sustainable the growth in prices really is. One of the often-overlooked benefits of rising prices, however, is the impact that they have on a homeowner's equity position.
Home equity is defined as the difference between the home's fair market value and the outstanding balance of all liens (loans) on the property. While homeowners pay down their mortgages, the amount of equity they have in their homes climbs each time the value of their homes go up!
According to the latest Equity Report from ATTOM Data Solutions, "13.9 million U.S. properties in Q2 2018 were equity rich — where the combined estimated balance of loans secured by the property was 50 percent or less of the property's estimated market value — representing 24.9% of all U.S. properties with a mortgage."
This means that nearly a quarter of Americans who have a mortgage would be able to sell their homes and have a significant down payment toward their next home. Many who sell could also use their new-found equity to pay off high-interest credit cards or help children with tuition costs.
The map below shows the percentage of properties with a mortgage in each state that were equity rich in Q2 2018.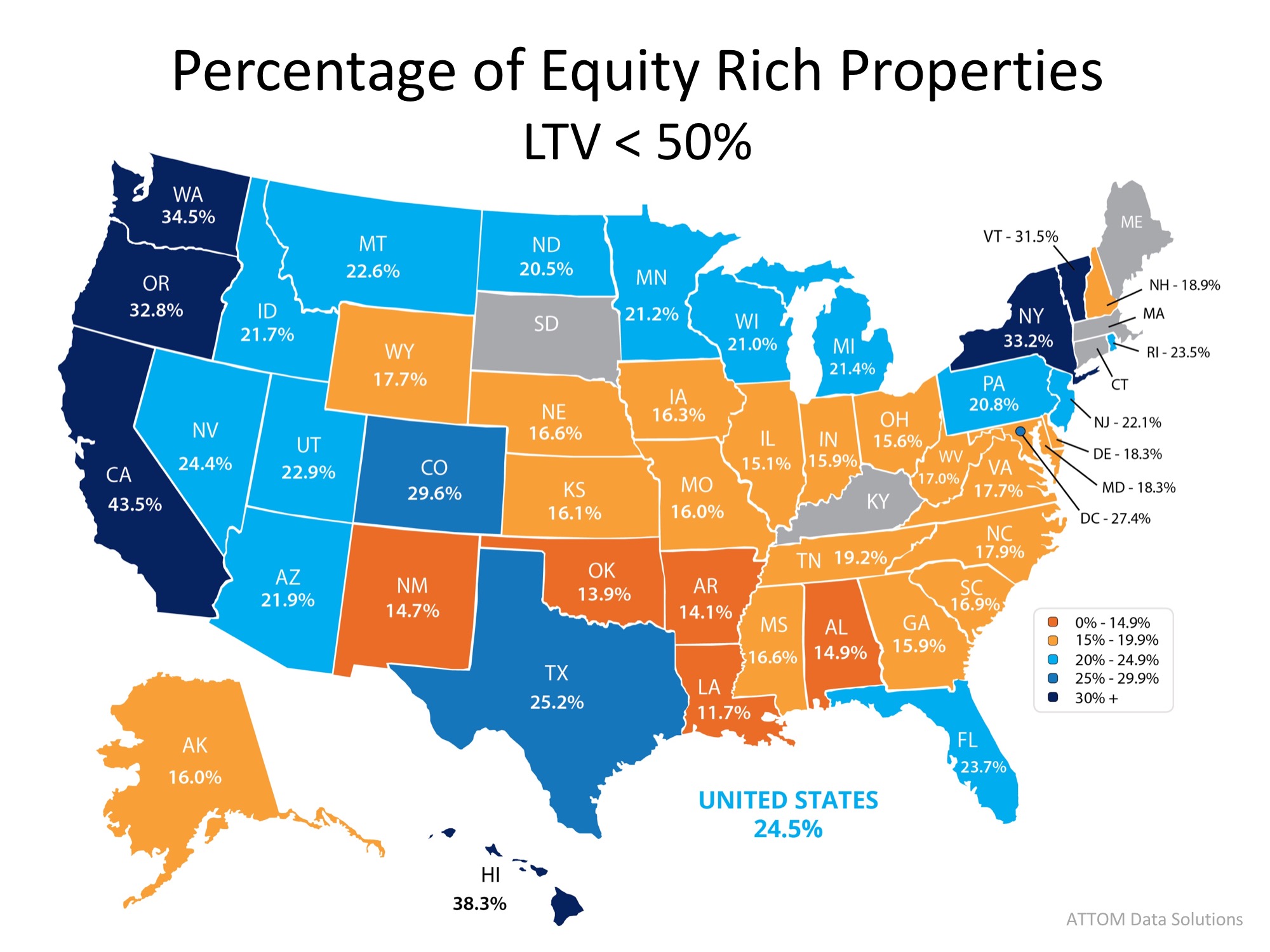 Bottom Line
If you are a homeowner looking to take advantage of your home equity by moving up to your dream home, let's get together to discuss your options!
The information contained, and the opinions expressed, in this article are not intended to be construed as investment advice. Keeping Current Matters, Inc. does not guarantee or warrant the accuracy or completeness of the information or opinions contained herein. Nothing herein should be construed as investment advice. You should always conduct your own research and due diligence and obtain professional advice before making any investment decision. Keeping Current Matters, Inc. will not be liable for any loss or damage caused by your reliance on the information or opinions contained herein.