Who would you ask for the best Halloween events this year in the Phoenix Arizona metro area, Herman Munster or me, your personal REALTOR. Sure Herman looks the part but I have been in the Phoenix metor and Arizona for a long time. OK, OK you are going to ask Herman Munster...well here you go!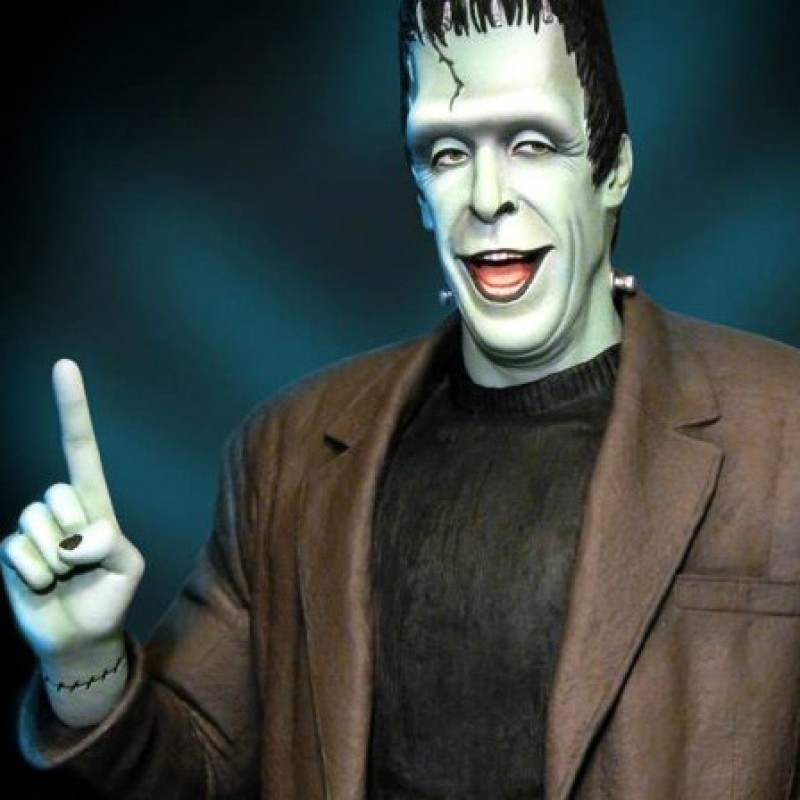 If Herman Munster was a Real Estate Agent, he could give you Halloween event choices based on his very specific knowledge, but would his home selling ideas coincide with what most Buyers want? Herman, if you recall on TV's The Munsters had some unique ideas regarding entertainment and home decoration. Would Herman's ideas help you find the right Halloween activity for the family or a home Seller get an offer at the best price for the Seller? You can decide here.
Phoenix Arizona Metro Halloween Events for 2018
Halloween Spooktacular: Chandler October 26 480-782-2735chandleraz.gov/spooktacular Dr. A.J. Chandler Park (3 S. Arizona Avenue) hosts a family night of free, frightful fun from 5:30 to 8:30 p.m. Activities include ghoulish games, a haunted house, trunk-or-treat, arts and crafts, and a costume contest.
Subaru Kids Obstacle Challenge : Chandler October 20 www.kidsobstaclechallenge.com/ Rawhide Event Center hosts the ultimate family adventure: the only obstacle course designed for kids ages 5 to 16, where both kids and parents get to run together on a 1.5- to 2-mile course with mud, water and obstacles.
The Desert Skull: Their Spirit Remains : Fountain Hills October 25 to November 5 www.fountainhillsartistsgallery.com The Fountain Hills Artists' Gallery hosts its second annual themed art exhibit, featuring interpretations of the desert skull. Opening reception October 25 from 5 to 7:30 p.m.
Enchanted Trail / Sendero Encantado at Nina Mason Pulliam Rio Salado Audubon Center : Phoenix October 5 to October 6 602-468-6470riosalado.audubon.org Take part in an Enchanted Trail (Sendero Encantado), a free annual, bilingual and educational family festival. The "nature by night" fall festival teaches children and adults about nature, science and Arizona's nocturnal wildlife. Free.
5th Annual Clarktoberfest : Clarkdale October 6 928-639-2500ExperienceClarkdale.com Historic downtown Clarkdale hosts a HOWL-O-Ween event for dogs with something for kids and dogs of all ages. Festivities include sampling craft brews, dancing in the streets, munching on delicious food, art and handicrafts.
Enchanted Pumpkin Garden : Carefree October 19 to October 28 EnchantedPumpkinGarden.com/ Carefree Desert Gardens features world-renowned artist Ray Villafane in this one-of-a-kind event featuring live carvings, photo ops with a "Giant Sized" pumpkin, refreshments and music.
9th Annual Halloween Balloon Spooktacular : Scottsdale October 26 to October 27 480-270-5000saltriverfields.com/ Salt River Fields features more than 20 colorful hot air balloons to light up the sky, candy for trick-or-treaters, tethered balloon rides, live music, food, drinks and a kid-friendly haunted house fit for all, plus fireworks.
The Howling Night Run – Cesar Chavez Park : Laveen October 27 602-402-3332www.HowlingNightRun.com Join us this year at the Howling Night Run's new location and get ready for a fright night and run, walk in the dark at this year's Haunted Island! Come in costume or come as you are!
Haunted History : Sedona October 27 928-282-7038sedonamuseum.org Sedona Heritage Museum presents ghost stories of the great Southwest, the Verde Valley and Sedona presented by playwright, actor and author Michael Peach. Enjoy Peach's cowboy poetry, humorous stories and historical narrative.
Downtown Phoenix Oktoberfest : Phoenix October 6 www.dtphxoktoberfest.com CityScape (1 E. Washington Street) hosts traditional German food, beer and festivities from 4 to 10 p.m. Tickets are $10 online and $15 at the gate. This is a 21-and-over event.
12th Annual El Dia de los Muertos Celebration at Mesa Arts Center : Mesa October 27 to October 28 480-644-6500www.mesaartscenter.com/diadelosmuertos Spirits connect at this free festival offering live entertainment, children's activities, face painting, a variety of food options, studio demonstrations and a Mercado Marketplace featuring traditional and contemporary merchandise.
10th Annual Day of the Dead : Prescott October 28 928-445-1230smokimuseum.org Celebrate Dia de los Muertos at the Smoki Museum with tamales, margaritas, cerveza, mariachis and ballet folklorico. Free.
Halloween in the Hills at Avenue of the Fountains : Fountain Hills October 31 480-837-8168www.halloweeninthehills.com Businesses remain open for trick-or-treating, and merchants will be handing out candy, popcorn and treats. Included in the festivities are games, bounce houses and free carnival games, and four-legged canine "kids" are welcome.
PoeFest : Phoenix/Scottsdale October 5 to October 31 888-343-4228www.poefest.org The Hotel San Carlos, Don Bluth Front Row Theatre, and Rosson House Museum host this monthlong celebration of Edgar Allan Poe, which includes live performances, seances and more. See website for complete schedule.
Halloween Stroll : Tempe October 28 www.downtowntempe.com/halloweenstroll Bring your little ghosts, goblins, superheroes and princesses to downtown Tempe for a Halloween stroll starting at 2 p.m. The event includes a costume contest at 4:30 p.m. at Hayden Station. All ages are welcome to participate.
Vertuccio Farms Fall Festival and Corn Maze : Mesa October 1 to November 4 www.vertucciofarms.com Vertuccio Farms (4011 S. Power Road) hosts a 7-acre corn maze, games, kids activities, an animal area and more. Hours vary by day; see website for complete schedule. Admission is $10 per person (ages 2 and younger are free).
DIY Succulent Pumpkin Workshop : Scottsdale October 20 From 10:30 a.m. to 12:30 p.m., Ramada 1 at Chaparral Park (5401 N. Hayden Road) hosts a workshop where you can learn to make beautiful succulent centerpieces with pumpkins. Participants will leave with a beautiful piece of living art. $49.99.
Palace Saloon Halloween Event : Prescott October 31 www.hauntedpalacesaloon.com The historic Prescott saloon hosts a unique and scary opportunity to explore the "haunted" saloon, including the "scary" basement. Check-in is at 6 or 7:30 p.m. and includes Cowboy Cauldron Chili and investigation. Price is $60; reservation required.
                Herman Munster, Realtor says my Halloween event choices for Phoenix are the best!
One of the more difficult things we as Real Estate professionals have to do is advising our clients "what has to go" when putting their family home on the market. Herman Munster may have ideas that do not match what the majority of Buyers are looking for in a home. For example, most Buyers are not looking for a moat around the home and creaking front porches and doors that resemble that of a dungeon.
I think we have all been there where a client's home, maybe like the Munster's home, has worked for them for a generation and everything works but it is not in a condition where we as professionals, in our opinions, will put the client's home in a position to sell for top dollar in the local market.
For example, Herman Munster may love certain aspects in a home, but some things have GOTTA GO when selling a home!
Old Door Knobs

Are they old, brassy? Does the one on the front door look like it was owned by Herman Munster? Has it has been through one too many winters or scratched with brillo?

                 Herman Munster might like old door knobs with "character?"... Most Buyers will not
Herman Munster styled- Front Door and Door Lighting Fixtures
Old doors? What do you think? Take a look at the Munster's front door.

Do you expect to hear chains rattling inside the door, aka the old TV show "The Munsters"? Spring for a nice door. Get an inexpensive but modern light fixture.
 Of course you could ignore Herman Munster and ask me your professional Realtor.
More Ideas from me your professional Realtor
For more ideas for your Seller clients that will attract Buyers see how to "Make your home SMILE"! 
Communicating these thoughts should be done with warmth, love and compassion. After all, the Sellers probably love their home. The Munsters loved their home. Getting the Buyer to love the home also and helping your clients, the Sellers, to understand what needs to stay and what needs to go is where the rubber meets the road. 
As your Seller's Realtor, I Jeff Masich can help you with what has to stay and what has to go and help you attract Buyers in order to get the most for your home. Give me a call, I would be pleased to help. I do love Herman Munster though. 
If you are looking to move to Phoenix including Scottsdale or to buy a home in Arizona or sell a home in Arizona, contact Jeffrey Masich, Associate Broker and Realtor. I would be pleased to help you and look out for your best interests while finding you the right home at the right price!
Press FREE MLS Search to search for Arizona Homes and Land for sale