For an interactive map of the major Phoenix metro Holiday Light Shows and displays from the Arizona Republic click here. December Christmas and Holiday light shows,  festivals, and holiday events are in full swing!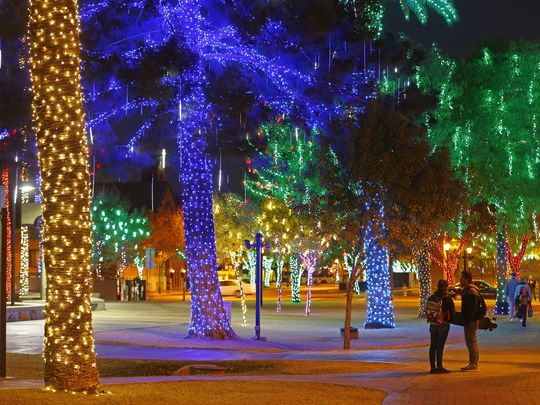 For even more Christmas and Holiday things to do with the family, 
Things to Do in Arizona
 throughout the state during December 2018 and all year round.  The link provided here is dynamic and updated daily through the year. There are Light Shows, Arts Festivals all around the state during December.
For just a sampling of the things happening around Arizona check the following list and the dynamic links that follow the list for even more things to do around the state. 
Tumbleweed Tree Lighting and Parade of Lights : Chandler December 1 480-782-2735 www.chandleraz.gov/tumbleweedtree From 4:30 to 9 p.m., Chandler celebrates the holidays with musical performances, a visit from Santa Claus, a parade, crafts, kids activities and a glowing pageantry of lights, plus the lighting of Chandler's traditional tumbleweed tree. Free.
42nd Annual Pueblo Grande Museum Indian Market : Phoenix December 8 to December 9 602-495-0901 www.pueblogrande.com Pueblo Grande Museum (4619 E. Washington Street) hosts a weekend of American Indian art, music, dance, storytelling and food from 9 a.m. to 4 p.m. both days. Tickets are $10 and include museum admission.
Bells of Benson: Scottsdale
 Friday December 7 and Saturday December 8 at 7pm, First Southern Baptist Church of Scottsdale, 5230 N Scottsdale Rd, Scottsdale (just north of Chapparal Rd).  
http://fsbcs.org/christmas-production-the-bells-of-benson/
Presenting a brand new dramatic musical entitled The Bells of Benson. The musical is set in, you guessed it — Benson, Arizona — and incorporates live orchestra, choir, soloists, and drama. The musical content represents an outstanding array of traditional as well as new Christmas music, prompting celebration and contemplation. The storyline is lighthearted with a solid underlying message. Free
Bells of Benson
- New Free Christmas musical at First Southern Baptist Church of Scottsdale
Presentation: "Apache and Their Horses" : Phoenix December 5 602-495-0901 www.pueblogrande.com Pueblo Grande Museum (4619 E. Washington Street) hosts this 6:30 p.m. presentation by Dr. Deni Seymour on the role of horses in the ancestral Apache culture. Free and open to the public. From 4 to 9 p.m.,
Tempe Town Lake hosts more than 50 festively decorated boats, plus food trucks, holiday shopping, beer and wine, and live entertainment. The festivities begin at 4 p.m., and the parade kicks off at 7.
26th Annual "It's Feline a Lot Like Christmas" : Mesa December 8 to December 9 623-217-4205 www.phxfeline.com/ The Mesa Convention Center hosts an all-breed championship. Expect more than 200 cats competing and 50 cats up for adoption, plus vendors and contests.
14th Annual Mesa Arts Festival : Mesa December 8 to December 9 480-644-6500 www.visitmesa.com/includes/events/14th-annual-mesa-arts-festival/20473/ Mesa Arts Center's festival offers unique gifts for the holidays; original works of art for sale from artists in various mediums; live entertainment on two stages; artist demonstrations; a family activity area; and an array of culinary delights.
Scottsdazzle Gold Palette ArtWalk – Downtown Scottsdale : Scottsdale December 13 www.scottsdalegalleries.com Celebrate Scottsdale's finest art galleries with special holiday Scottsdazzle flair! Peruse the quaint streets of Old Town. Mingle with local artists in their studios, watch ice sculptors create masterpieces, and enjoy carolers and refreshments.
Storytime with Mrs. Claus : Phoenix December 7  www.eventbrite.com/e/storytime-with-mrs-claus-at-the-farm-tickets-51986534123 From 6 to 8 p.m., The Farm at South Mountain hosts an evening of fun and magic under the pecan trees, with a story told by Mrs. Claus herself, plus a family dance party, a light display, face painting and hot chocolate. $4 (children), $5 (adults).
Ella Enchanted: The Musical : Phoenix December 15 to December 30 childsplayaz.org Childsplay brings this charming musical to the Herberger Theater Center's Center Stage (222 E. Monroe Street) for performances at 1 and 4 p.m. Saturdays and 1 p.m. Sundays, plus special holiday performances. Tickets are $12-30.
  Santa on Tempe Boat Parade from 
https://www.downtowntempe.com/do/fantasy-of-lights-boat-parade
48th Annual National Bank of Arizona Fiesta Bowl Parade : Phoenix December 29 www.fiestabowl.org/ Enjoy a Phoenix tradition with a parade filled with floats, bands, specialty and equestrian units starting at 10 a.m. Bleacher seating is available for a fee.
2018 Boot Drop at The Palace Restaurant & Saloon : Prescott December 31 928-776-0234 www.bootdrop.com/ Whiskey Row becomes a street party as we ring in the new year. Watch as a 6-foot illuminated cowboy boot is lowered down The Palace building's flagpole. One drop takes place at 10 p.m. and another at midnight.
World Bazaar PHX : Phoenix December 8 602-433-2440 www.facebook.com/events/300217880796719/ From 10 a.m. to 3 p.m. at the 19th Avenue and Camelback Park and Ride (1813 W. Camelback Road), enjoy more than 50 vendors selling food, art and homemade goods from around the world, plus live music and dance performances. Free admission.
Scottsdale, Phoenix and Around the State of Arizona 
Check in often for the latest things to do and see in the "Grand Canyon" state. Live, play and explore. Choose among urban activities, festivals, events, sports, recreation, and dining or explore the awesome beauty throughout Arizona. The awesome desert southwest awaits!
Arizona Republic- Weekly Things To Do - Dynamic updated daily for the Phoenix Metro area
Metropolitan Phoenix- Things to Do - Cultural Events, Recreation, Sporting Events and more
Tucson- Things To do - Dynamic and updated daily
Arizona State Parks and Trail Systems 
Arizona- Things To Do - Dynamic- Statewide 'Events' from the Arizona Office of Tourism
Sedona- Things To Do - Events, Activities, Recreation
Top 10 Lists- Explore Arizona - From Arizona Republic. Explore Dining, Activities etc
Things to Do in Arizona - Keep this one central link for all of the above links if you lose the others
If you are looking to move to Phoenix including Scottsdale or to buy a home in Arizona or sell a home in Arizona, contact Jeffrey Masich, Associate Broker and Realtor. I would be pleased to help you and look out for your best interests while finding you the right home at the right price!
Press FREE MLS Search to search for Arizona Homes and Land for sale