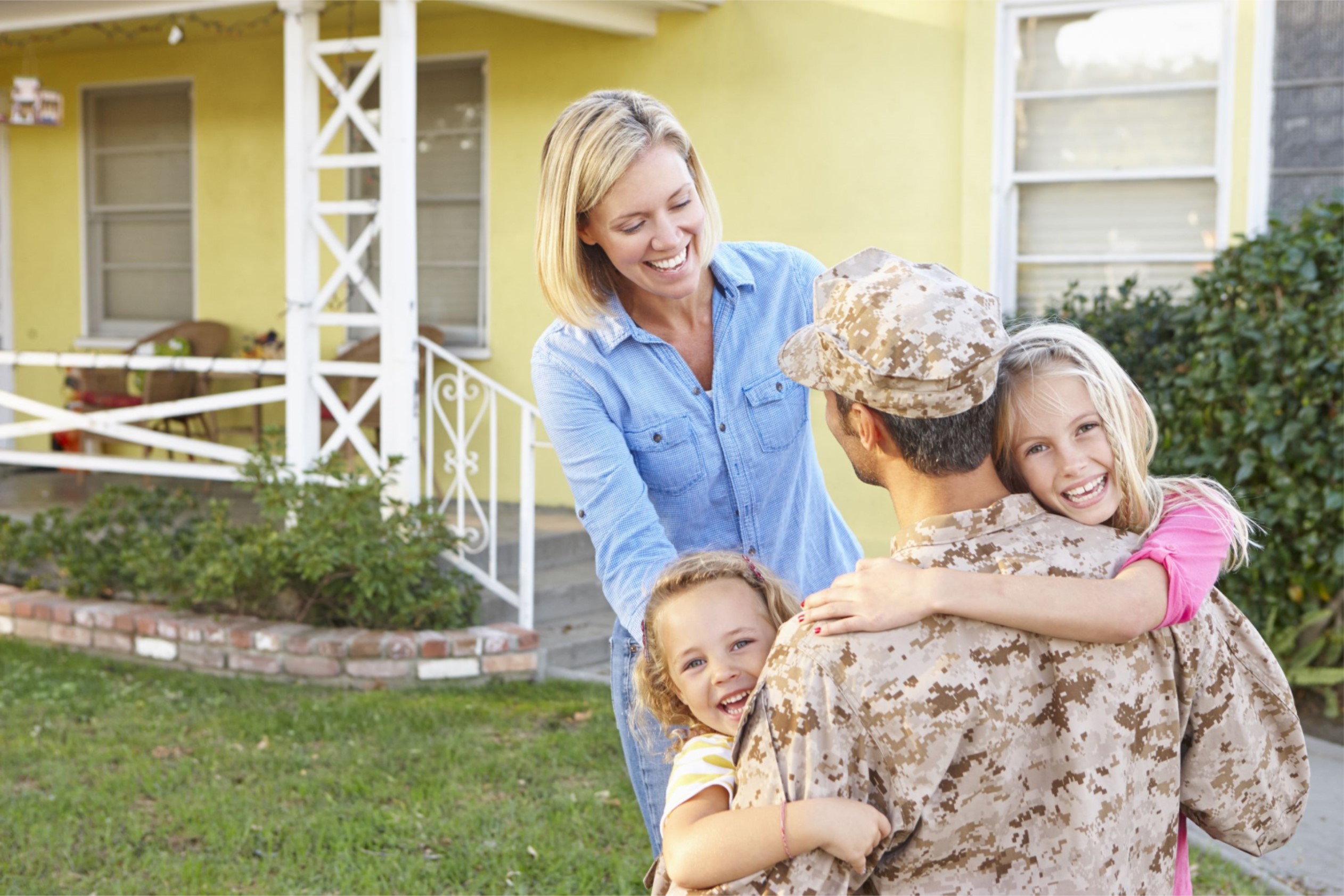 ORIGINALLY POSTED AT: https://www.comehomevirginia.com/happy-veterans-day-va-mortgages-what-you-should-know
While Veterans Day has come and gone for the year the needs, hopes and dreams of Active Duty and Retired Vets goes on. One of the most important and powerful benefits for vets is the VA Mortgage. This article was originally posted for Veterans Day but several request have recently been made for additional information and reposting. 
---
We've recently had the privilege and honor to help 5 vets and their families to reach their goals. If there is some way we can assist you and your family please get in touch with us. We will be happy to provide you with any help or information we can without cost or obligation on your part.
If you have never purchased your own home before it's possible that you don't realize all the benefits and opportunities you have in a VA Mortgage.
A VA Home Purchase Loan just might be the biggest financial benefit for veterans. Recently when renters were asked what they believed were the 3 largest obstacles they faced preventing them from becoming home owners, the top three, in order, were:
Thank You to Veterans — Every Day!
Saving enough for a down payment

Having a poor credit history

Qualifying for a mortgage
A VA mortgage addresses each of these components, making the American Dream of Home Ownership within the reach of many vets that may not realize it.
1.No Down Payment
Qualified veterans can obtain a VA loan without making any down payment. Compared to conventional and FHA loans, this translates into significantly lower out of pocket costs to close on a home.
2. Lenient Credit Score Requirements
The Veterans Administration doesn't set the minimum credit score requirement for VA Mortgages, but most lenders' requirements for this type of loan are significantly easier than they are for conventional mortgage loans. In 2016 the average credit score for VA mortgages was 50 points lower than for Conventional mortgages.
3. Higher Debt to Income Ratios Allowed (Easier Mortgage Qualification)
When qualifying for a mortgage, lenders will look at a borrower's front end and back end ratios. What are these ratios — and how to calculate your own:
Front End Ratio:
The front end ratio is the total of your monthly mortgage payment including taxes and insurance (Principal Interest, Taxes, and Insurance, or PITI) as a percentage of your gross monthly income, expressed as a percentage. Assume your monthly mortgage payment PITI is $2,000 and your gross monthly household income is $10,000, then your front end ratio would be
PITI $2,000
Household income $10,000
2000/10000 = 0.2
0.2, or 20%
So what is the Back End Ratio?
The back end ratio combines the front end numbers with the addition of your consumer debts.  Let's say the following — to keep the math simple — you have a $500 car payment, a $500 total per month (minimum due) credit card, and student loan payments, your back end ratio is now $3000/$10,000 which is 30%.
VA loan requirements do not state a maximum debt to income (DTI) ratio; however, lenders set their own maximum DTI requirements for these mortgages. Typically, lenders' max DTI front and back ratios for VA loans is 41%. This ratio typically has more flexibility for VA than for other mortgages when there are compensating factors to consider.
4. No Mortgage Insurance
There's no mortgage insurance — PMI (Private Mortgage Insurance) with VA loans, but there is the VA Funding Fee( see number five.);
. This benefit translates into significant monthly savings for VA borrowers. For instance, a borrower who makes a 3.5 percent down payment on a $400,000 FHA-insured mortgage would pay approximately $200 a month for mortgage insurance premium.
5. VA Funding Fee for Purchase Loans
While there is no PMI, a VA loan does come with the VA Funding Fee. What is the reason for this fee? The money received from the VA Funding Fee defrays the expense of loans that go into default and reduces the cost to taxpayers, ensuring the VA Home Loan program continues for future generations. Borrowers have the option to pay the fee up front or can include the fee into their monthly mortgage payment. Subsequent uses of a VA loan have an increased funding fee for those wishing to use the nothing down mortgage.
Active duty and veteran buyers with Regular Military service will pay a little less than Reserve and National Guard buyers when they're using this benefit for the first time.
The table below gives you a look at the funding fee for VA purchase loans for first & subsequent uses. As you'll see, contributing a down payment decreases the funding fee for both first-time and repeat VA borrowers. The funding fee is lower for a veteran's first use of the VA loan program with no down payment, and you can see that it increases for all subsequent uses of the benefit if no down payment is made.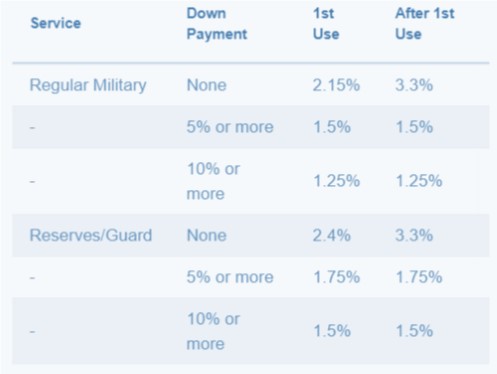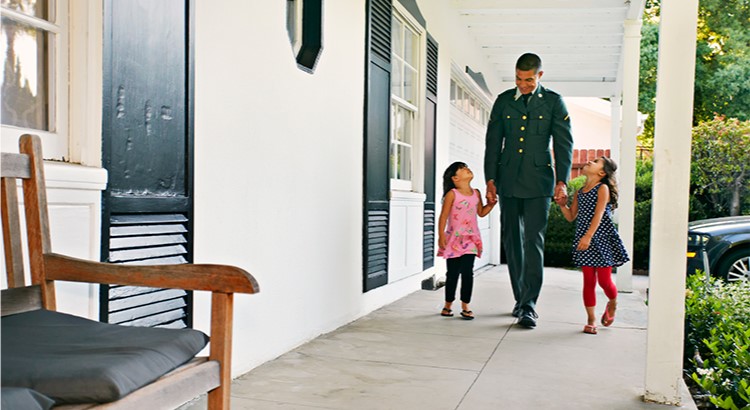 6. Closing Cost Limits
Mortgages come with fees and closing costs, and VA loans are no exception. These closing costs encompass Inspection Fees, Escrow Fees, Taxes, Title Insurance, and Homeowner's Insurance — among other things — but the VA determines what veterans can be charged when it comes to these expenses. For some costs that are negotiable in other types of home purchases, the VA requires that others (not the VA borrower) pay. 
VA borrowers can also negotiate for home sellers to pay all of their loan-related closing costs and up to 4 percent in concessions, which can cover things like prepaid taxes and insurance, paying off collections, existing consumer debts, and more. The sellers are NOT required to agree to this; it's just part of the negotiation, but it does represent another powerful potential benefit, allowing the possibility for Vets to purchase a home with no out of pocket expenses — a truly NOTHING DOWN and no CASH home purchase.
7. Finance Closing Costs
If the buyer decides to pay the closing costs themselves or the seller refuses to pay the buyers costs, buyers still have the option to finance the closing costs by including them in the mortgage amount, up to the limits allowed — an advantage not available in other mortgage types.
8. Costs Not Permitted on VA Loans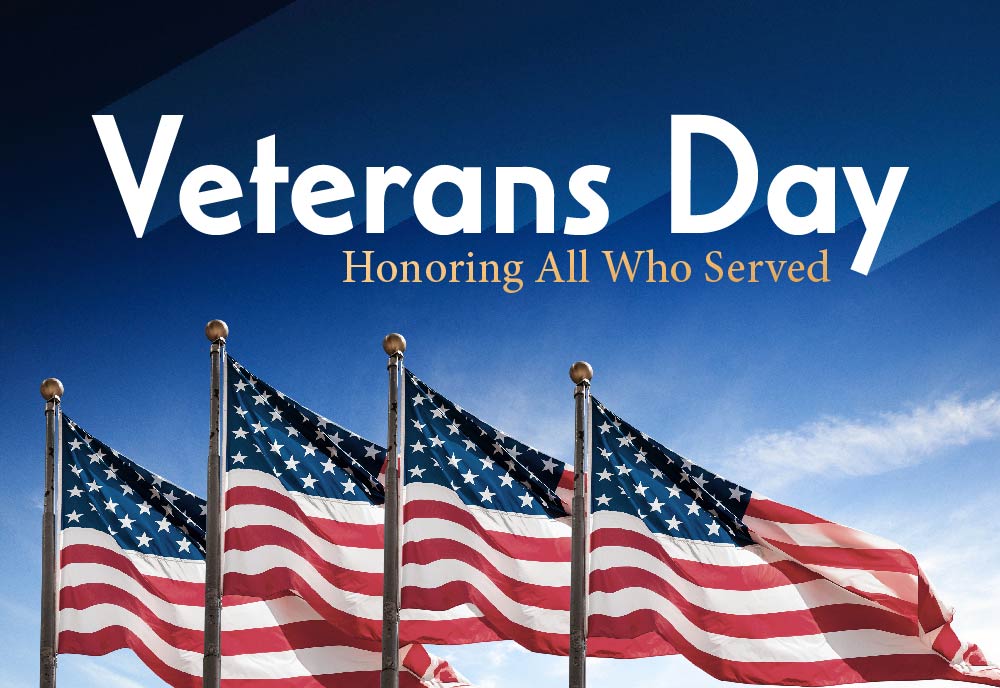 Settlement fees

Loan closing

Document preparation fees

Conveyance fees

Loan paper preparation

Loan application or processing fees

Interest rate lock-in fees

Document preparation fees

Lender appraisals

Postage costs

Escrow fees 

Notary fees

Loan broker fees

Finder's fees

Tax service fees
If it's time for you to make a move to your first or just your next new home, an additional benefit when your hire us to help you is our $5000.00 dollar for dollar guaranteed home buyer savings.
---
Real Estate News & Updates
Get Your Credit Score Up Fast — To Buy A House
Home Buying — Preparation for Success
Home Buyers - Costly Mistakes To Avoid In A Seller's Market
Move Up To A Luxury Home? — Now Is A Great Time!
Sellers These Are The Features Home Buyers Want Most 
---
"VA Loans By The Numbers What You Need To Know"
is brought to you courtesy of  Dave Martin Realty Group, your Northern Virginia residential real estate experts. If you're considering selling or buying a house in the Northern Virginia metro area, we'd love an opportunity to earn your business, provide you an outstanding experience, and demonstrate to you that:
"Help From The Best Agent Makes All The Difference."