There are some very nice all sports lakes in West Bloomfield.   You can find big beautiful waterfront houses on Cass Lake, Pine Lake, and Upper Straits Lakes.  Many of the newer lake homes are custom built lake homes filled with the latest amenities that buyers want.  Most of the homes that have been built in the last 20 years have been built by people who bought small, older houses on the lake and tore them down.  There are so few go vacant lake lots in West Bloomfield.  If you find one it is most likely going to be very pricey.
Like most of Metro Detroit lakes it depends on where you are on the lake whether the lakefront is mucky or a sandy bottom.  When looking for a nice all sports lake home in West Bloomfield then you should check out Middle Straits Lake in W Bloomfield.  It is a public lake because you can get onto the lake with a boat at West Bloomfield's Bloomer Park boat launch.  The good part for lake home owners on the lake is that there is not a lot of parking for cars and trailers.  It's not an easy process to put a boat on the lake sometimes.
Call me to get started finding your dream lake home (248) 310-6239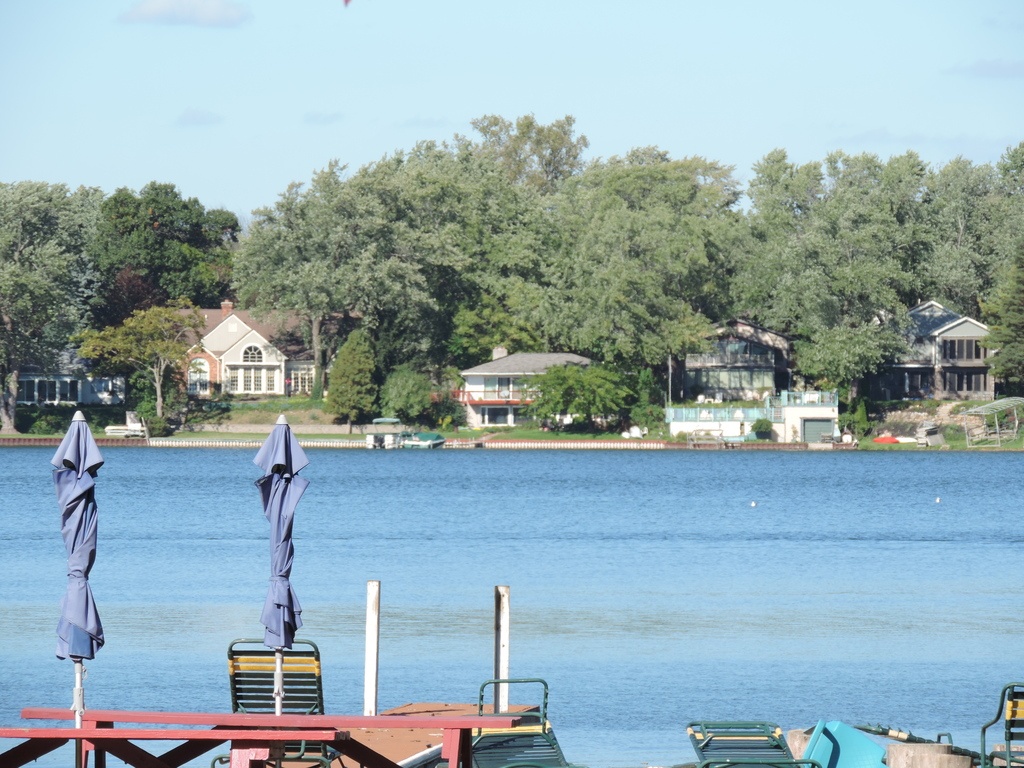 Lake homes on Middle Straits Lakes are desirable because they are closer to I-96 & M-5 than many other lakes.  The further you go north in Oakland County the harder the commute.  That is because many of the roads in the lakes area are 2 lane roads.  So they become quite congested at rush hour in the morning and at night.  So anybody that works in Downtown Detroit or any distance from West Bloomfield or Commerce wants a lake home that is easy to get to.  Middle Straits Lake houses fit that bill.  A little shorter commute for a lake home buyer.
I had talked about the lake bottom above.  If you did not know legally you are not supposed to dump sand into the lake to improve the bottom.   Nor can you rip out all the natural vegetation in the lake if it is in front of your home.   What I mean by that is you can't pull out lily pads or cat tails to "clean up the waterfront".  Sometimes the DNR will allow you to clean an area to get your boat in an out, but you would have to call the DNR to see what your options are.
These homes are not for sale but just examples of the beautiful lake homes on the lake 
I would call Middle Straits Lake a bowl lake.  Many of the homes sit on a slight hillside about the lake though there are quite a few lake homes that are almost level with the water. Most of the lake homes are on paved roads.  Some of the lake houses are on sewers and some are on septic.  It is the same way with water some are on well others are on city water.   The children that live on the lake go to Walled Lake schools.  There are a few homes that fall into the West Bloomfield school district.   Most of the lake lies in West Bloomfield but some of the lake lies in Commerce Township.
You will find old lake cottages to newer built homes.  Many of the homes on the lake have been added onto or remodeled over the years.  As the years go on there  are fewer and fewer Upper Straits lake cottages because they are being torn down or added onto.  It is the same way with so many lakes in Oakland County.  The small lake houses are disappearing.   Here are the basic characteristics of lake homes on Middle Straits Lake in West Bloomfield:
homes range in age from 1929 to 2010+ (it's always hard to keep up with because homes are always being torn down to build new)
0 to 5 car garage
1 to 6 bathrooms
2 to 8 bathrooms
800 square feet to over 7200 square feet
Here is a law regulating what can go on the lake.  On that part of the waters of Middle Straits Llake, West Bloomfield Township, Oakland county, it is unlawful on Sundays, Memorial Day, Independence Day, and Labor Day, except between the hours of 10:00 a.m. and 6:30 p.m., to:
(a) Operate a vessel at high speed.
(b) Have in tow, or otherwise assist in the propulsion of, a person on water skis, a water sled, kite, surfboard, or other similar contrivance
If you are looking for a nice home for sale on a West Bloomfield all sports lake then you should look at homes on Middle Straits Lake.  I think you will like the lake and the surroundings.  It's not too far from M-5 and that helps make your work commute easier.  My cell is (248) 310-6239 if you are serious about finding a lake home.  I know the local lakes and have helped so many clients make their lake home dreams come true.  Can I help yours come true too?