The Bel Air, CA 90077  Single Family Market Trends Report is published and there are some very telling directions to note...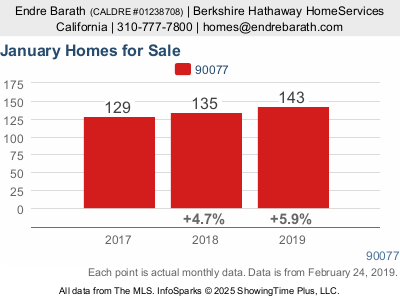 As you can see inventory of Single Family Homes have been increasing month over month year over year in the coveted 90077 zip code also know ans Bel Air, CA.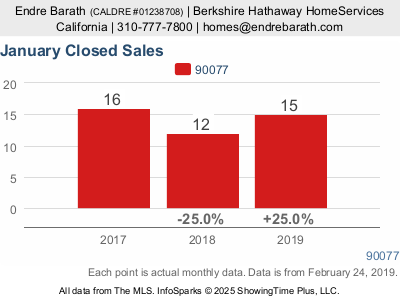 Most savvy local Los Angeles Realtors noticed, that last year we had less activity for a number of reasons in the Greater Los Angeles area. At the same time we started seeing more activity this year and as you can see the month over month sales for 2019 are confirming these numbers.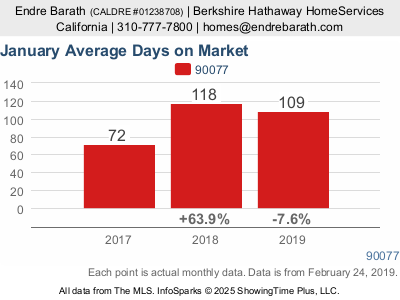 We always look closely at the Days on Market statistics, because they confirm what we generally suspect. In this instance you can see that properties have been taking less time to sell. This is a combination of a few things. One of them Sellers and Listing Agents have been pricing the properties correctly, hence savvy buyers know when a property is priced correctly and they end up submitting offers. The other aspect has been that most people feel confident that the Fed has decided not to do any future rate increases for a while. This in turn revitalized consumer confidence in the Real Estate activity.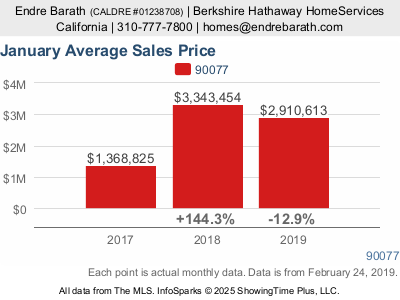 As you can see from the Average Sales Prices, correct pricing is an absolute must if you are a seller who wants to sell their homes in the coveted 90077 zip code. In spite of our complaining as you can see the Real Estate is on solid grounds year over year.
Now if you are considering selling your home in the 90077 zip code or near by please reach out to me directly! At the same time if you just want to have a private consultation it is FREE all you need is to give me a call!
If you are looking for a knowledgeable, focused and goal-oriented Realtor in the Beverly Hills area who will help you achieve your Real Estate goals, please reach out to me directly!
If you are looking for a pet friendly Beverly Hills Realtor who can handle and sell the most difficult properties that no one else could, please reach out to me directly!! If you are considering buying or selling a home, a luxury home, luxury investment real estate, luxury vacation homes, or luxury beach properties in Southern California, Los Angeles, Century City, Westwood, West Hollywood, Beverly Hills, Marina Del Rey, Venice or Malibu, feel free to contact me at 310.486.1002 (m) or homes@endrebarath.com or visit one of my websites at https://www.endrebarath.com  I contribute a portion of my commission to local animal rescue organizations.