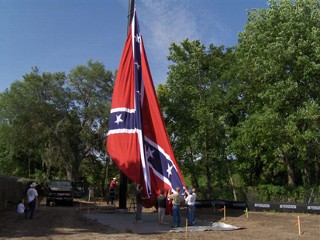 It is apprently the world's largest Confederate flag - measuring some 50 ft by 30 ft - and tomorrow it will fly where I75 meets I4 on a private triangle of land. It will be seen by the millions (literally) of tourists as they head to the State to visit our world famous attractions - and, in my opinion, it is simply sick.
The Sons of Confederate Veterans in Tampa will fly this atop a 139 foot flagpole tomorrow but hope to be able to get permission to fly it on a permanent basis on some kind of future museum to confederate veterans.
Now of course if that does happen, the tourists will still never know. They will still see this symbol of racism and slavery as they arrive in Central Florida and who knows what they will think of us.
I'm not interested in the history. Don't tell me the war was about unfair taxes. The flag represents eveil to a lot of people and I have a message to The Sons of Confederate Veterans in Tampa. YOU LOST! To me this is equal to someone deciding to fly the Swastika.
________________________________________________________________________________________________________
(Copyright © 2008 By Simon L Conway All Rights Reserved.)
Please give me a call if you have questions about the Central Florida real estate market. You can reach me on 407 876 8200. Also visit my web site at www.simonconway.net or www.move2orlando.net
Tune in to Simon on The Simon Conway Radio Experience on am1520 WHIM. The show airs in Central Florida at 4pm Eastern and is also available worldwide at http://www.1520whim.com/