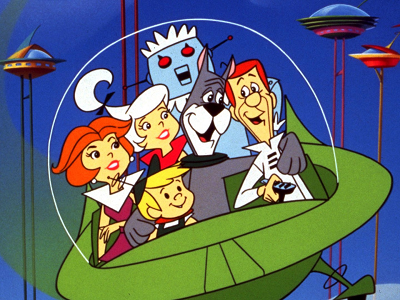 How many of these new technologies have you thought about
Many of us grew up watching The Jetsons, an animated comedy about a futuristic family taking advantage of flying saucer cars, space highways, robot maids and more. And while we are still years (light years?) away from hovercraft, we are starting to see a sea change in how easily we perform common or more difficult tasks.
Many of these advances are predicated upon predictive analytics and artificial intelligence. Those terms can seem scary but in reality, they are simply ways of making menial tasks a little easier — so you're freed up to perform the strategic tasks that help you move the dial.
implementing in your business or home life?
1. Voice-activated assistants
We've been talking to Siri for nearly a decade now, but as rivals like Alexa, Google Home and Cortana enter the fray, the competition among voice-activated assistants is becoming fiercer every day.
These assistants are far from having the easily excitable personality of Rosie the Robot, and they're just as efficient. You can ask your chosen device assistant to order up diapers, check to see if your garage door is closed or simply go through your daily schedule as you get dressed.
[TELL US IN THE COMMENTS] How often do you use voice-activated assistants to help you with basic tasks?

2. Automated vacuums

Rosie the Robot didn't just cook, she was also rarely seen without her vacuum or dust pan. Until we can all have a robotic maid, there are automated smart vacuums that can memorize the floor plan of your home and, while you're at work, get to business sucking up all the pet hair, crumbs and other debris you leave behind in your morning wake.
 
[TELL US] Are you still pushing around a manual vacuum or have you upgraded your home cleaning technology?

3. Automated healthcare diagnoses

In one classic The Jetsons episode, George takes a Peek-A-Boo Prober Capsule, which allows his doctor to diagnose every single thing that is wrong with him in mere seconds.
We're certainly not at the point of being able to take such a capsule in order to get an accurate diagnoses (and spoiler alert, George's capsule was full of false positives!).

But with a little luck and a lot of biotechnology innovation and funding, we are getting closer to those "Peek-a-Boo Probers" integrated into our daily medical lives.

The company 23 and Me provides saliva-based DNA tests that check for genetic disorders and varied health risks, including your predisposition to certain types of cancer and aesthetic conditions like male pattern baldness. They also provide wellness reports that offer ideas for how to improve your overall well-being.

Meanwhile, companies in China are testing technology that would help diagnosis Parkinson's disease based on the control you have over your steering wheel, and Alzheimer's based on your speech patterns.
4. Predictive, automated work tasks
In a 1963 episode of The Jetsons, George complains about his demanding boss — who had required him to work a full two hours that week. Automation is at the heart of every facet of The Jetsons and George's work is mostly to press buttons and supervise-while-napping the sprockets manufactured at Spacely Space Sprockets, Inc.
We won't pretend that here at SmartZip, we've come up with a way to offer real estate agents a two-hour work week. (But we'll keep working toward that.) 

However, we have automated a great number of tasks related to identifying likely home sellers and marketing to them (one-on-one and via automated campaigns) so that you're able to jump start a relationship with them before they list with anyone else.

We can't promise a two-hour work week but we can promise dozens fewer hours creating marketing campaigns and setting up Facebook ad parameters to your market and sphere. If you're interested, just reach out today and we'll give you the George Jetson discount.

Where do we go from here?

It's not hard to see some of the big shifts that seem poised for mass-market introduction and disruption — from self-driving cars, to skyscrapers that "build themselves," to earbuds that translate conversations in another language in real-time.

But just as George Jetson came to find out when his Peek-A-Boo Prober Capsule misdiagnosed him, fine-tuning new technology isn't simple and it can be almost impossible to predict the next biggest innovation that will take over the world.

We're interested to hear your thoughts — what new technology has changed your world in the last five years? What do you think is the next ripped-from-the-Jetsons plotline that we'll see introduced?