The Santa Monica Market Trends Report for Single Family homes is very telling. Sellers and potential sellers need to look at this report. Over the past few months you have heard me say and write about the shift that has taken  place in the  local Real Estate Market. There is an old saying "Don't kill the messenger, just because you do not like the news being delivered" with that said instead prepare and handle the situation with good information. As you can see the trend has been an increase of inventory year over year, month over month.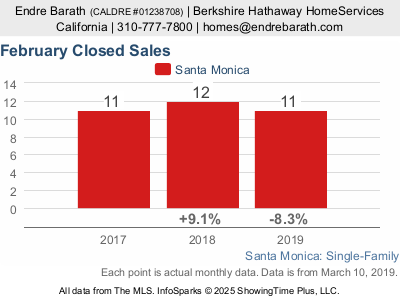 When inventory increases, but sales remain the same, then the answer is very clear: buyers have more properties to chose from hence it will have a direct effect on the sales prices as well as the Days on Market statistics. Not a surprise, since the above statistics confirmed this. I am almost unwilling to share the next statistic. The question is how much did the price points adjust due to the above figures? Well there you have it, now if you are considering selling your home, please reach out to me to help you find the highest price in the shortest amount of time. If you are considering buying let's have a conversation how to take advantage of the above Statistics!
If you are looking for a knowledgeable, focused and goal-oriented Realtor in the Beverly Hills area who will help you achieve your Real Estate goals, please reach out to me directly!
If you are looking for a pet friendly Beverly Hills Realtor who can handle and sell the most difficult properties that no one else could, please reach out to me directly!! If you are considering buying or selling a home, a luxury home, luxury investment real estate, luxury vacation homes, or luxury beach properties in Southern California, Los Angeles, Century City, Westwood, West Hollywood, Beverly Hills, Marina Del Rey, Venice or Malibu, feel free to contact me at 310.486.1002 (m) or homes@endrebarath.com or visit one of my websites at https://www.endrebarath.com  I contribute a portion of my commission to local animal rescue organizations.