The Santa Monica, CA Condominium Market Trends Report has similar statistics as the Single Family Market Trends Report with the exception of one category! Normally I do not "peek" ahead, but I just finished analyzing the Single Family Market Trends in Santa Monica, hence I could not help but look ahead.... Interestingly inventory of Condominiums in Santa Monica have increased dramatically in the past couple years month over month. Number of Sales have decreased as well. Hence it is imperative that Sellers need to focus on acurate pricing of their Condominiums and Townhomes in Santa Monica if they want to get it it sold and not chase the market down and sell it for less.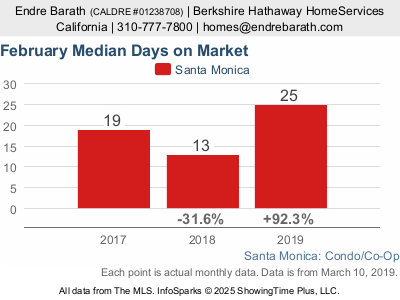 Although per cent wise the Days on Market look scary but realisticly it is still a fast market. Hence this is where the Santa Monica Condominium Market differs from the Single Family Market. The prices have not dropped as in the Santa Monica Single Family Market instead they increased. A large part of it is there are more people who can not afford a Single Family Home in Santa Monica, but they want to live here. Hence the demand is strong. One due to price point and second due to the good reputation of the Santa Monica Schools.
Now if you are considering buying  Condominium in Santa Monica or if you are considering selling, please reach out to me for a free  no obligation consultation.
If you are looking for a knowledgeable, focused and goal-oriented Realtor in the Beverly Hills area who will help you achieve your Real Estate goals, please reach out to me directly!
If you are looking for a pet friendly Beverly Hills Realtor who can handle and sell the most difficult properties that no one else could, please reach out to me directly!! If you are considering buying or selling a home, a luxury home, luxury investment real estate, luxury vacation homes, or luxury beach properties in Southern California, Los Angeles, Century City, Westwood, West Hollywood, Beverly Hills, Marina Del Rey, Venice or Malibu, feel free to contact me at 310.486.1002 (m) or homes@endrebarath.com or visit one of my websites at https://www.endrebarath.com  I contribute a portion of my commission to local animal rescue organizations.