Nolita. One of the Best Neighborhoods in New York City
Picturesque Nolita is a charming, upscale area with a trendy vibe. It's known for its chic shopping scene and has plenty of designer jewelry shops, unique clothing boutiques, and home-design stores. Fashionably casual crowds stroll the neighborhood and fill the popular sidewalk cafes, chic bars, and trendy restaurants. On weekends, street vendors selling hand-made jewelry and artwork line Prince Street.
If New York is the city of dreams, then Nolita is the fairy tale inside it. It's such an inspiring part of NYC that even Vanessa Carlton actually wrote a song, "Nolita Fairytale," about it. This tiny neighborhood in lower Manhattan lies right between SoHo, Little Italy, the Lower East Side, and Chinatown. Once a part of Little Italy, Nolita ("North of Little Italy") broke away after trying to adapt some of the characteristics of its SoHo neighbors.
It's a chic, foodie-indulgent hot spot that has gained in notoriety recently with its influx of millennial-friendly places to eat and photograph. The street art changes weekly, a new pink-inspired restaurant seems to open every couple of months, and with a vibe enticing enough to inspire David Bowie to live there before he passed. It's certainly not an area to miss!
The neighborhood includes St. Patrick's Old Cathedral, at the intersection of Mulberry, Mott and Prince Streets, which opened in 1815 and was rebuilt in 1868 after a fire. The cornerstone was laid on June 8, 1809. This building served as New York City's Roman Catholic cathedral until the new St. Patrick's Cathedral was opened on Fifth Avenue in Midtown in 1879. St. Patrick's Old Cathedral is now a parish church. In 2010, St. Patrick's Old Cathedral was honored and became The Basilica at St. Patrick's Old Cathedral. Another neighborhood landmark is the Puck Building (pictured above), an ornate structure built in 1885 on the corner of Houston and Lafayette Streets, which originally housed the headquarters of the now-defunct Puck Magazine.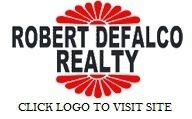 You can visit our Staten Island corporate office which is located at 1678 Hylan Blvd., in Dongan Hills. Our Woodrow Office which is located at 655 Rossville Ave. Robert DeFalco Realty has also an office in Colts Neck, New Jersey at 340 Route 34 South, Suite 112. The New Jersey office is servicing Monmouth, Ocean, and Middlesex Counties, and can be reached at 732-845-3200. Our Brooklyn office is located at 8709 3rd Avenue, phone number 718-748-7000. Our newest office is in NYC at 379 W Broadway 2nd Fl New York, NY, 212-601-8800.
Be sure to check out our newly designed website!
Remember to follow us on Facebook, Twitter, Instagram by searching @RobertDeFalcoRealty.

Sources include some information from Wikipedia and PopSugar