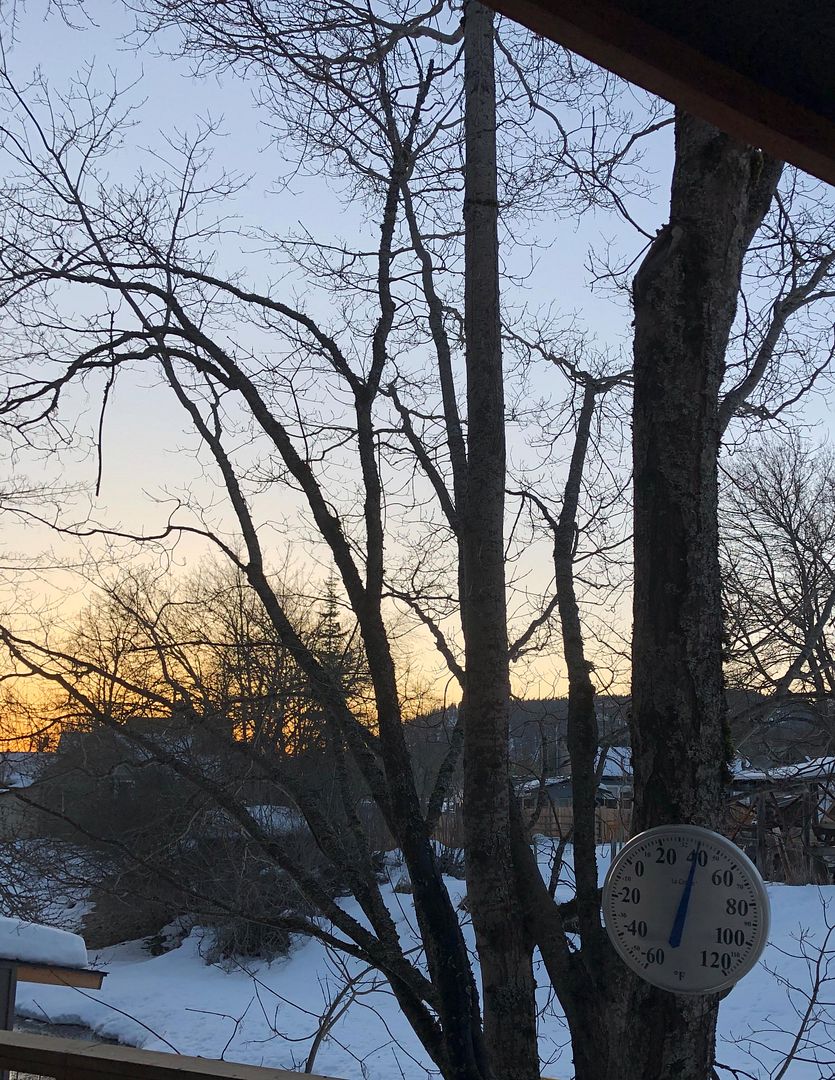 There is hope! (I  think) Spring has sprung ! Literally just a week ago we had 6-8" of new snow!
This is a picture of a tree we have growing through our deck. Why a picture of a tree?
A tree symbolizes change, growth, seasons, good times and bad and life.
If that tree could talk.
When we bought our house here  last year, it was springtime (early summer), the tree was beautiful and just barely turned it's beautiful green colors. The house had been built by a young man who was building his dream home on a lot his father had left him. For whatever reasons, the poor kid ran out of money and could not complete it.
It wasn't our style of house because was a contemporary style. It was meant to be a temporary house while we built our Idaho house about 7 miles away. It was less expensive for us to buy than to rent (there's a real estate story for you). Add two Great Danes, a cat, and a large obnoxious Macaw parrot. OK, we're buying a house!
We had to finish what the young man could never finish himself (flooring and other things). During the process of purchasing,  I went through a few"professional" shocks about how real estate is done in Idaho versus what I was used to in Hawaii (and California the prior 20 years). I represented myself, and the listing agent was in our office as well. Wow, that was a fine learning experience! I learned the hard way what to do to protect my buyer clients that's for sure. What do I mean by that?  Much of the buyers protections are not in the contract (in my opinion) in the State of Idaho real estate purchase contract. The contract in Idaho is sum total of 7-8 pages. It was 14 in Hawaii, and in California,  it was at least that many pages. Good news, bad news.
Good news, it's simple. That's one of the beauties here. No bureaucracy-we'll not as much as we'd been used to in CA and Hawaii. And after all we don't want other states to come into Idaho and change the simplicity an innocence of North Idaho. I get that, so simple it is! The bad news is again, that so many things are not covered in the Idaho real estate contract that I am used to seeing...albeit, I learned fast the hard and expensive way.
Back to that tree....That tree went from green buds on it, to the full fledged beautiful tree it was meant to be. It housed many beautiful song birds, and before we knew it  became  a ladder for cats and other creatures up to our deck from the below property!
Are there really  feral cats in Idaho? For real? Who'da known?
We thought we left the feral cat problem in Hawaii. We had about ten resident feral cats we cared for in Hawaii for many years. There was a feral cat epidemic there. Almost as epidemic as the homeless in recent years there. We loved caring for the cats. What people had discarded by their ignorance, stupidity or selfishness we loved caring for. It's not their fault. Not a consequence for bad choices on their parts.
Suddenly, we had a new feral  mom puss who we named Fuzzy Butt, and there was an equally cute dad we named "Buzzy Fut". They were fuzzy critters to say the least (ya think?). Then there was another and another, and then there were five kittens that mom brought over. Oh my, they were cute. Just round fur balls. Just how do cats tell each other, "Hey there's food and shelter over here, come on over!?" I don't know but they do!
So along with the tree being their ladder to the ground below and our deck becoming their home above, the tree prospered and grew in the beautiful Idaho summer.
Eventually, the weather started getting rainy and chillier, and that tree turned the most beautiful colors. The kittens are now eating us out of house and home. We have 8-10 cats eating and sleeping on our deck. We ultimately made cat condos for them (you could probably get $100K each for them in Laguna Niguel on the beach).
 As the days got colder, we put heating pads in their "condos", and they hunkered down for a long (well, not too long, this isn't Alaska anymore) winter with us. The first cold month our electric bill was $600,  and it was less than $200 the month prior.  OK! We need to turn off some of these heaters we had on for the dogs in the garage and the cats on the deck.
We moved the dogs into the house at night, and the cats were down to one heater (plus heating pads). The beautiful tree lost all its leaves and it became a cold, bland, seemingly dead and lifeless brittle tree.
It still served as a ladder for the pusses, and an occasional raccoon that arrived to steal the cat's food.
That tree now holds a bigger thermometer as you can see by the picture. And guess what? Pussy willows are just around the corner, I actually saw some today while walking the dogs! She's back to another season full of life.
Our next feat is getting those cats in to be fixed, so we don't have another herd of cats this winter.
Stay tuned for more stories about the tree.....and life in North Idaho!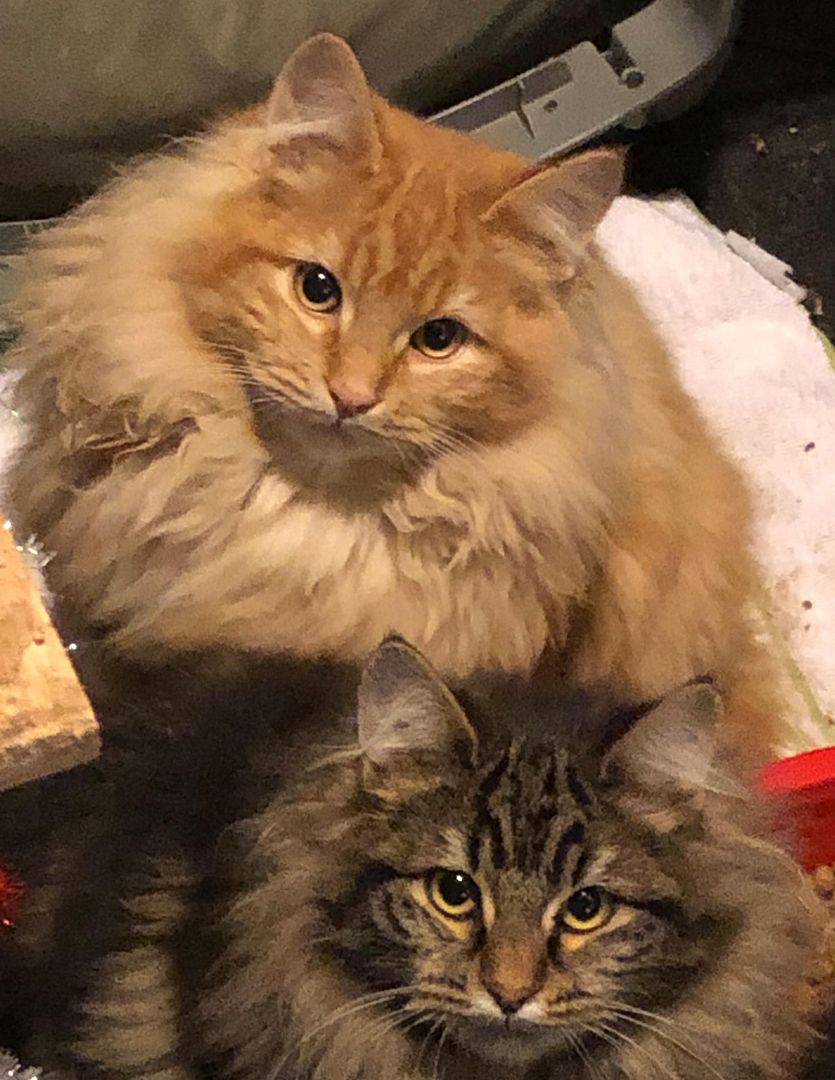 The "Juice and "Buzz Junior, aka BJ. Two of the five kittens.