KENILWORTH 1stQ REAL ESTATE REPORT - 2019
Kenilworth is a beautiful and desirable Chicago suburb in which to purchase a home. Its school, Joseph Sears, takes in children from junior kindergarten through 8th grade making it the only
suburb in the North Shore to have one school. Excellent schools are found throughout the North Shore but most have several schools handling different grades.
3 homes closed in the 1st quarter of  2019 in KENILWORTH compared to last year when 6 homes closed.
The median price for homes sold year-to-date this year is $1,290,000 (based on a small total of 4 closed sales.)  Last year's median, based on the 6 sales, was $1,450,000.
1st QUARTER 2019 vs 2018
CURRENT SNAPSHOT OF KENILWORTH REAL ESTATE
Homes for sale: 43
Price range: $625,000 to $13,750,000
Under contract: 6
Absorption rate: 11.25  months (a strong buyer's market)
List price to sell price ratio: 86% (based on year-to-date sales)
Average days on market: 205
April 5 - jumbo loan interest rate: 3.875%
April 5 - conventional loan interest rate: 4.0%
The absorption rate at 11.25 months has risen for the year and is considered a buyer's market. This figure indicates the number of months it would take all Kenilworth inventory to sell without any new homes coming on the market and buyers have the advantage right now.
The median list to sell price ratio of 86% indicates homes are being overpriced. This causes longer days on market and eventually, a lower sale price.
MEDIAN SALES PRICES - on a downward trend since August 2018
MEDIAN DAYS ON MARKET - also going down, but a good thing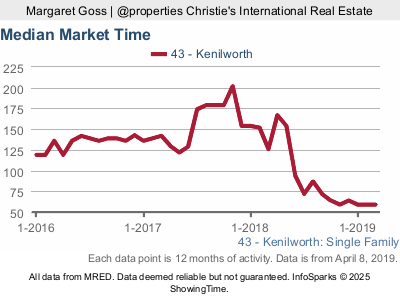 MEDIAN PRICE PER SQUARE FOOT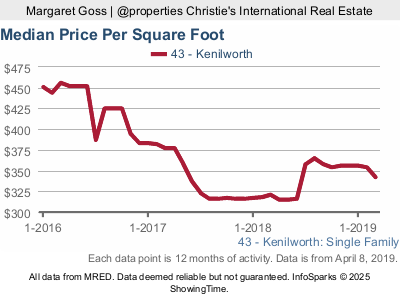 MEDIAN PERCENT OF ORIGINAL PRICE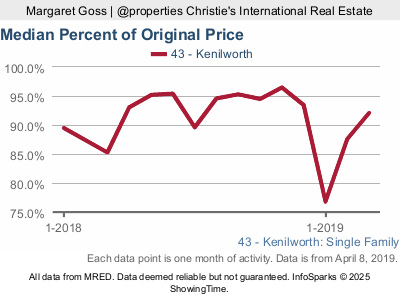 MONTHS SUPPLY (absorption rate)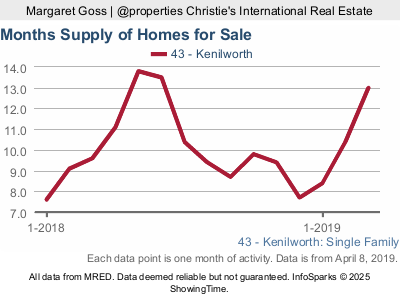 SEE ALL KENILWORTH HOMES FOR SALE
Get monthly real estate news for Winnetka and the North Shore!
Sign up for my free newsletter HERE
Margaret Goss is a full-time real estate broker since 1998 working in the North Shore communities of Winnetka, Wilmette, Kenilworth, Glencoe, Northfield, Glenview, and Evanston.
She can be reached at:
Phone:  847-977-6024
Email:  margaret.goss@bairdwarner.com
See her full BIOGRAPHY