The Marina Del Rey, CA  Condominium Market Trends Report is published!
Those of you who read my blog posts know, that we used to live in Marina Del Rey for about ten years. Then about five years ago we moved. Hence Marina Del Rey has a special place in my heart. Living near the Pacific Ocean has some truly wonderful benefits. When life's stress needs to be relieved, take my word for it walking five hundred yards to the Beach is very therapeutic.
Then to boot, Marina Del Rey has been going through a transition and has a young vibe to it. So, if you love the idea of seeing, hearing or being near the waves then you will love this Market Trends Report.
Now keep in mind Marina Del Rey has become a magnet to Tourists from all over the Globe. Generally, they all go to Santa Monica and then meander down to Venice Beach, next thing you know they are in Marina Del Rey, CA. It is quieter and more laid back. They start asking where they are at? Needless to say, they in turn start wondering that this is a great place to call home or call it a second home.
Those who can not or do not want to buy a home end up either renting one of the 5000+ boat slips or end up living in their boats. The closest it reminds me to is how some people live in their boats in Amsterdam.
Now if you ever have landed in LAX as in Los Angeles International Airport or were flying out  and happened to look as you were landing  or taking off, the coast that you saw a few seconds, minutes before your arrival or your departure was of the Marina Del Rey, CA coast.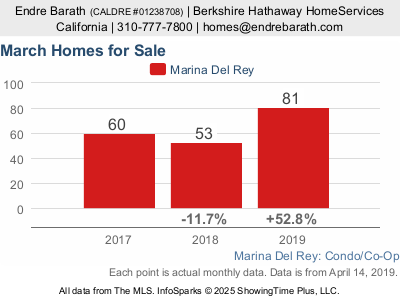 As you can see inventory has increased dramatically from last year, never the less if you look at the three year trend it allowed buyers to choose rather than having to jump into a multiple offer situation.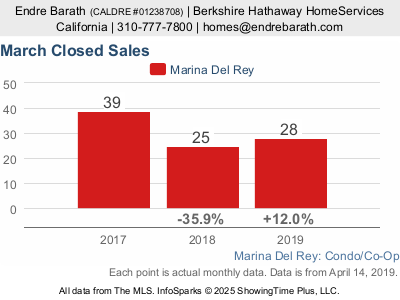 Not surprisingly when there are more choices to buy from generally sales increase as well!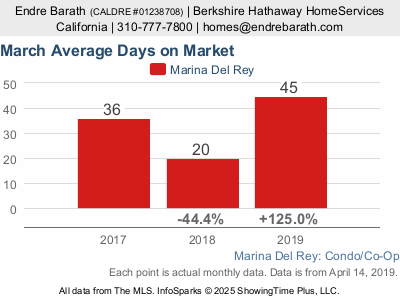 The average days on market clearly indicate that we are moving from a seller's market to a more balanced market. Now sellers need to price their Condominiums in Marina Del Rey, CA correctly if they want their Condominium to sell rather than just linger on the market!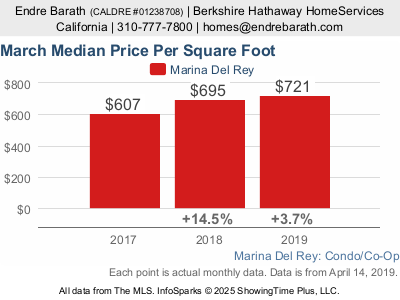 As you can see from the Median Price Per Square foot we are heading to a more balanced market.
Check out the Map to get a better idea where Marina Del Rey, CA is located in reference to the rest of the Greater Los Angeles area.
If you are looking for a seasoned Realtor who is familiar with Marina Del Rey, please reach out to me directly!
If you are looking for a knowledgeable, focused and goal-oriented Realtor in the Beverly Hills area who will help you achieve your Real Estate goals, please reach out to me directly!
If you are looking for a pet friendly Beverly Hills Realtor who can handle and sell the most difficult properties that no one else could, please reach out to me directly!! If you are considering buying or selling a home, a luxury home, luxury investment real estate, luxury vacation homes, or luxury beach properties in Southern California, Los Angeles, Century City, Westwood, West Hollywood, Beverly Hills, Marina Del Rey, Venice or Malibu, feel free to contact me at 310.486.1002 (m) or homes@endrebarath.com or visit one of my websites at https://www.endrebarath.com  I contribute a portion of my commission to local animal rescue organizations.