You and the people you care about are invited to join us for Good Friday Service at 7pm on Friday, April 19 at The Home Church, located at 1711 S. Winchester Blvd. in Campbell, Calif.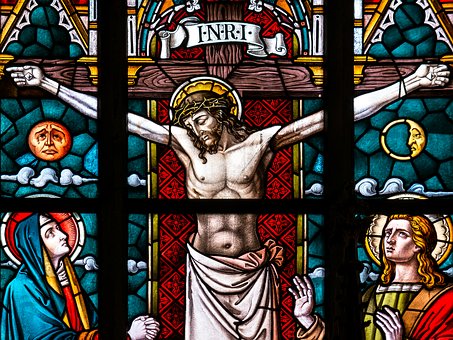 Good Friday is the anniversary of the day Jesus Christ was tried by Pontius Pilate, then convicted and condemned to death on a cross (crucifixion) for the crime (sin) of blasphemy (claiming to be God).
The Jewish religious leaders saw Jesus' radical teachings to "love God and love your neighbor as yourself" as a threat to their authority and livelihood. They tempted one of Jesus' own trusted followers, the disciples' treasurer, Judas Iscariot, into betraying Jesus in the Garden of Gethsemane to a contingent of 200 Roman soldiers. Judas pointed out Jesus by giving him a kiss. Judas received "blood money" for this betrayal-thirty pieces of silver.
Jesus was brought for questioning before the government authority Pontius Pilate. After talking with Jesus, Pilate attempted to "wash his hands" of the matter, saying he found no sin in Jesus. Pilate even gave the crowd the option of releasing Jesus as one of their choices of criminals to traditionally be released to freedom during their Passover holiday. Instead, the crowd called out for the thief Barrabas to be freed.
Yet even though Jesus died on that cross on Good Friday, three days later He rose from the dead, proclaiming God's victory over death to anyone who believes in Him. God used what was evil to obtain everlasting life for his beloved people.
Good Friday service is at 7:00 pm on Good Friday, and free childcare for young ones 0-5 years is provided.
If you are curious and looking to visit a church for Good Friday and Easter Sunday, I invited you to join us for these services at The Home Church in Campbell. 
Easter Sunday service begins at 9:30, and again free childcare is provided
The Home Church is located at 1711 Winchester Blvd., Campbell, between Latimer & Hamilton. The Home Church is a non-denominational Christian church where all people are welcome. 
Easter is the celebration of Jesus' resurrection from death on a cross. 
Jesus taught that if anyone accepted his gift of paying for their sins with his life by asking for his forgiveness and receiving Jesus into his heart, that person would obtain eternal life in heaven.
Images courtesy of www.pixabay.com.
Thanks for reading "Good Friday Service, 7p April 19 at Home Church, Campbell".