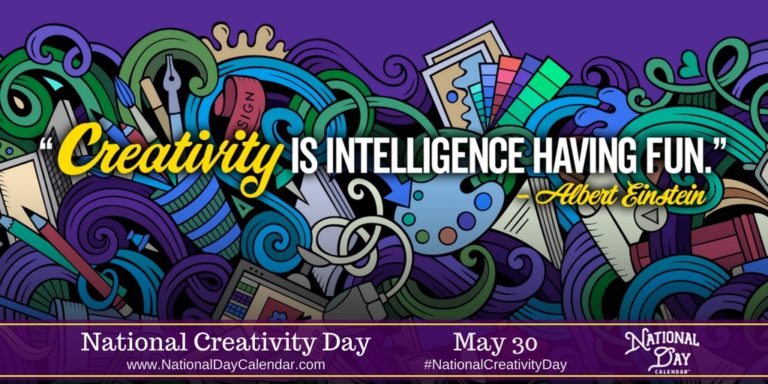 Celebrate creativity and imaginative spirits on May 30, National Creativity Day.  
May 30, 2020 is the third National Creativity Day. It's a day to celebrate all artists, writers, musicians, filmmakers, bloggers, vloggers, entrepreneurs, inventors, photograp
hers, graphic artists, or any the 100+ other creative personalities.
Not sure how to celebrate? Practice and share creative arts on social media using #NationalCreativityDay.
Acknowledge, motivate, and inspire other budding artists to do the same and pursue their dreams.
Go to http://NationalCreativityDay.com to read  interviews, articles, and strategies for becoming more creative and building creativity into daily life.
Silicon Valley, Calif. is home to creativity and the entrepreneurial spirit.
As just one example, Cupertino, Calif. is the birthplace of Apple Computer, started by the talented Steve Wozniak and Steve Jobs. 
Another is Pixar Animation Studios (now part of Disney) in Emeryville. Pixar is the birthplace of ideas for films such as Toy Story 4, Coco and Up.
Beloved Pixar short films include Piper, Lava and Bao-as well as Kitbull.
To celebrate National Creativity Day here's a free look at Pixar's short film Kitbull at www.rebrand.ly/qgqq1m. 
Kitbull was created by Pixar's SparkShorts and released in conjunction with National Love Your Pets Day.
Remember, "Creativity is Intelligence Having Fun,"as stated by world-famous scientist Albert Einstein. 
Images courtesy of www.apple.com, www.pixar.com and NationalCreativityDay.com.
Thanks for reading "Creativity is Intelligence Having Fun May 30 Creativity Day".