Creating a business takes guts and a whole lot of persistence. There are countless hurdles that need to be overcome in order to take a concept and execute on it. One of the biggest challenges for dreamers and aspiring entrepreneurs is the process of accessing capital to start the business. Then, once the company has launched, managing cash-flow in order to keep the lights on and payroll funded takes priority.
If you're considering making the plunge into self-employment and/or business ownership, think of cash the same way you think of oil in your car's engine. When it starts to get low, or hasn't been properly maintained, things start to run rough. And, if you ignore the problem long enough, things break.
Ensuring Necessary Capital is Secured Prior to Launch
If cash-flow is the oil in your business' engine, start-up capital is like fuel in the gas tank. If you don't have enough, or you fill your gas tank with low quality capital (expensive venture debt, credit cards, personal debt, etc.), the added stress of meeting these financial obligations will reduce the productivity of your business.
Brad Sugars provides an outline, in an article published by Entrepreneur, of the six biggest mistakes entrepreneurs make when raising capital for their new venture. He talks about the grinding frustration of repeated rejection by VC Firms, investors clubs and angel investors. I've experienced this first-hand, learning the hard way that raising capital requires even more diligence and patience than actually running a business
In the rush to get started, many entrepreneurs eventually jump at the first person or organization to offer them funding. This can be extremely dangerous. Desperation should not dictate a startup's funding choice. When considering an offer of funding, carefully investigate the following:
● What level of passion does the investor have in your product or service?
● Does the investor have a clearly outlined exit strategy? Does it line up with your dreams for the business?
● What contacts or opportunities can the investor unlock for you, beyond providing funding?
● If your startup experiences difficulty repaying the debt or honoring the timeline for their exit, what are your options?
● What other successful start-ups has the investor played a role in?
● Could you secure this capital in a more cost-effective manner?
If you feel completely comfortable with the answers to these questions, then I'd recommend taking advantage of the funding opportunity offered. Just make sure there aren't any personal liabilities incurred by signing on the dotted line.
Avoid Personal Loans (Secured or Unsecured) At All Costs
For your first swing at the bat, traditional lenders will almost never provide access to traditional business loans or other business funding products. That is, unless you're willing to provide a personal guarantee or collateral. It's tempting. If you just put your house up, the bank will give you the money you need. Skipping the brutal rejections and constant business plan tweaking involved in pitching investors is a siren song almost too tempting to resist.
Resist this shortcut for two reasons. First, the business plan development and pitching helps you to hone every aspect of your business prior to launch. It keeps you from cheating, because every potential investor will have a new set of questions based on their unique experiences. It's hard to fake industry knowledge and a well-thought-out concept in front of a board of savvy investors.
The second reason you should avoid personal guarantees of corporate debt is for the very simple fact that ninety-six percent of businesses fail within 10 years. What happens if your business goes under and there's still a balance on the loan? Yep, that's right, you're stuck picking up the tab. While you try to put your life back together after a business failure, you'll also be straddled with monthly debt payments. It's not a fun experience.
Reduce Personal Liabilities and Avoid New Tax Liabilities
To give your fledgling startup the absolute best chance for success, the founders need to reduce or eliminate their personal debt prior to launching. In addition to traditional debt, understanding the tax liabilities of running a business will help minimize the risk for tax debt to be accumulated while the business is growing.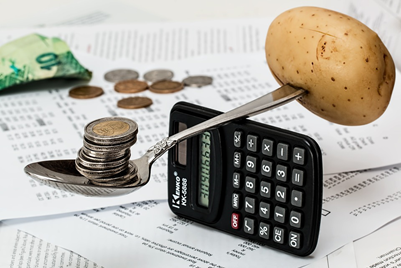 Dive deep into the financial health of every founder in the business. Understand the consumer debt and tax liabilities impacting their personal cash-flow. If necessary, prior to starting up, seek qualified tax and debt management advice. By removing the stress of monthly debt payments and potential complications with the IRS, the team operating the business will have one less (major league) source of stress and distraction from the daily grind of keeping the company afloat.
To prepare yourself and any co-founders for the financial stress of launching a start-up, take the following steps:
1. List all personal debts and monthly expenses on a sheet of paper.
2. Cut all non-essential (housing, food, transportation and utilities) expenses. This will free up cash-flow to support your family during lean months.
3. Outline, on paper, the strategy for meeting personal debt obligations with little to no income from the start-up in the first two years of operating. Most start-ups fail to generate a profit in the first few years.
4. Work with a consumer debt specialist to consolidate or eliminate as much debt as possible. By resolving the burden of crushing debt and IRS tax complications, a professional debt relief counselor can help business owners avoid potential bankruptcy. Improving personal cash-flow and reducing debt also minimizes external stress on the operating partners that need to keep their head in the game as the company launches.
5. Create a zero-base budget that outlines every personal, monthly expense and make sure there's a realistic plan in place to cover these needs. Again, assume the start-up will generate zero personal income for the first year or two.
6. Set expectations, based on the above steps, with family members and dependents. Ensure that everyone is onboard 100%.
It's my sincere hope that your business will thrive. If you have an incredible idea, the knowledge to plan strategically, and the expertise to execute efficiently, you might have a shot at beating the odds. And, if the venture completely flops, you'll have gained valuable insights to take into account for your next ride on the entrepreneurial roller coaster!