The best IDX sites are constantly evolving. Agents and brokers upgrade their sites with new plugins and software to solidify advantages over the competition and drive new business.
It is a best practice to put up a "coming soon" or "under construction" banner whenever working on your site. This prevents users from seeing a broken page or error. In WordPress, this is referred to as maintenance mode. 
In this blog we'll show you how to enable maintenance mode for your IDX WP website. 
What Is Maintenance Mode?
Maintenance mode is any banner or splash page that blocks access to your site during development. Good maintenance mode messages provide a reason for the outage and a timeline for  completion. Here are some situations this can be employed:
Upgrading plugins

Testing software

Changing themes

Fixes

Updates
Why Should I Use Maintenance Mode?
 Maintenance mode allows you to limit access to your site until you are ready to go live. This allows you to deliver a better product and develop more leads. It also allows you to communicate with your users and reassure them that you will be back soon.
How Do I Enable Maintenance Mode?
You have several options for you IDX WP Website. We review these options and how to enable them below.
Built-in
Your simplest option is to take advantage of built-in functionality in WordPress. Anytime your run an update for software on your site, WordPress automatically creates a .maintenance file and displays the following message:
"Briefly unavailable for scheduled maintenance. Please check back in a minute."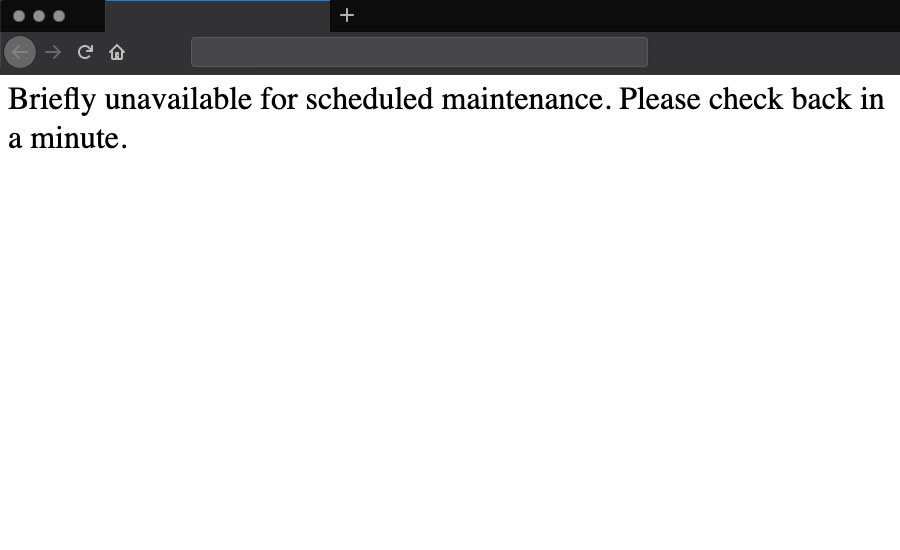 The built-in option is easy. It requires no changes, no coding. But visually, it is a bit rudimentary, and your users may confuse it for an error message. 
Custom php file 
If you want something a little more interesting, you may consider a custom php file. As a default, WordPress will read the .maintenance file during updates. But this file can be replaced by dropping a maintenance.php file into your wp-content directory. You can write some html and produce the maintenance message you want.  Here is an example I created using a royalty free image from Pixabay.
Using the custom php file gives you some more freedom, but requires some html knowledge.
Plugins
As another option, you may consider a plugin. Plugins give you the flexibility of a custom maintenance message without needing to code it by hand.
What Are Some Plugins Options for Maintenance Mode?
WP Maintenance Mode
WP Maintenance Mode is a plugin with more than 600,000 active installations that allows you to create fully customizable maintenance banners with flexible colors, texts, and backgrounds. It also includes subscription form, countdown clock and social media icon options.
To use the plugin, simply download and install it like any other WordPress plugin. To enter maintenance mode, simply activate the plugin and then deactivate it, to exit.
SeedProd 
SeedProd is a highly regarded plugin offered in free and paid versions. The plugin offers a real-time page builder that allows you to change texts, fonts, colors, layouts, backgrounds and photos instantly on your maintenance page.
The plugin includes 500,000 images, 750 Google fonts, and 50 themes for free. It also provides options for password access to your site, subscription forms and social media sharing. 
Under Construction
Under Construction is a plugin with some clever features, including automatic end date and time, Google analytics tracking, synchronization with MailChimp and whitelisted users. The plugin also includes a drag-and-drop page builder, as well as 170 pre-built pages to allow you throw up a functional page quickly.
How to Deactivate
Deactivating maintenance mode is as easy as deactivating the plugin. Some plugins also provide toggles to allow you to move back and forth between maintenance mode and the live site.
Now you know how to enable maintenance mode for an IDX WP Website. Questions or comments? Leave them in the feedback. Or for more Realtyna content, check out Build an IDX Website With Divi.
*Please note: Not all plugins are 100% compatible with other plugins, solutions or Realtyna products. Please confirm or test compatibility with your solutions before implementing. While we are happy to help you find a compatible solution, we do not endorse any 3rd party products. Suggestions are only made for reference or guide.