WILMETTE HOME SALES for June 2019
49 homes closed in Wilmette in June which is 3 less than last month. Last year in June (2018) 58 homes sold.
WILMETTE REAL ESTATE MARKET TODAY
Homes for sale: 178
Price range: $299,000 to 3,000,000
Under contract: 77
Absorption rate: 6.4 months (still a balanced market)
Condos for sale: 49
Price range: $112,000 to $1,599,999
Median price range of homes for sale: $925,000
Average days on market for homes that sold in past 6 months: 116
The Wilmette market has seen a downward trend in total homes sold over the past 3 years: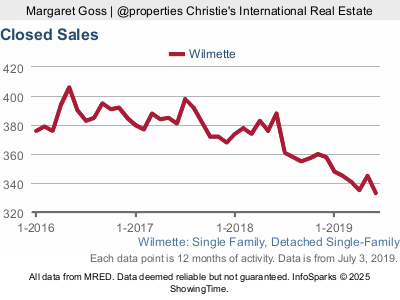 Home prices have also declined since a spike in the market in the spring of 2018 when prices and sales rose significantly. The reason is hard to pinpoint and there are varying opinions. Many people feel high property taxes - that are rising - are a primary factor. Millenials are not as quick to make the big suburban move and have been staying put in the city.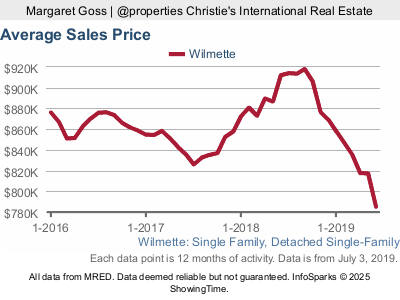 Whatever the reason, the result is downward pressure on home sales and prices. Seems like a perfect storm for buyers to do well here particularly factoring the continuing low interest rates.
Price your home to sell and don't worry about "wiggle room." Buyers are keenly aware of home values and won't overpay in today's climate.
Wilmette has been a steady rock in the North Shore housing market for many years. Of all the villages, Wilmette attracts buyers because of its proximity to the city, easy transportation, good schools, and a vibrant downtown. I'm hoping this downturn is just a short blip.
SEE ALL WILMETTE HOMES FOR SALE
Sign up to get monthly North Shore real estate news delivered to your inbox.
It's free and we'll never sell your info and you can opt-out at any time.
Enter email address at: North Shore Newsletter
To CONTACT Margaret Goss, please call 847-977-6024 or email:  margaret.goss@bairdwarner.com
Margaret Goss is a full-time real estate agent since 1998 servicing the North Shore communities of Winnetka, Wilmette, Kenilworth, Glencoe, Northfield, Glenview, and Evanston. See full BIO for Margaret Goss.