Winchester-Frederick County, VA Real Estate Market Update - January-June 2019
The Winchester-Frederick County, VA real estate market continues to show signs of improvement through the first six months of 2019. The area has suffered from low real estate inventory for nearly two years, and though it is still low, it is showing signs of increasing. Low inventory creates a circular challenge for home buyers and sellers. Buyers can't buy because homes are not available. Because inventory is so low, would-be sellers have no place to move to. Therefore, they stay put and buyers can't buy. Until more homes come on the market, the cycle will continue, but it is slowly changing.
Winchester-Frederick County, VA Real Estate Market Update: Market Inventory
The current new units added to inventory in Winchester-Frederick County from January - June 2019 stands at 1,412.  That's an improvement from the same period in 2018 which was 1,217, and it's up from 1,172 in 2017, when the low inventory issue began. Inventory has increased with the exception of January and June through the first six months, and that is consistent with the two previous years. The year typically starts with lower increases in inventory, and when schools are ​​​​​​​out and vacations are taking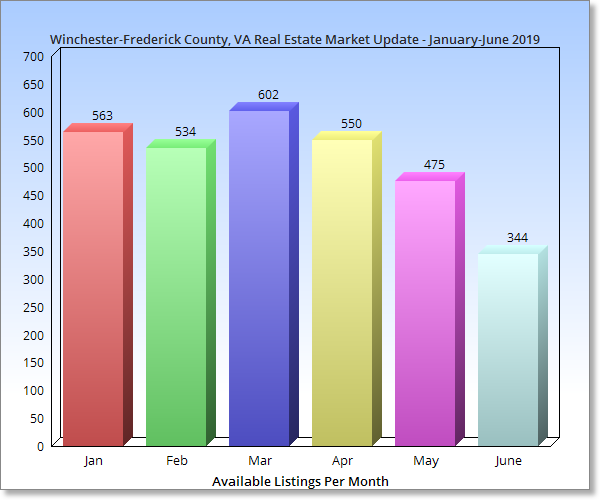 place, it slows again. That will change once schools are back in session.
The available single family listings for the first six months of 2019 averaged 511. March was the highest with 602 which would be consistent with the Spring market starting up. June was the lowest with 344. Of course, some of these listings are "to be built" homes. A to-be-built home can take from 60-120 days to complete once the paperwork is started, but it is a great option for a buyer who wants to have a say in the style, amenities, paint colors, etc.
Winchester-Frederick County, VA Real Estate Market Update: Sales by the Numbers
Sales for the first six months of 2019 were 908, which is a 7% increase over 2018 and 2017. May was the highest number of sales with 198. That mirrors May of 2017, which had 188. June 2018 had 191 sales. The market forms a pyramid shaped sales volume from January to June. Both January and June normally show lower volume sales, not because of market conditions, but it is because of people conditions.
In January, buyers and sellers are just leaving the previous year with the heavy holiday schedule at the end of the year. The days become dark early and the weather is unpredictable. By, March, the weather is better, daylight is longer and Spring is upon us. Buyers come out of hibernation and the sales begin to pick up. Late in May, the market conditions begin to shift again. Kids are out of school, colleges have graduated and students are taking their summer break and families are vacationing. During that time, there are more tire-kickers in the market who are looking at more homes, but sales start declining. The process carries through the Summer months most years, and the market returns to steady increases in September. 
Winchester-Frederick County, VA Real Estate Market Update: Sales Price Increases
Along with increased inventory, and increased sales volume, is increased average sales prices. The Jan-June 2019 average sales price was $281,359. That is a 1.22% increase over 2018, which was $277,966 and an 8.3% increase over 2017. The average sales price at this period in 2017 was $259,672. That's a nice steady progression.
Other stats have stayed consistent over the same period. For instance, days on the market have ranged from 56 in 2017 to 66 in 2019. Days on the market can vary for a number of reasons, and those reasons may not have anything to do with market health. They tend to be house, or neighborhood specific. So, though they can be used when negotiating, they may not be a great factor in actual value. 
The local Winchester-Frederick County, VA real estate market is doing what I call a "slow steady walk." The improvements are consistent, but they are not radical or drastic. When houses jump 10-30% in value or average sale price in a short period of time, that is a caution warning that something is not right. The market moves like a lumbering giant in the area, and if it is moving like a sprinter, it may signal a 2008 market again. Today, it's a friendly giant taking leisurely stroll and while keeping on the grass. 
When you're ready to sell your Winchester-Frederick County, VA home, or when you're ready to buy one of our lovely area homes, give Cornerstone Business Group, Inc. a call. We are your local real estate sales pros.
540-722-6029
This post was originally posted at www.cornerstonehomesales.com:  Winchester-Frederick County, VA Real Estate Market Update - January-June 2019