Hang Ten Dude, Surf's Up! No time to get to Malibu? Grab your surf board and go Summer Surfing in Scottsdale Arizona!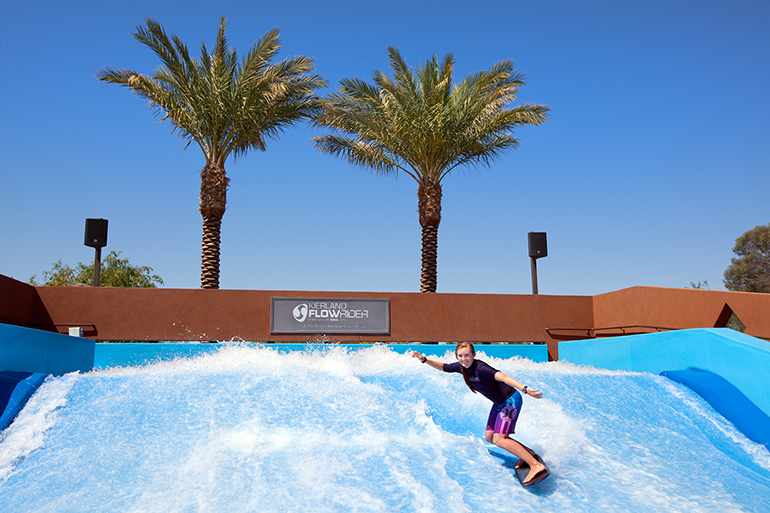 Hey dude, it is 110 degrees outside and it is 362 miles to the Pacific Ocean! Lets go surfing in Scottsdale. Westin's Kierland resort in Scottsdale, Arizona has a water park experience, a  radical surfing machine. Try the Westin Kierland "Flowrider" dude!

 Ride  radical wave in the Desert. Who would have thought this was possible? Westin Kierland Flowrider. Pictures from the Kierland Resort website.
                                          Check out the Surfers in Scottsdale
Surfboard and body boarders can enroll in a Summer Camp. Take a look at video Surfers in action at Westin Kierland Flowrider

This is the wave experience that the California "Surfer Dudes" wait hours to find. The agressive wave powers up right away. Ride it until you lose it.
I know that you cannot always find the time to wax your board, hop in the car and drive the 362 miles to San Diego or Los Angeles and get back in time for dinner. This is the option you have been waiting for! Are the kids just getting into surfing? Ask about the classes. Afterwards, go for a swim and have a great lunch at the Westin Kierland. Hang Ten Dude! Surfs Up right here in Scottsdale.
For more about the Scottsdale lifestyle and living. Now that you don't have to go to California to surf, hey contact me to buy a home in Scottsdale. It is "way less" expensive in Scottsdale and one of the best places to live in the US. See Scottsdale homes for sale with pictures and prices. 

Just want to  float in your own pool and not surf? Cool! Call me and I will help you find just the right pool home.
More about Scottsdale Lifestyle and Living
       Learn about Scottsdale and Arizona living from Jeff Masich, REALTOR®
For more information about Condos, Townhomes and Patio Homes for sale in Scottsdale check in an learn more. I would be pleased to help you as your Buyer's REALTOR®.
Buy a home in Scottsdale Arizona
To learn more about Scottsdale living and to see homes for sale: Scottsdale and Homes For Sale or Arizona Homes For Sale. 
Here is a FREE MLS Search for homes for sale in Arizona. I, Jeff Masich would be pleased to help you find Arizona Homes For Sale and the right home at the right price!
                                        Press FREE MLS Search to search for homes for sale in Arizona