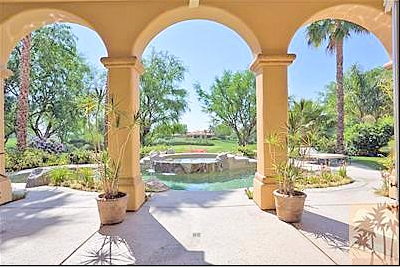 The Citrus exclusive and prestigious Country Club is well known for its storybook setting of beautiful and fragrantly scented citrus groves. To add to the charm of The Citrus at La Quinta is the top quality golf courses and the wonderful environment surrounding you. There are a tradition and warmth that has made this community a legend. The Mountain View Country Club is nearby as well as Palmilla next door.
The Spanish Colonial style of architecture is wonderfully brought to life with splendid archways, signature blue trim, and bright bougainvillea throughout the clubhouse. Members use the clubhouse area to gather together to talk with each other about the golf games or about the day in general as they take part in some of the most exceptional cuisine created by Chef Kevin Lau, a classically trained chef.
The View is the perfect setting for members to reminisce about the times they have had while apart from each other. They can lay about taking in the desert sun around the crescent-shaped pool containing three lap lanes for those who take swimming seriously. Only steps away from the glistening pool are the fitness center outfitted with state of the art equipment.
This gives members the opportunity to have a second workout as the more popular facility of the La Quinta Resort is also available. Many privileges and amenities await the members of the Citrus Resort. There is special pricing available for guest rooms, beverages, food, spa services, salon services, products, and pro shop apparel.
The Citrus and Heritage Golf Members will be able to enjoy unlimited golf through the Citrus, Mountain and Dune courses designed by Pete Dye. There are also three other courses available with the Desert Membership including unlimited play on all six courses located at PGA WEST.
All members will be able to experience the finest in unlimited play on these top-quality courses where the cap is 350 per course. Each of the three courses has great views of the Santa Rosa Mountains. The Citrus, which is a member-only, has exquisite groves of white skirted citrus trees giving the most striking color and fragrance to the course as you play through. The terrain is full of lush manicured greens, sand bunkers, and multiple water hazards and. This is a typical Peter Dye designed course.