If you are currently in the market to buy a home in the Detroit metro area, you'll want to consider Novi MI homes for sale. The city of Novi is located  25 miles northwest of the center of Detroit and approximately 25 miles northeast of the center of Ann Arbor. Home to nearly 59,730 people, Novi is a close-knit community that prides itself on continuous economic growth, exceptional schools, and premier shopping destinations. 
MONEY recently ranked Novi #23 out of all U.S. cities for the 'best places to live in America.' The magazine highlighted "minuscule" unemployment, plenty of shopping options, and a high average income. The magazine also stated, "The city's top-ranked school district and high graduation rate make it an attractive place to raise a family."
Novi's wide range of affordability from entry-level market-rate homes to luxury estates provides abundant opportunity for families to move here and enjoy quality living, a strong sense of community, and access to top-rated public schools.  
In order to navigate the local market and uncover the right home in Novi for your lifestyle and needs, buyers will need to partner with a qualified agent. Top Novi MI REALTOR® – Tom Gilliam has over two decades of experience assisting home buyers and sellers in Novi and the surrounding Detroit metro area.
Tom offers in-depth, local market knowledge and has all the resources and information you need for making the best home purchase decision. For more information about Novi MI real estate, call Tom Gilliam directly at (248) 790-5594 or get in touch with him here!  
MORE ABOUT NOVI MICHIGAN REAL ESTATE & HOMES FOR SALE
Currently, there are 518 Novi MI homes for sale listed. The median price of homes currently listed in Novi is $437,990, which includes condos, townhomes & single-family homes. Now is the right time to invest in Novi MI real estate while homes are still affordable.
As a licensed, professional real estate agent in Novi MI, Tom Gillian stays on top of the local market at all times and is aware of new inventory as soon as it becomes available, ensuring that his buyers have access to the most valuable homes and securing an offer.
Whether you are in the market for a low maintenance townhome/condo, a single-family home in a quiet neighborhood, a new construction home in brand new development, or a luxury home with amenities upscale galore, Novi MI real estate accommodates every buyer and lifestyle. 
Tom's in-depth local knowledge goes well beyond the value of the homes in the area. He keeps his finger on the pulse of community trends, business developments, the local economy, and other factors that can affect the market value of property in the area to ensure that you get the best value for your money.
Tom can also help educate you about the different neighborhoods and communities in Novi, the types of homes and features offered, the builders, nearby schools, property values, area amenities, and so much more.  Allow Tom to help streamline your home search by putting together a list of properties that best match your specific criteria in a home.
Get started today by requesting customized search results delivered directly to your email along with email alerts of new listings. Call Tom directly at (248) 790-5594 or get in touch with him here. 
WHY HOMEBUYERS SHOULD CONSIDER LIVING IN NOVI, MICHIGAN
Thriving in business and leisure activities, Novi continues to be one of the fastest-growing cities in Michigan, which has led to steady increases in the city's population as well as commercial and industrial developments.
Novi's economy includes international corporations with local and regional offices in high tech research and development, health care, transportation and logistics, manufacturing and domestic and foreign automotive-related suppliers, with energy-related companies being one of the fastest-growing sectors.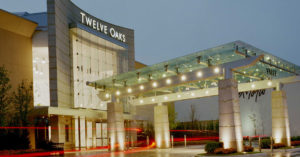 TWELVE OAKS MALL IN NOVI, MI
Novi has multiple shopping destinations, including Twelve Oaks Mall, a full line super-regional shopping mall with over 180 stores, is located in Novi and considered the dominant shopping destination of choice of metro Detroit.
The mall is located on the Northeast corner of Interstate 96 and Novi Road and anchored by major retailers, including Lord & Taylor, Macy's, Nordstrom, and JCPenney.  
For parents with school-age children, Novi includes all or part of four public school districts including Northville Public Schools, Novi Community Schools, South Lyon Community Schools, and Walled Lake Consolidated School District. 
Public high schools serving Novi include Novi High School (Novi Community Schools), Northville High School (Northville Schools), South Lyon East High School, and Walled Lake Western High School (Walled Lake Schools).
Private schools in Novi include Detroit Catholic Central High School and Franklin Road Christian School. Higher Education in Novi includes One of Walsh College's 3 campuses, The Art Institute of Michigan, and South University. The Japanese School of Detroit is a supplementary Japanese school. 
Novi has plenty of neighborhood and community parks offering endless opportunities for spending quality time outdoors. The nationally accredited Parks, Recreation and Cultural Services Department maintains more than 1,200 acres of parkland throughout the community. 
Parks in Novi include Brookfarm Park, Ella Fuerst Park, ITC Community Sports Park, Village Wood Lake, Mae Power Park, Novi Dog Park, Pavilion Shore Park, Lakeshore Park, Rotary Park, Wildlife Woods Park, and Villa Barr Art Park.
Novi's quality parks and recreational programs invite and retain business, improve property values, provide economic impact, and attract new residents to the community.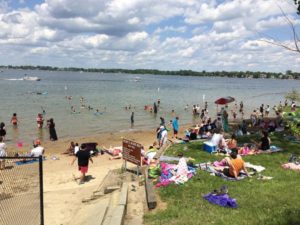 LAKE SHORE PARK IN NOVI, MI
The largest of the City's parks, Lakeshore Park offers a wide variety of recreational opportunities and hosts many community events. Park amenities include a swimming beach (on Walled Lake – the largest lake in the City), mountain bike and walking trails,  two play structures, and 3 picnic shelters.
Pavilion Shore Park, located only a short walk from the entrance of Lakeshore Park, provides additional amenities such as lakefront seating, fishing, and more. 
Golf enthusiasts of all skill-levels have several 18-hole courses to choose from in Novi such as Maples Golf Club (semi-private golf course), East/South at Links of Novi(public), South/West at Links of Novi (public), and West/East at Links of Novi (public). 
Suburban Mobility Authority for Regional Transportation (SMART) operates local and regional bus service for Novi and the surrounding area. The closest major airport is Detroit Metropolitan Wayne County Airport with international and domestic flights from Detroit, located about 27 miles from the center of Novi.
PARTNER WITH TOP NOVI MI REALTOR® – 
TOM GILLIAM
Whether you're in the market for Novi Michigan homes for sale or its time to list your current property, Tom Gilliam provides the kind of knowledge, skills, dedication, and personalized service you need and deserve. Tom will take the time to listen to your needs and concerns and will always have your best interests in mind.
By partnering with Tom, you'll have an expert by your side who will protect your interests, advocate for you, and skillfully handle the real estate transaction for the best possible outcome. For more information about buying or selling Novi MI real estate, feel free to call Tom directly at (248) 790-5594 or send him an email today!   
TOM GILLIAM
RE/MAX Classic
29630 Orchard Lake Rd,
Farmington Hills 48334
Direct: 248-790-5594
Office: 248-737-6800
Tom@Homes2MoveYou.com
License #301741
MAP OF NOVI MI REAL ESTATE