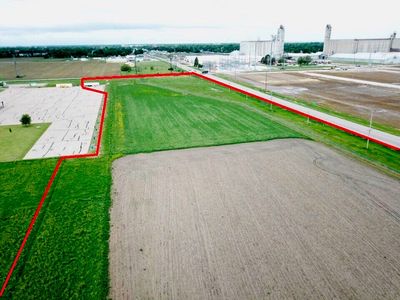 12+/- ACRE BUILD SITE - $650,000  Hastings, NE
Located at Southeast corner of Highway 6 and Showboat Blvd, on East side of Hastings, Nebraska
The length of the property runs with Highway 6 frontage.
Build site on north side of MPH Racetrack Legal: Tr of Land N 1/2 NW 1/4 Cont 10.05 A Sec 16-7-9 and 1718.11 Lot 1 The Garage Add Pt NW 1/4 16 & NE 1/4 17-7-9, City of Hastings, Adams County, Nebraska Zoning Zoned I-2, Heavy Industrial District.
This district is primarily for heavy manufacturing, storage, major shipping terminals and related uses, however there are a variety of permitted uses in this district.
Call Lindsey Haden (402) 984-3725 or Mike McCann (number below) for details on permitted use. 
Two access points/easements exist (one via Showboat Ave. on the west side of property, one to the east of property on subdivided parcel) Paved access road drawings have been created and are available upon request.
Fantastic Opportunity to develop an Industrial Park.  Fronts main Highway that handles 10,000 vehicles or more a day!!