Ah, fishing.
Just the word conjures up images of sitting under a shady tree along the river bank watching that float for a nibble and enjoying the outdoors.
The only thing that could make that better would be free fishing. That's right, no licenses, no bait to buy, and a free loaner rod & reel if you don't have it.
It's Free Fishin Day in Knoxville, Tennessee. This annual even is sponsored by the Tennessee Wildlife Resources Agency (TWRA) at multiple locations all across the state on several weekends this month to introduce kids of all ages to the joys of fishing.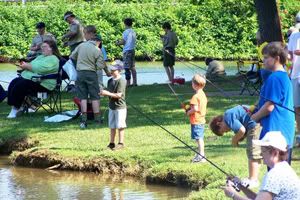 Here in Knoxville The Cove at Concord Park is our location and the TWRA has stocked a huge pond at the Park with hungary catfish just looking for a juicy worm to bite on.
Bait and fishing tackle are supplied at no cost by several area sporting goods stores.