As already established, modern business is impossible without the virtual representation of it. How so? The fact is the modern consumers are more and more becoming online shoppers transferring their purchasing process into virtual reality, thus pushing businesses to adapt or be left behind. As simple as it may sound, creating your own website and launching it is simple only on the surface. Many novices make mistakes, especially in the first stage. And that's ok. Making mistakes is a part of our learning experience. Here is a list of steps you can take while launching a real estate website thus making your online experience easier.
For the FULL details, [CLICK HERE]
Here is the thing, maybe using a third party website is indeed cheaper than storing data on your server, but in this process, you lose the most valuable item- SEO. And real estate websites are all about SEO. As a result, in the pursuit of saving a budget, you pay twice and don't get the desired result, because all your SEO goes to the third party IDX providers.
2. Don't Abandon the Idea of Creating Your Own Blog.
It's a very common case. People start posting articles on their blog but throughout the time when they don't see immediate results, they abandon the idea of having their own blog. You need to be patient. You can't generate more leads and get stronger SEO by just posting several articles. It's a continuing process.
Aside from this, don't forget that the more content you will have on your website, the more visible it will be for Google. Thus increasing your chances to be seen by your future clients. So, my advice would be- be consistent and patient. Your patience will be rewarded.
Note to remember, don't post content for the sake of the content. Make sure it is equally informational and entertaining and just a little bit promotional. It's a perfect blend for valuable real estate content.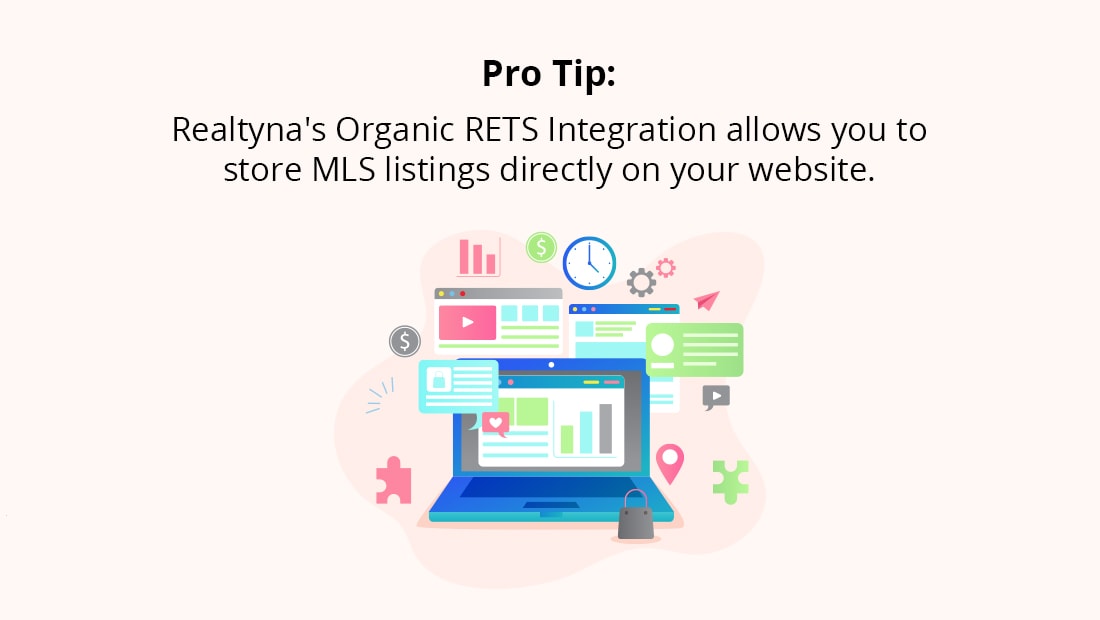 3. Create a User-Friendly Website.
4. Pay Attention to Your Images
5. Create a Complementing Social Media Account to Your Real Estate Website
6. Make Sure That Your Real Estate Website Works On Mobile Devices
P.S Interested in how Organic MLS works? Check out this article  Organic MLS Integration: Generate More Long-Term Leads and Improve Your SEO.
For the FULL details, [CLICK HERE]