OK, Fall has arrived in Arizona. It is now cool enough to go into your garage and de-clutter. During the Summer have you dropped off things in your garage so that you can no  longer park your car inside? It has been too hot in there to stick around for  more than 10 minutes all Summer.  Now is the time to get to work and organize!
Come on almost everyone that has a garage has this issue. Don't be defensive. Guests are coming and you have to "thin out" the mess, where does it go? To the garage, where else. The items tend to linger in the garage a while, even after the guests leave. How can you get organzied among the accumulating clutter? Well first of all sell, give away to the kids or donate the things that you can live without. Then? Well get organized!
In an article dated June 17, 2019, Jennifer Kelly Geddes of Realtor.com reported, 
"Taking on a garage organization project is not for the faint of heart, but with a few smart storage tricks, you can neatly stow away every little item you own. After all, the goal is to transform the garage into a usable space—hopefully, one with enough room to park your car—instead of a drop zone for clutter. Plus, if your garage is neat and organized, it'll make all your home chores, like gardening and small repairs, easier to manage.
Before you begin, pull everything out of the garage and group like items together. Don't mix categories (garden tools with soccer balls) or you won't be able to find what you need—and your work will have been in vain.
9 Tips to De-Clutter Your Garage
Here are nine easy ways to organize the most common items that are stored in garages.
1. Bicycles
Hanging bikes from the ceiling is a classic garage organization hack, but be sure to measure carefully before you start banging in nails.
"See exactly how much room you have, by parking your car in the garage and then opening the doors and trunk," says Novak.
Measure the gaps around your car—especially the area between the top of your open trunk and the ceiling.
"This way, you can hang things knowing your car will still fit," says Novak.
2. Sports equipment
Home organizing experts never met a mesh bag they didn't like. This stretchy, durable fabric is a wise choice for corralling mitts, helmets, and balls of every shape and size. Try a wide mesh cube or hit up the dollar store for a mesh laundry bag to hang on the back of a door or a hook on the wall.
3. Rakes and shovels
Photo by Garage Solutions Savannah
Take advantage of that open real estate on the wall and get your rakes, brooms, and shovels on the wall. Or consider putting these long tools in a trash can on wheels.
"This storage hack makes it easier to move your tools out to the yard," Novak says.
4. Pliers, paintbrushes, and other small metal tools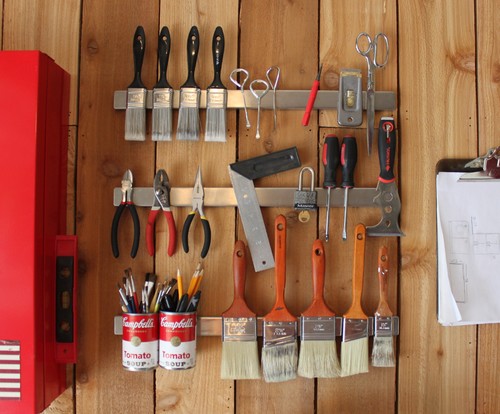 Magnetic strips are a lifesaver when you're embarking on organizing the garage.
"Use super glue to affix magnetic strips to wood, and use them to hold small metal tools," says Kristin McGrath, editor and shopping expert at Offers.com. No more digging around in a messy toolbox!
5. Boots and shoes
Tiered racks are your go-to for all types of footwear, from running shoes to rain boots. Consider buying shelving units made of noncorroding metals, because they're easy to clean, says Karen Gray-Plaisted of Design Solutions KGP.
6. Gardening supplies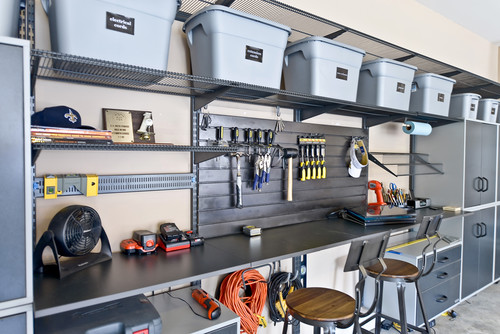 Photo by Organized Living 
Gloves, trowels, clippers, and potting containers you were planning to make into an herb garden can easily be popped into sturdy plastic tubs.
"Storage doesn't need to be fancy in a garage, just durable," Gray-Plaisted says.
One tip from Novak that'll save your back: Choose smaller bins over large ones, as they'll be easier to move around when they're full.
7. Paint cans and pesticides
Shelving is a must in any garage, and wall-mounted cabinets are ideal for storing paint cans, spray paint, pesticides, laundry detergent, and other caustic chemicals, because they'll be up and away from small children.
You can also think creatively when it comes to linear storage. An old dresser or kitchen cabinets can be repurposed to give you valuable storage space in the garage.
8. Car manuals and cleaners
A clear plastic shoe holder can store myriad items, making them easy to find and out of the way. Hang the shoe holder on the back door or on an empty wall.
Novak likes to stuff her pockets with car and appliance instruction manuals, sponges to wash the car, bike pumps, and other small items.
9. Nails, screws, nuts, and bolts
Forget that heavy tool box for storing itty-bitty pieces, and repurpose some good ol' jars or coffee cans from the kitchen.
McGrath also suggests hanging jars from their lids.
"Nail or secure the lids from peanut butter or Mason jars to the underside of your shelf, and then fill containers that match those lids with screws, washers, and rubber bands," she says. This nifty idea avoids stacking jars and the risk that they will tumble down."
Of course, if you dread getting organized, you can always buy a larger house with more rooms. Give me a call, I can help with this plan.
Meet Jeff Masich, REALTOR® for Phoenix Metro and Scottsdale Homes For Sale
For more Scottsdale homes or Arizona Homes and Land for sale just ask Jeff Masich, I would be most pleased to help you as your Buyer's real estate agent. 
Buy a home in Scottsdale Arizona
To learn more about Scottsdale living and to see homes for sale: Scottsdale and Homes For Sale or Arizona Homes For Sale.   
Here is a FREE MLS Search for homes for sale in Arizona. I, Jeff Masich would be pleased to help you find Arizona Homes For Sale and the right home at the right price!
Press here for FREE MLS Search in Phoenix metro or following to search for other Arizona Homes For Sale