Who would you ask for the best Halloween events for 2019 in the Phoenix Arizona metro area, Herman Munster or me, your personal REALTOR. Sure Herman looks the part but I have been in the Phoenix metro and Arizona for a long time. OK, OK you are going to ask Herman Munster...well here you go! Boo!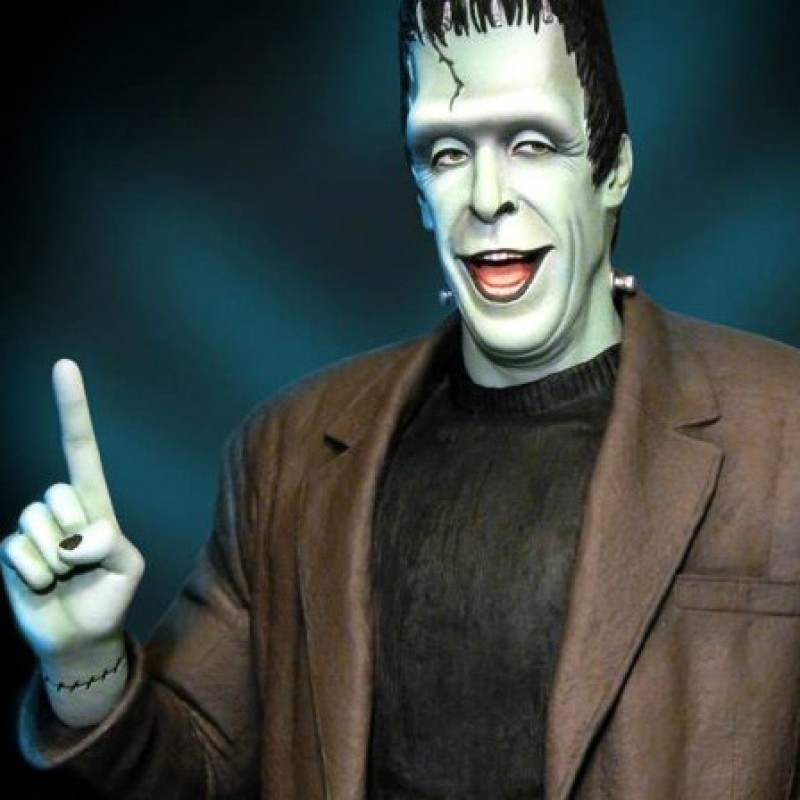 If Herman Munster was a Real Estate Agent, he could give you Halloween event choices based on his very specific knowledge, but would his home selling ideas coincide with what most Buyers want? Herman, if you recall on TV's The Munsters had some unique ideas regarding entertainment and home decoration. Would Herman's ideas help you find the right Halloween activity for the family or a home Seller get an offer at the best price for the Seller? You can decide here.
Phoenix Arizona Metro Halloween Events for 2019 Click Link For Full List (AZ Repubic)
Herman Munster says check these 2019 Halloween Events Out in Phoenix
Herman Munster, Realtor says my Halloween event choices for Phoenix are the best!
2019 Halloween Events from VisitPhoenix
Halloween in Fair Verona: A Romeo & Juliet Masquerade Ball October 31 But, soft! what party through yonder window breaks? Crescent Ballroom is transforming into the home of the Capulets and Montagues for Halloween, complete with two rival dance floors. Get extra points if you rock some Shakespearean dress. Crescent Ballroom 308 2nd Avenue, Phoenix
Trunk or Treat October 27 "Please join us"says First Southern Baptist Church of Scottsdale on Sunday, October 27th from 5:30 to 7:30 for a fun evening of Trunk or Treating. What is Trunk-or-Treat? Trunk-or-Treat is a great addition to traditional Trick-or-Treating. Instead of kids going door-to-door, they come to your trunks. First Southern Baptist Church of Scottsdale, 5230 N Scottsdale Rd, Paradise Valley, AZ 85253
Spooktacular Soiree at Moxy Tempe October 31 Party in Moxy's hip lobby with a costume contest, DJ, drinks and grub. Moxy Phoenix Tempe 1333 S. Rural Road, Tempe
A Disgraceful Halloween at Gracie's Tax Bar October 31 One of downtown Phoenix's best dive bars will have live local music, a haunted maze, tarot card readings and more. Gracie's Tax Bar 711 N 7th Avenue, Phoenix
Halloween Town AZ October 10-31 Arts, crafts, pumpkins, rides, and games await you and your family at Halloween Town. Added perk: it's location gives you a chance to do some bargain shopping too. Phoenix Premium Outlets 4976 Premium Outlets Way, Chandler
Fifth Annual Enchanted Pumpkin Garden October 19-27 the Town of Carefree creates a whole world of pumpkin people, thanks to sculptor Ray Villafane. Enjoy the figures and listen to music, play games, and shop. Carefree Desert Gardens 101 Easy Street, Carefree
Yappy Hour Howl'oween Party October 23 Dress your pooch in their most paw-some costumes - the most festive dressed will win a special box filled with Harry Barker treats, toys and picture frames. Omni Scottsdale Resort & Spa at Montelucia 4949 E. Lincoln Drive, Scottsdale
23rd Annual Pumpkins at the Peak October 25 You've got all the Halloween festivities here, like games, crafts, and face painting, but the best part of this event is the Dancin' Dad Contest. Pointe Hilton Squaw Peak Resort 7677 N. 16th Street, Phoenix
Halloween Block Party October 25 You've got all your Halloween party perks here - pumpkin carving, face painting, and so on - plus a Halloween slime station. Not to mention a little shopping on the side. The Promenade 16215 N. Scottsdale Road, Scottsdale
Strange Garden at Desert Botanical Garden October 25-26 The beauty of the Desert Botanical Garden gets taken over by pumpkin vignettes, enchanting creatures, and groovy ghouls. Desert Botanical Garden 1201 N. Galvin Parkway, Phoenix
Salt River Fields Balloon Spooktacular October 25-26 Watch the night sky light up with more than 20 hot air balloons, all glowing in the dark while you play games, wander through the pumpkin patch, and more. Feeling adventurous? Take stroll through the Spook Trail. Salt River Fields at Talking Stick 7555 N. Pima Road, Scottsdale
Howl-O-Ween October 25-26 One of Phoenix's best-known Halloween events for families. Get a glimpse of all sorts of creatures at the zoo - real and imaginary. Phoenix Zoo 455 N. Galvin Parkway, Phoenix
79th Annual Buckeye Halloween Carnival October 26 Buckeye's Halloween fest features carnival games, bingo, krazy cars, cake walk, petting zoo, pony rides and more. Earl Edgar Complex 500 S. Miller Road, Buckeye
Family Halloween Carnival at Kiwanis Park October 26 Tempe's Kiwanis Park transforms into a spooky carnival, full of food, games and bounce houses. Kiwanis Park 5500 South Mill Avenue, Tempe
Family Fun Halloween Bash October 27 Have your little ones dress in their best costumes to trick or treat around the OdySea Aquarium, play games and more. OdySea Aquarium 9500 E. Via de Ventura, Scottsdale
Dunkin' for Pumpkins October 27 Have a true Arizona Halloween in a heated pool filled with pumpkins, which you can take to make decorations and other fun activities. McDowell Mountain Ranch Aquatic Center 15525 N Thompson Peak Parkway, Scottsdale
Halloween Stroll & Costume Contest October 27 Stroll through downtown Tempe with the family, showing off your best costumes and trying out some crafts, games, or trick-or-treating. Hayden Square Amphitheater 404 South Mill Avenye, Tempe
Howl-O-Ween Featuring The Big Dog Show October 27 Save your "awws" for this event - a canine costumed Sunday funday in the park. Doggos of all shapes and sizes will be spread throughout the park in their best outfits. Margaret T. Hance Park 67 W. Culver Street, Phoenix
Trick-or-Treat at the Museum October 31 Enjoy the wondrous Children's Museum of Phoenix and get your trick-or-treat on at the same time - there'll be a monster mash dance party too. Children's Museum of Phoenix 215 N 7th Street, Phoenix
Halloween in the Hills October 31 Fountain Hills' will close the Avenue of the Fountains, where families can enjoy games and trick-or-treating. Avenue of the Fountains 16704 Ave of Fountains, #100 Fountain Hills
Trick or Treat Main St. October 31 Over 20 businesses in downtown Mesa will have their doors open for young trick-or-treaters. Downtown Mesa 1 N Macdonald, Mesa HAUNTED HOUSES Fear Farm Select days September-November
Fear Farm Select Days October and Novemmber is the largest outdoor haunted attraction in Greater Phoenix, with 30 acres of pure terror, 6 indoor/outdoor haunted attractions and, for the faint of heart, a 10 acre corn maze. Fear Farm 2209 N. 99th Avenue, Phoenix
Sanctum of Horror September 27-28, October 4-5, 11-13, 18-20, 24-27, 29-31, November 1-2 For years, Sanctum of Horror has been scaring Phoenix with breathtaking makeup and incredible detail that will surely frighten the soul. Not only will you be terrified, but be immersed in the Sanctum's world. Will you have what it takes to enter? Superstition Springs Center 6555 East Southern Avenue, Mesa
Ahwatukee Haunted House & Hayride October 25-27 Enter a world of thrills, chills and terror. Visitors will enjoy a haunted hayride through the park and encounters with various creatures of the night. And just as you thought it was safe, more fear awaits you as you are dropped off at the front of an eerie haunted house. Sweeten up your scary night with free candy. Ahwatukee Community Swim, Tennis & Event Center 4700 E. Warner Road, Phoenix
Mount Mayhem Haunt October 25-27 and 30-31 Step onto the haunted grounds of Mount Mayhem, a family-run Halloween display, for a thrilling encounter with creatures of the dusk. As the story goes, an epidemic horde of mental patients was left roaming around in the night and their Enfermedad has been incubating to let itself loose. Mount Mayhem 1740 E. Purdue Avenue, Phoenix
AZ Field of Screams Fridays and Saturdays in October, and October 31 Do you have what it takes to enter the corn field planted over an old forgotten cemetery, where the dead now seek revenge on anyone trespassing on their grounds? Have a screaming good time with your friends and family in this haunted corn maze at Tolmachoff Farms. Tolmachoff Farms 5726 N. 75th Avenue, Glendale
Scarizona Scaregrounds Select days throughout October Tour two haunted houses and fight off zombies on a zombie paintball course. Attempt the chainsaw gauntlet to see how fast you can escape! The Scaregrounds also features different nightly entertainment, live bands, DJs, and the Beer and Wine Cemetery where "spirits" come to life. Scarizona Scaregrounds 1901 N. Alma School Road, Mesa
13th Floor Haunted House Select days throughout September, October, November Created by nationally-recognized and award-winning haunted house designers, the 13th Floor will transport you to new levels of horror. Prepare to be terrified by two epic haunted attraction walkthroughs for one all-inclusive price. The 13th Floor is an intense, graphic, theatrical show that will take you on a gut wrenching ride of visceral thrills and psychological horror. 13th Floor Phoenix 2814 W. Bell Road, Phoenix
PERFORMANCES
Sweeney Todd October 11-13; October 15-20; October 22-27; October 29-November 3; November 5-9 See the demon barber of Fleet Street in Stephen Sondheim's classic musical, performed by the Arizona Broadway Theatre. Maybe have a meat pie. Arizona Broadway Theatre 7701 W. Paradise Lane, Peoria
The Nightmare Before Christmas: In Concert Live to Film October 31-November 3 Tim Burton's classic animated film gets a resounding accompaniment by the Phoenix Symphony. Dress up and enjoy the movie while listening to the music live. Symphony Hall 1 N. 1st St., Ste. 200, Phoenix
Halloween Real Estate Issues from me your professional REALTOR?
One of the more difficult things we as Real Estate professionals have to do is advising our clients "what has to go" when putting their family home on the market. Herman Munster may have ideas that do not match what the majority of Buyers are looking for in a home. For example, most Buyers are not looking for a moat around the home and creaking front porches and doors that resemble that of a dungeon.
I think we have all been there where a client's home, maybe like the Munster's home, has worked for them for a generation and everything works but it is not in a condition where we as professionals, in our opinions, will put the client's home in a position to sell for top dollar in the local market.
For example, Herman Munster may love certain aspects in a home, but some things have GOTTA GO when selling a home!
Old Door Knobs

Are they old, brassy? Does the one on the front door look like it was owned by Herman Munster? Has it has been through one too many winters or scratched with brillo?

                 Herman Munster might like old door knobs with "character?"... Most Buyers will not
Herman Munster styled- Front Door and Door Lighting Fixtures
Old doors? What do you think? Take a look at the Munster's front door.

Do you expect to hear chains rattling inside the door, aka the old TV show "The Munsters"? Spring for a nice door. Get an inexpensive but modern light fixture.
Of course you could ignore Herman Munster and ask me your professional Realtor.
More Ideas from me your professional Realtor
For more ideas for your Seller clients that will attract Buyers see how to "Make your home SMILE"! 
Communicating these thoughts should be done with warmth, love and compassion. After all, the Sellers probably love their home. The Munsters loved their home. Getting the Buyer to love the home also and helping your clients, the Sellers, to understand what needs to stay and what needs to go is where the rubber meets the road. 
As your Seller's Realtor, I Jeff Masich can help you with what has to stay and what has to go and help you attract Buyers in order to get the most for your home. Give me a call, I would be pleased to help. I do love Herman Munster though. 
Looking for a "Creepy House" that you can fix up and make your own? Call Me!
If you are looking to move to Phoenix including Scottsdale or to buy a home in Arizona or sell a home in Arizona, contact Jeffrey Masich, Associate Broker and Realtor. I would be pleased to help you and look out for your best interests while finding you the right home at the right price!
Press FREE MLS Search to search for Arizona Homes and Land for sale