Okay I hope this is correct. I am just copying the format from Michelle Molinari's blog. So blame her if I did it wrong....hehe Thanks Michelle for picking me....I think?
•1. Who is your favorite musical artist? My favourite musical artist at the moment would have to be Colby Caillat. She has such a pure voice and I love the easiness in the way she sings. I have many different types of genres that I like too so for bluesy jazz I love July Black. She is a Canadian singer and If you haven't heard of her music you should definitely check her out. My third choice would be my 13 year old daughter. She is an aspiring singer and she has a beautiful sweet voice.
•2. Who is your favorite artist? Well if you have ever seen any of my paintings you would be able to tell right away that I am totally inspired by Georgia O'Keeffe!! I love her bold style with Flowers. She paints huge single flower heads and that is what I do. My art teacher said, "paint what you love, and keep painting it until you are done." Which is what I do. I haven't tired of painting flowers yet.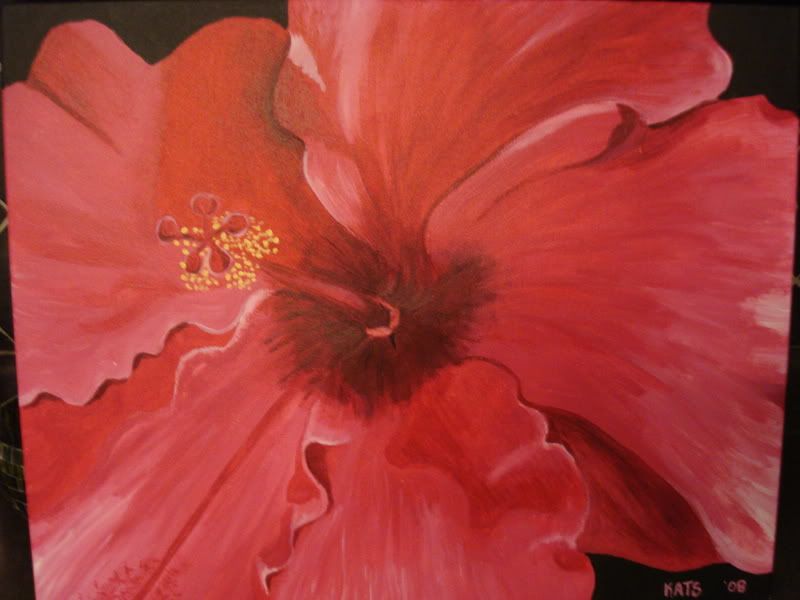 This is one of my 'Georgia O'Keeffe' Inspired paintings. Hope you like it.
•3. Who is your favorite blogger? I have many favourite bloggers and they are constantly changing. One of the most memorable favourites is The Lovely Wife. If you haven't seen her blogs you should definitely check her out. She is hilarious!! I also like Elaine Manes , she is one of the most sincere bloggers and I have great respect for her.
•4. If you could meet anyone (alive or dead), who would it be and what is the most interesting thing about them? I would love to be able to talk to my father again. I would talk to him about Art. He used to paint beautifully and I didn't appreciate his talent when he was alive, so if I could talk to him again we would talk about our love of painting and I would ask him for some pointers.
•5. What did you want to be when you grew up? I was once in a beauty pageant when I was three. Little Miss Tennesee. When the host of the pageant was asking the contestants questions, he asked me "What do you want to be when you grow up?" Much to my Mother's chagrin, I said, " I want to be a Mommy just like my Mommy." She just about died, because she wa s hoping I would say something brilliant like a surgeon or a lawyer. Of course I was only three. She wa s my whole world back then. As for a career choice, I have always done artistic careers, and I wouldn't change a thing. By the way , I was third runner up. My Mom still has the trophy.
•6. What is the most interesting piece of trivia you know? I love hummingbirds and I just recently read that they need to eat every 15 minutes. That's all I can think of now, but I know I have thousands of useless bits of trivia somewhere in the recesses of my brain. I'm sure they will pop up after I finish writing this blog.
•7. If you could live in any point in history what would it be and why? I think I would like to go back to the 1950's. Everything was being invented and it was post war so there was a lot of prosperity . Plus I like the music of that era and also those dresses!
•8. Most interesting job I ever had: I would say the most interesting job I had was a Make up artist. I did some print work and that was very interesting and challenging to work with the photographers. They are very demanding. I also loved doing bridal. I would meet lots of different people with many cultural backgrounds. Also very demanding people!!! As you can imagine.
Okay now I think I have to tag 3 people? I hope that's right. I tag Cindy Bryant, Thomas Scott, and Joelle Green.