This is the time of year when we think of the Pilgrims in the year 1620 and thanking God for the beginnings of our Country in the "New World". However, even before that momentous event in 1620 we should also give thanks for a much earlier "Caravan" almost 500 years ago that crossed into Arizona in 1540 which was 80 years before the pilgrims landed at Plymouth Rock in Massachusetts and in fact before the later arriving Pilgrims were even born!
These early arriving brave Spanish Conquistadors introduced horses to the Native Americans, that prior to their arrival, lived along bodies of water and farmed and hunted. Until that time foot travel was all they had available. After the Caravan's arrival in 1540 horses opened up the West for further exploration and living. The early arrivers also started mission churches over the following 100 years throughout the West, many of which still stand today.
First Caravan in 1540 Makes way through the Arizona desert
Re-enactors depiction and other similar images from https://southwestphotojournal.com/2012/11/28/ocity-of-gold/ depict Coroando's Conquistadors in Arizona in 1540, introduced horses to North America. 
First Caravan Explores the Western United States in 1540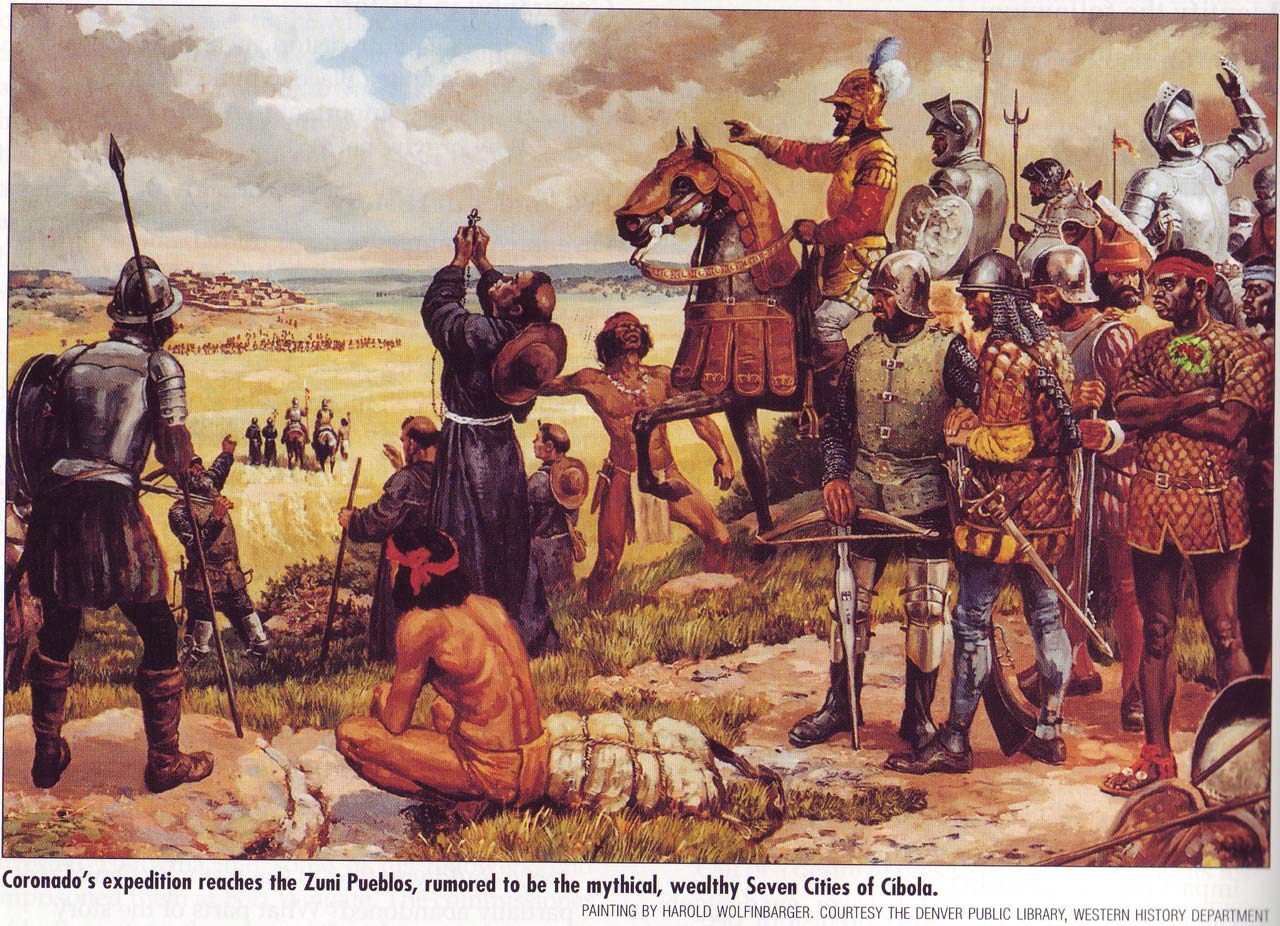 Thank you to Francisco Coronado that gave thanks to God our Creator in the year of our Lord 1540 in Arizona 80 years before the Pilgrims arrived in Masssachusets in 1620 after surviving their journey on the Mayflower and barely getting through the first Winter in the New World for their much more celebrated first Thanksgiving.
               Francisco Coronado and his men thank God for their safe travels to New World in 1540
      Pilgrims in 1620 were not even born when Coronado explored Arizona and 5 interor States in 1540
As your family is gathering around the Thanksgiving dinner table this year and the story of the first 'Thanksgiving in the "New World" comes up, here is a true story to tell while enjoying Thanksgiving and thinking about the Pilgrims at Plymouth Rock eating Turkey with the natives in 1620. As many of us believe, William Bradford stepped off the Mayflower as the first arrivals (not true...read on) in a New World in what is now the adjacent 48 states. This is what our children are taught in school. Hold your horses, amigo! There was an earlier visit to my state of Arizona in 1540 and four other western states to the New World 80 years before the Pilgrims arrived or were even born. 
San Xavier (White Dove of the Desert) founded in 1692
                  San Xavier near Tucson Arizona foundation was laid in 1692 by Father Kino
A National Historic Landmark, San Xavier Mission was founded as a Catholic mission by Father Eusebio Kino in 1692. Construction of the current church began in 1783 and was completed in 1797. The oldest intact European structure in Arizona, the church's interior is filled with marvelous original statuary and mural paintings. It is a place where visitors can truly step back in time and enter an authentic 18th Century space.
Yes, it was a momentous occasion in Massachusetts. However, the Spanish explorers (also known as the "Conquistadors") led by Francisco Coronado were in Arizona in 1540, 80 years earlier. Coronado led a mighty expedition on the Coronado Trail from Arizona to what is now Kansas. The Pilgrims were not even born yet, let alone boarding the Mayflower in 1540. The Pilgrims never left Massachusetts and  in a wooded forest region with game and fish all around them barely could get enough food to eat. The 1,000 men in the Coronado Expedition traveled mightily from 1540 through 1542 through the interior of the now United States through Arizona, New Mexico, Texas, Oklahoma and Kansas and then back again to their colonial headquarters in Sonora. These Conquistadors had many days of Thanksgiving and set up missions throughout the great desert southwest many of which are still standing.
Per the ArizonaExperience.org, on the Coronado Expedition,  "Francisco Vázquez de Coronado led an expedition through Arizona in 1540 in search of transportable riches, rumored to be in the Seven Cities of Cibola. His trek through the area that today forms Arizona, New Mexico, Texas, Oklahoma, and Kansas began over 500 years ago.
Before any significant European settlements appeared on the Atlantic Coast of North America, men in Coronado's expedition of Conquistadors were seeing the Grand Canyon and gazing at pueblo villages built by the Hopi and Zuni Indians. A Spanish nobleman from Salamanca, Spain, Coronado went to the Spanish colony of Mexico (then New Spain) in 1535, at the age of 25, as an assistant to New Spain's first viceroy, Andiono de Mendoza. By 1538 he had married the daughter of a wealthy colonial treasurer and become the governor of the province of New Galicia....
Coronado Expedition...The Journe​y Begins in 1540​
Coronado was appointed leader of a major expedition to conquer the area to the north of New Spain in January, 1540, upon the return of Fray Marcos de Niza and his reports of cities of vast wealth. The ambitious Conquistador quickly amassed soldiers and supplies. The quest was funded largely by Viceroy Mendoza and Coronado's wife. Several others invested their fortunes, hoping for a return of jewels and precious metal. By February, 1540, a thousand men and hundreds of horses, mules, cattle, sheep gathered at Compostela, west of Mexico City near the Pacific Coast, in preparation for the journey north. The expedition party included approximately 240 mounted soldiers, 60 additional foot soldiers, and about 800 Indians and slaves. Fray de Niza traveled as a guide. Two ships, commanded by Hernando de Alarcón, would carry the bulk of supplies up the Guadalupe River. An advance guard of 100 men set out from Culiacán on April 22, 1540 following de Niza's route north through Sinaloa and Sonora.
Greenlee County Arizona has Coronado on their Great Seal
The party traveled to the Spanish outpost of Corazones, located near present day Ures, Sonora on the river now known as the Rio Sonora. Coronado established a large camp and moved north up the river. The expedition is probably responsible for the name place name "Sonora." The explorers used the name "Señora" for the part of a river just upstream from Corazones. Some scholars believe that this word was an early version of "Sonora." The army marched a few days from the "Señora Valley" to a north flowing stream, believed to be the present-day San Pedro River. After a few days on the river, they camped at the base of some mountains at a ruin then known as Chichiticale. This ruin is an American mystery! No archaeologists have found its location, but Coronado's travel logs mention it extensively. It is thought to be a pueblo built by an ancient American Indian tribe and abandoned by 1400. It is believed to be about thirty miles west of the present town of Safford on the edge of the Apache Reservation. The search for the ruin continues today. From Chichiticale, it is likely that Coronado took an advance guard north to the pine forests of the White Mountains. He then headed northeast to the Zuni pueblo of Hawikuh, located approximately five miles east of the modern day border between Arizona and New Mexico near Zuni Pueblo. The grand pueblo was supposedly one of seven Zuni pueblos in the area."
Yes, all of this occurred in Arizona within current day United States, before the Pilgrims were even born!
Explore the Coronado Trail Today in Arizona
Remember those first Thanksgivings in the US as you give thanks to God this year and also explore the Coronado Trail" in Arizona along Route 191 in Safford Arizona, about 150 miles east of Phoenix.
When you come to visit Arizona and fall in love with the beauty of the great desert southwest, let me help you buy a home and visit me at Arizona Homes and Land.
Are you to buy your Dream Home in the Phoenix Arizona Metro?
If you are ready to sell a home and Buy your Dream Home this may be a great time. For Buyers mortgage rates are low and the economic outlook is promising. 
Living in the Phoenix Metro Area including Scottsdale                 
Jeff Masich discusses living and buying a home in Phoenix metro area and Scottsdale 
Meet Jeff Masich REALTOR®Phoenix Metro Area including Scottsdale
             Meet Jeffrey Masich, REALTOR® and call 480-242-6500 to get started
If you are looking to move to Arizona or Scottsdale and looking to buy a home in Arizona or sell a home in Arizona, contact Jeffrey Masich, Associate Broker and REALTOR® or Stacey Smith, REALTOR®. As a specialty, I am the KING of HOMES FOR SALE with RV GARAGE or RV GATE. I would be pleased to help you and look out for your best interests while finding you the right home at the right price!