From The Christmas Tree Experts Themselves!
Tenessee Nursery has some intervention methods with ways to help those problems you may be having trying to stage a home to attract buyers or perhaps to help attract some potential buyers during the holiday season.
Every year you dream big, and every year your tree falls just a little bit short of your vision. What's wrong with it? Why are there sparse parts everywhere? Why does it look so short now that it's in your house? And why do the ornaments look so droopy? Don't worry -- we've consulted the pros to find out why their trees always look so much better, and we're here to dish the secrets. Check out our hacks for your best tree ever:
If your tree is a little too short
Look around for any sturdy base you may have about to stand your tree on, then cover with a tree skirt or similar camouflage. CafeMom recommends this type of stand. A small table or several full paint cans could also do the trick. Just make sure it's balanced properly and you place your tree out of the path of active kids and pets who may come running around the corner to avoid injuries. 
For the sparse areas of your tree
If you've got barren spots that make your tree look uneven, grab some extra pieces of evergreen garland or some strands of green-colored tinsel to fill them in. Once the tree is ready, these areas won't stand out, and your tree will look much healthier and balanced.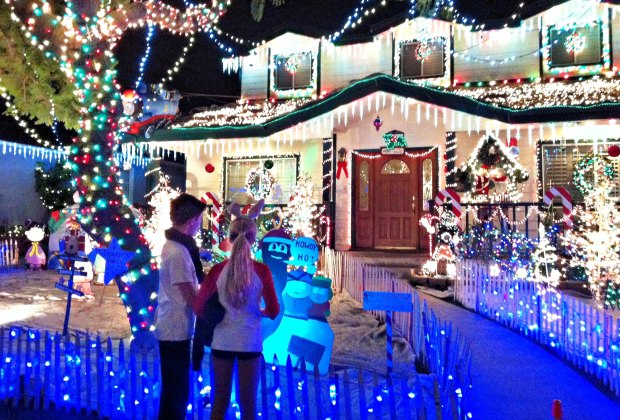 For a completely fresh look
For a little better dimensionality this year, try stringing your lights vertically instead of horizontally around and around your tree as usual. Skeptical? According to Reader's Digest, even the massive tree at Rockefeller Center in New York City is strung vertically. Who knew?
Measure the base for proper watering
Proper watering is key to keeping your tree looking its best as well as preventing fires. OneGoodThing recommends measuring the diameter at the base of your tree and then giving your tree one quart of water per inch. They also recommend watering your tree as soon as you bring it home and keeping it away from heat sources like the fireplace and hot vents, etc.
To string beaded or awkward garland
If you've got that particular type of garland that won't drape well, grab some ornament hooks and place them every 20 inches or so around it, tucking each section into position. This little extra boost should give it the right look on your tree.
If your ornaments make your branches droop
Skip the traditional ornament hooks and opt for a floral wire. You can do more with it, and wind it in further around the branch instead of just relying upon a hook at the very tip of the limb to hold everything up. 
Lengthen things up with ribbons
Ribbons can make your tree look longer. If you find yours seems too little, try hanging a few decorative ribbons around it, each one tied into a pretty bow with the long sides both spiraling down or cascading down the tree a few inches for a lengthening effect.
To hang lights evenly & make sure you have enough lights for your tree
Don't feel bad; we didn't know either! It turns out, for best results, we should: 
Use one 100-count string of lights per vertical foot of tree space

Test each section of lighting first to make sure they light up before placing them on the tree
To keep your floor dry when watering your tree
Do you happen to have a kids' plastic snow saucer sled around? (If not, they have them at lots of dollar stores and Walmart-type spots.) Rumor has it these are the perfect size and shape to place under your tree's base and keep everything dry. Family Handyman shows how to do it here
. 
Do you hate decorating the Christmas tree?
Tree decorating isn't for everyone! It seems like so much fun, but when you come right down to it, it can be tedious or stressful for certain people. So why not delegate? Invite some friends or family over (kids usually love trimming trees), put out some hot cocoa with marshmallows or whipped cream and sprinkles, and turn on some tunes for the ultimate Christmas tree decorating the party. Your tree will be ready in no time!
TOP TREES FOR AN OLD FASHIONED CHRISTMAS
Do you still need a tree or have questions about Christmas trees in general? Give Tennessee Wholesale Nursery a call for details. They've got several kinds of beautiful Christmas trees available today!