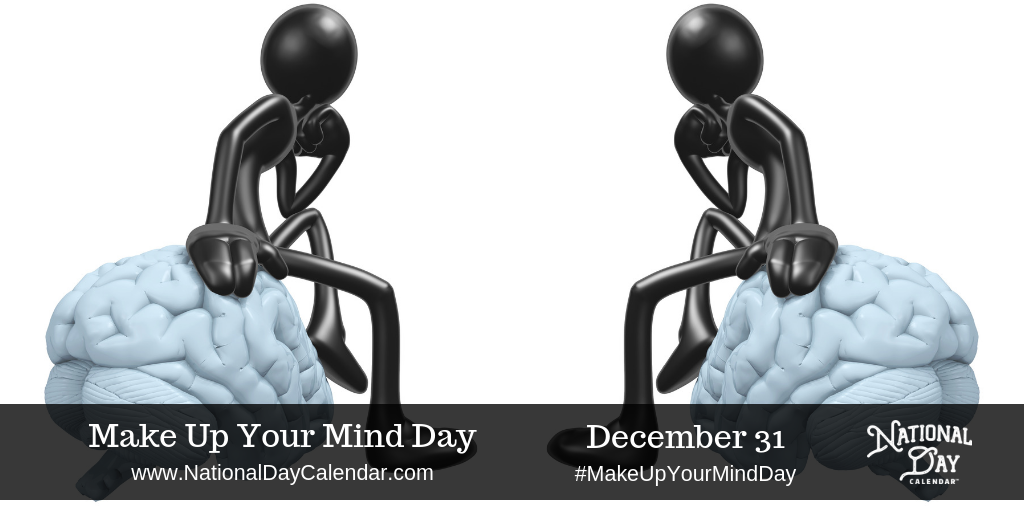 Thinking of making some  New Year Resolutions on December 31?  Great timing as Dec. 31 is "Make Up Your Mind Day".
Whether a person is considering healthier lifestyle choices, increased kindness, paying down bills or purposefully and mindfully enjoying the moments of one's life, today is a good day to Make Up Your Mind and choose the life desired for the new year. 
According to www.NationalDayCalendar.com, Make Up Your Mind Day is observed annually on December 31st.  It's a day "to quit talking and start doing" as the famous Walt Disney said about the secret to success.
HOW TO OBSERVE
If one has been hesitating on making decisions of any kind, Make Up Your Mind Day isa great incentive to act now. Use #MakeUpYourMindDay to post on social media. 
Images courtesy of www.NationalDayCalendar.com.
Thanks for reading "Choose Goals Now December 31 Make Up Your Mind Day".