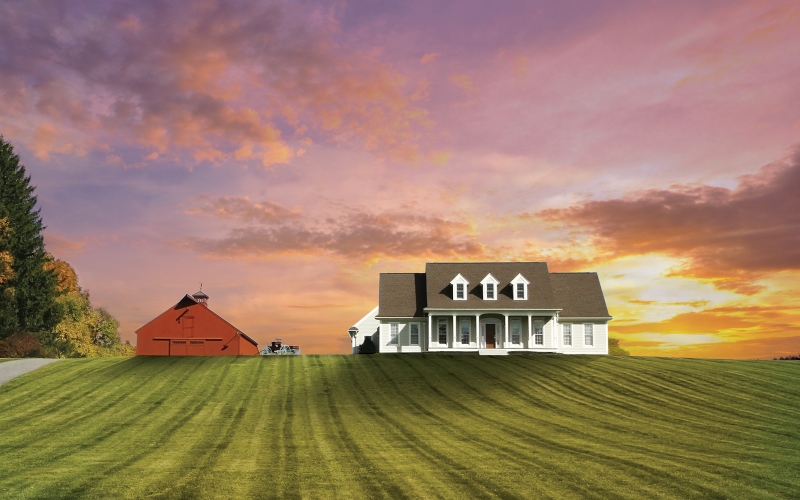 Simply defined, rural properties are properties that have a population density of less than a thousand inhabitants per square mile. These properties are usually located within an unincorporated area and don't have a central city or nearby primary medical providers. Some of the most common rural properties include homes, farms, ranches, and lands.
Most homebuyers think that the features of rural properties will adversely affect their ability to earn a high return on investment. Since these are usually located in secluded areas, they think that these types of properties have lesser target markets. 
This is one of the reasons why marketing and selling rural properties can become a challenge. This is especially true for individuals who don't have the training and experience in the local real estate industry.
Fortunately, all is not lost because there are several strategies that can help you with your attempts in marketing your rural properties. 
Some of these strategies are listed below:
1.  Work With Professionals Who Understand Rural Properties
As mentioned, rural properties are unique. Its location, size, and purpose are different from residential properties. How rural property differs from other properties can become the reason why marketing it can be challenging. 
But, if you want to market rural properties in the easiest way possible, consider working with professionals who truly understand these types of properties.
Paying for the professional services will allow you to effectively market your rural property, like Teton Springs real estate. The money you'll pay the professionals can be a cost-effective investment because you won't have to study the real estate industry from scratch and do a lot of research.
Keep in mind that every rural property is unique. By working with professionals, you can use their experience and training to your own advantage.
2.  Take High-Quality Photos
A lot of people have many misconceptions about rural properties. Aside from being located in the middle of nowhere, most people don't like the idea of buying this kind of property because they think that they won't be able to generate income or enjoy their investment.
If you want to effectively market your rural properties, work on changing this mindset by taking high-quality photos. Photos, regardless if these are posted online or offline, can be a great way to promote your rural properties and entice potential buyers to do business with you.
When taking high-quality photos of your rural properties, focus on the areas which you think are your selling points. Depending on the location of your rural property, you can take pictures of other nearby recreational areas for hiking, hunting, or mountain biking. Through your photos, you can also showcase how buyers can have the opportunity to farm or garden once they choose to buy your rural property.
3.  Show Your Property Well
Multimedia can be your ticket to effectively market your rural properties. Aside from taking high-quality photos, you can also maximize multimedia by making a series of short videos about your rural property and then sharing these on social media.
When it comes to rural properties, short videos are one of the most effective marketing strategies because these can engage followers and promote sharing. Short videos can also erase all of the misconceptions people have in rural properties, while giving them the "feel" on how their lives will change and improve once they live in these properties.
Some of the most common scenes you can include in your short videos are clips with people who are walking around the pond, chatting on the porch, looking through the binoculars, or laughing around a fire pit. Essentially, a short video should highlight all of the experiences a buyer can get once they start living in your rural property.
4.  Pay Attention To The Marketing Platforms You'll Use
Rural properties are different. This means that it'll also appeal to a different target audience. When marketing this kind of property, don't expect that your buyers will be the same buyers who are looking for a home for their large families.
To ensure that all of your marketing efforts will reach the appropriate target audience, pay extra attention to the marketing platforms you'll pay and use. Although there are countless marketing platforms available today, you should only pick websites and publications that are segmented for people who are interested in rural properties, such as farms and ranches.
5.  Host A Unique Open House
As the name suggests, an open house is an occasion wherein a property for sale is viewed by prospective buyers even without an appointment. An open house is a great way of inviting buyers to personally look inside your property and eventually convince them to buy your property. This will also enable potential buyers to throw questions about the property and gain accurate answers right away.
But, as mentioned, rural property is quite different from residential properties. So, hosting an open house just for the sake of it won't haul in buyers. 
To increase the interest of potential buyers of your rural properties, throw a barn-themed party for your open house. This will leave a lasting and positive impression on your rural property.
Depending on your budget and size of your property, you can also hire a local group or have friends play live and country music during your open house. If the space allows it, you can also allocate a small area for your potential buyers to dance and have fun. You can also give out party favors, such as your listing brochure tied with a horseshoe charm and serve catered BBQs, too. 
The more unique your open house is, the more unforgettable your rural property will be!
Change Your Outlook
Marketing your rural property requires commitment and a lot of effort. Regardless of how spacious or cheap your rural property is, it'll be hard to gain results from your efforts overnight. Keep in mind that there are countless rural properties being marketed today, some of which have better features than yours.
Instead of stressing about how tough it is to market your rural property, savor the entire process, and learn from your experience. While you're marketing your rural property, use the experience as an avenue to hone your creativity and interpersonal skills, as well.