Well here I am with a long overdue Market Snapshot Report for the Greater Los Angeles Real Estate. As we are preparing for Spring, the housing market is in full bloom. We have record sales to prove it. The Talking heads aka analyst are wonder how high can we go? I am so grateful to be in one of the most exciting Real Estate Markets around the Globe.
 In case you did not hear Jeff Bezos  bought the most expensive home in my back yard for a mare $165 million the Warner Estate. On top of that as an investment he bought this fantastic piece of land for $90 million. Ironically, I had two buyers for it, and I told them $90, million was the sales price. They waited and vacillated too long, and they missed out. Well I get the glory of knowing I was right on the sales price. Small consolation for the lack of commission but great for the ego.
If you are reading this, I am confident it is difficult for you to imagine just how rich the wealthiest people on the planet are. Now keep in mind Amazon paid zero dollars in federal income tax on  $11 billion dollars of pretax profit.
 Thanks  to California, Jeff Bezos will be paying  every year 1.25 percent  on the purchase price of both of these properties.
So, with that said I am clearly digressing, but the good news is the California Real Estate market is on fire in spite of what the media wants you to believe sales are just happening.
We are in March and I had personally two sales already and am in Escrow on another property and negotiations on three other properties. So forget Corona Virus, focus on what your Real Estate Needs are and reach out to a seasoned Realtor in the Greater Los Angeles area.
 Now keep in mind that is not the average Los Angeles Sale or the average buyer. So with that said let's look at thereal figures for Los Angeles and Beverly Hills, CA.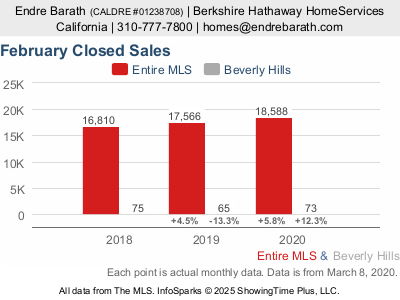 FEBRUARY 2020
Now these figures will give you a better idea. If you are interested on the two properties Jeff Bezos bought please reach out to me directly.
If you are looking for a knowledgeable, focused and goal-oriented Realtor in the Beverly Hills area who will help you achieve your Real Estate goals, please reach out to me directly!
If you are looking for a pet friendly Beverly Hills Realtor who can handle and sell the most difficult properties that no one else could, please reach out to me directly!! If you are considering buying or selling a home, a luxury home, luxury investment real estate, luxury vacation homes, or luxury beach properties in Southern California, Los Angeles, Century City, Westwood, West Hollywood, Beverly Hills, Marina Del Rey, Venice or Malibu, feel free to contact me at 310.486.1002 ( m)  homes@endrebarath.com or visit one of my websites at https://www.endrebarath.com  I contribute a portion of my commission to local animal rescue organizations.