Digital marketing has changed the way my company sells a home. In order to explain how significantly different we market a home for sale today, let me take a step back and establish what we did in the past.
Selling A Home Prior To The Internet Age
Prior to digital, there was a concept we referred to as "market time" and we actually measured how long (on average) it took homes to sell. Now if you think such a thing exists today, then you are not taking advantage of the full array of the digital benefits of an omnichannel marketing plan.
Market Time
Market time was measured in days, and from what I can remember from my interaction with Realtors around the US, we all saw homes in high-liquidity markets average something near 45 to 60 days. This meant that a homeowner could expect a contract on their home, on average, 45 to 60 days after it hit the market.
Why did it take so long? Because things moved slower. We had to take pictures and get the film developed. We needed to promote the home in the MLS (a printed publication that came out monthly), and we had to advertise in newspapers and magazines that specialized in listed homes. All of these had publication schedules and most relied upon our developed pictures to promote the home.
When you factor in the time it took to develop the film and you couple that with publication schedules for MLS and magazines, it meant that getting a home on the market took more than a month (and often two months). So knowing these time delays to meet the full buyer pool for a home, our tactics for getting top dollar for our home sellers were heavily influenced by outside factors.
The Neighborhood Stalker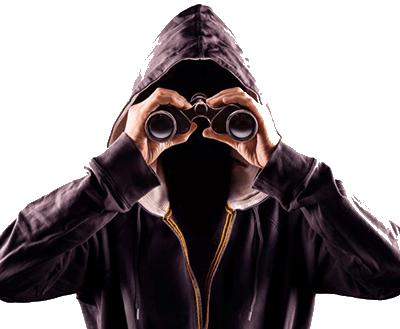 Then, as now, we know that there exists in each neighborhood a buyer that is ready to buy. This buyer likely lost out on buying a home because of a bad offer (another buyer got the home). So the buyer is ready, and the buyer will know as soon as a sign goes up that the home is available. We refer to this buyer as the "neighborhood stalker" because he/she is fully aware of values in the neighborhood and will pounce on the next listing.
But before the internet, it took us more than a month to reach the full buyer pool. If we sold to the stalker right away, the stalker had no competition, and the stalker new it! So what did we do to ensure we gathered the whole buyer pool to create competition for the home?
Start High, Then Reduce
We overpriced the home! If the stalker was willing to overpay, great! We kept the home priced high until all the primary marketing channels were reached, then we would slowly lower the price until it hit market value and all the buyers could compete.
Now, this explanation is an oversimplification, but it is how and why most real estate agents "started high, then reduced" until the property sold.
Selling A Home Today
I still see a lot of my competition using the strategy that was effective prior to the internet, and I believe they are costing their sellers money. We have found that there is a better way to ensure the stalker is not the lone bidder, and it doesn't take a month or two to sell a home. In fact, we find that the homes we sell the fastest are now the ones that generate the most money for our sellers.
Coming Soon
We list a property earlier than we used to. We get the paperwork signed before the seller has had a chance to clean-up the home and stage it for a sale. We refer to this time period as "coming soon" and we do a whole lot more than just put a "coming soon" rider on the sale sign.
In fact, we often spend more money promoting a home during the coming soon stage than we do after it goes live. Why? Because if we do the job right, it sells in the first four days (or hours) of the property going live. The following graphic reveals our strategy for selling a home in the digital age.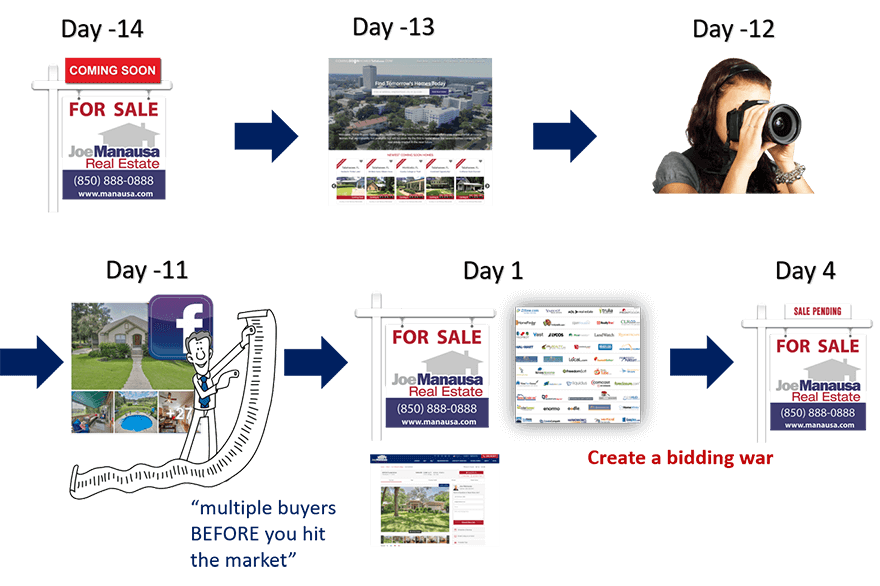 There is a relative time shown above each image. For example, the "sign in the yard" goes up right away. This is typically about two weeks before the property will hit the MLS (what we refer to as "going live"). We enter the listing in the MLS as a coming soon property the next day, but that does not promote it to buyers and sellers, just savvy Realtors.
So the coming soon time period has a negative sign on the days (days prior to going live), and the numbers after that are positive.
Great Lead Generating Website
We have a website that we use solely for the promotion of our coming soon listings. It's really cool, each listing has a countdown time and a counter so that you can see how many people have viewed the property. You can see the site here if you are interested. If you would like a site similar to mine, it is done by these great people.
One great benefit of this website is that it ensures that the stalker knows there will be competition for the house! The stalker will not get a time advantage as was possible in the past, so the stalker knows to bring the best offer forward once the property goes live! Oftentimes, we get calls from agents and stalkers directly wanting to make an offer before the house goes live, and we only allow it in rare times. It's typically better to make them wait so the competition works for the benefit of the seller.
Speed - Not Perfection
You can also tell from the graphic above that we put the house on the coming soon site even BEFORE we get professional photos because we want to get the word out immediately. Once the photos are completed, we can add them to the coming soon listing if we want, but that is not really the purpose of this site. We want to get the word out fast!
The coming soon website serves to send an alert to interested buyers that a new property is going to be available at an exact time and date, and that they better be ready for the competition that we generate!
It's All About The List
I've been relentlessly marketing via many digital channels since 2007, and I have put together a database of nearly 100,000 people in my market area (market size is about 250,000). This list is HUGELY important. When I send out an email about a coming soon listing, the site gets flooded by buyers wanting to check it out. This is how I even the playing field with the stalker (who also gets the email).
Our coming soon site allows for visitors to mark a listing as a favorite, and then they get updates any time we do anything with the property (like add pictures, change text, change price, etc.). Remember, there is a countdown timer and visitor counter on each listing, so people know when they need to see the property.
Social Media Spend
We spend a lot of money to promote our coming soon listings on social media. We know that this is the best way to spread the word, and our goal is to drive people to our listings online. The website and our sales force can take it from there.
Going Live - It Shouldn't Be Long Now
We refer to the day that we go live (Typically 4:00 p.m. on Thursdays) as "Day 1." We expect a sale by Day 4. Why? Because we have reached 95% of the market of prospective buyers for the home. Between our massive list and our reach on social media, ready buyers know about the property. They know when they can see it, and more importantly, they know other buyers know when they can see it.
It is not unusual to have back-to-back-to-back showings on new listings, and we work hard to try to make that happen for each seller. We want buyers to see other buyers there!
Currently, we're selling 23% of our listings for an amount higher than the asking price, and it seems far more common to have multiple offers than it does to have just a single one. The key is working the coming soon period to get the word out.
Take Advantage Of "Coming Soon" Marketing
My advice to anybody not yet enjoying a strong "coming soon" marketing plan is to get started. Whether you put the properties on your existing website or you have a stand-alone site as we do, it will become a great lead generator for you and it will allow you to sell homes fast and for top dollar.
The days of "price it high and then reduce the price over time" are behind us. This outdated sales technique is working to the disadvantage of sellers and the high price is hiding the home from the buyers who are ready to make a decision today. It does not take 60 days to sell a home, so price it right and work the buyers against each other to get the sellers the absolute top dollar for their home.