Tracking Residential Real Estate Weekly
by Mark Schniepp and Ben Wright
April 3, 2020
Just as the spring selling season was about to begin, the real estate market was hit by the Coronavirus recession. What do the direct impacts of COVID-19 mean for the housing market?
As of April 1st, listings of California single-family homes were down 33 percent on a year-over-year basis. It appeared that listings were beginning to increase in February and early March, but turned sharply downward almost immediately after the Trump Administration declared a national emergency on March 13th.
Showings are also down, having fallen by 65 percent from the beginning of the year. Some showings have moved to the virtual space, with reports of "robot" tours and iPhone walkthroughs, but these efforts obviously haven't replaced the traditional in-person experience.

Results seem to be similar in various California submarkets. In the region encompassed by the Conejo Valley, Simi Valley, and Moorpark (a relatively high-priced area of Ventura County) inventory has not yet begun to increase for the typical selling season and is 37 percent lower than March 2019.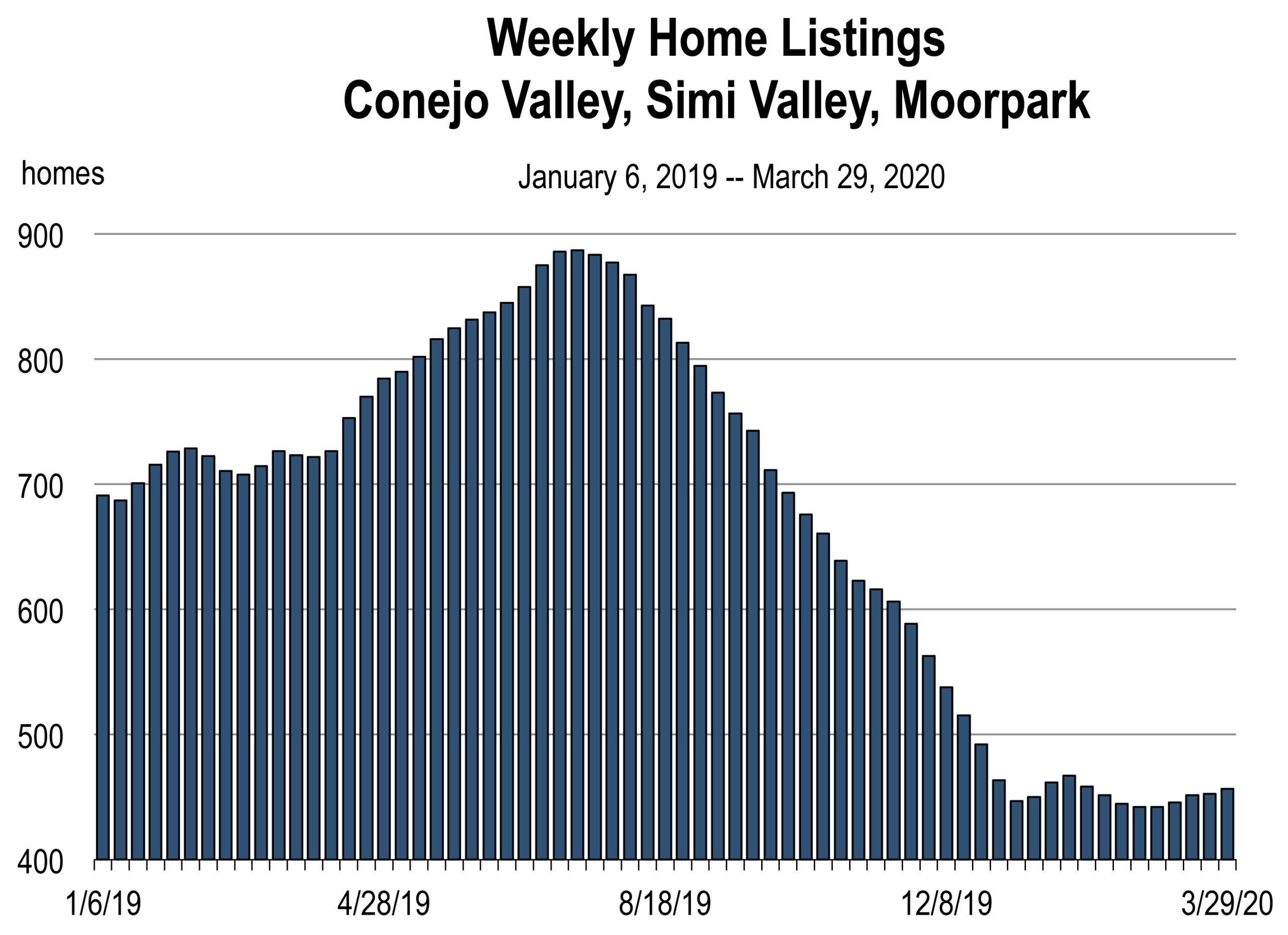 Thus far, the pandemic and resulting economic fallout haven't had any observable impact on home values, but (1) it's still early, and (2) conditions could easily change.
In our local Santa Barbara market, the median price of a single-family home was $1.15 million in the weeks after the statewide shelter in place was issued (March 20th to March 31st), which is only slightly below the same period last year.
Santa Barbara home selling prices were already moderating prior to the pandemic, having declined in both January and February, indicating that the drop in inventory has been matched by a similar absence of active buyers. And across the Conejo-Simi-Moorpark region, prices are still increasing and are up by almost 5 percent from last year. Somehow, sales are rising too.
As more real time information is released on home values and sales, we'll post it to this page.

Mortgage Rates
They have tumbled, which is having an explosive impact on loan refinance.
Though mortgage rates have fluctuated since the Coronavirus inundated the U.S., they are currently near all time historic lows, along with the 10-year Treasury bond yield. As a result, refinance applications surged in March, reaching historic highs.
Refinance activity, tracked weekly by the Mortgage Bankers Association, was 67 percent higher in March than in February, and was 302 percent higher than in March 2019.
Homeowners are rushing to lock in lower rates on their mortgages, which will add to household disposable income at a time when layoffs are increasing and incoming revenue from business is growing scarce.

Special thanks to Chuck Lech for data on the Conejo Valley, Simi Valley, and Moorpark.
---
The Truth About Selling Your Own Home
A lot of homeowners are convinced that if they're willing to put in a little more effort on their own, they'll turn a bigger profit when selling their home. But in most cases, people who sell their own home work too hard and end up with less in their pocket than they would have by getting some help from a real estate agent.
Take the road more traveled by
Statistics show that FSBOs typically account for only a small percentage of home sales, with difficulty in getting the right price named as a common complaint among FSBO sellers. Other complications for FSBO sellers include handling all the paperwork associated with the sale and having enough time to dedicate to the process.
Why settle?
Taking the FSBO route likely means that you're going to end up working much harder than you need to and will end up with less to show for it, as FSBO homes typically sell for less than homes that are sold with the assistance of an agent. FSBO selling prices are typically even lower when the buyer and the seller know each other.
Experience matters
Studies show that about half of FSBO sellers do not actively market their home, and those that do often rely on friends and neighbors to help them with their promotional efforts. By partnering with a real estate agent, sellers have the advantage of working with a professional who has expertise in promoting homes for sale.
Understandably, giving away a cut of your profits after a home sale can seem frustrating. However, consider how much more you cost yourself by not allowing an agent to help you sell your home.