Coconut Carrot Bread Recipe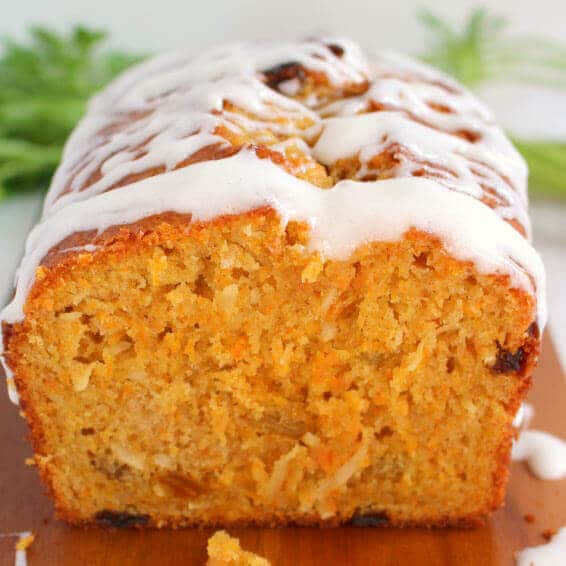 The aroma at our home was wonderful as Chef Dolores made a loaf of Coconut Carrot Bread. 
Coconut Carrot Bread
Loaded with coconut, shredded carrots and golden raisins and glazed with a cream cheese icing, a slice of this coconut carrot bread is like having carrot cake for breakfast!
1 cup shredded carrots

2 large eggs

1/2 cup vegetable oil

1/2 cup plain Greek yogurt

1/2 cup shredded coconut

1/2 cup golden raisens

1 teaspoon vanilla

1 1/2 cup all-purpose flour

3/4 cup granulated sugar

1 teaspoon baking powder

1 teaspoon cinnamon

1/2 teaspoon salt

1/4 teaspoon baking soda

1/4 teaspoon nutmeg
Glaze:
1/2 cup powdered sugar

2 tablespoon cream cheese (room temperature)

1 tablespoon milk
Instructions:
Preheat oven to 350 degrees. Line the bottom of a 9 x 5" loaf pan with waxed paper and spray with non-stick baking spray. Set aside.

In a large mixing bowl, combine the carrots, eggs, oil, yogurt, coconut, raisins and vanilla. Stir until combined.

 In a separate bowl, sift together the flour, sugar, baking powder, cinnamon, salt, baking soda and nutmeg. 

Gradually add the dry ingredients to the wet ingredients and stir until combined. 

Pour the batter into the prepared pan, and bake at 350 for 58-62 minutes. Test by inserting a toothpick into the center of the bread. When the toothpick comes out crumb-free, the bread is done.

Let the bread cool for 5 minutes in the pan, run a knife along the edges and remove from the pan. Remove the waxed paper, and let cool on a cooling rack. 

Stir together the powdered sugar, cream cheese and milk to create a glaze. Drizzle over the top of the warm bread. Slice and serve.
This recipe was provided by Tastes of Lizzy T.  Click on the link to reach the website and register for their email list to receive recipes and to print this recipe and others.
Kentlands Spring Photowalk IMG 2863
Gaithersburg, Maryland USA
Canon PowerShot G11 Camera
Photograph by Roy Kelley
Roy and Dolores Kelley Photographs