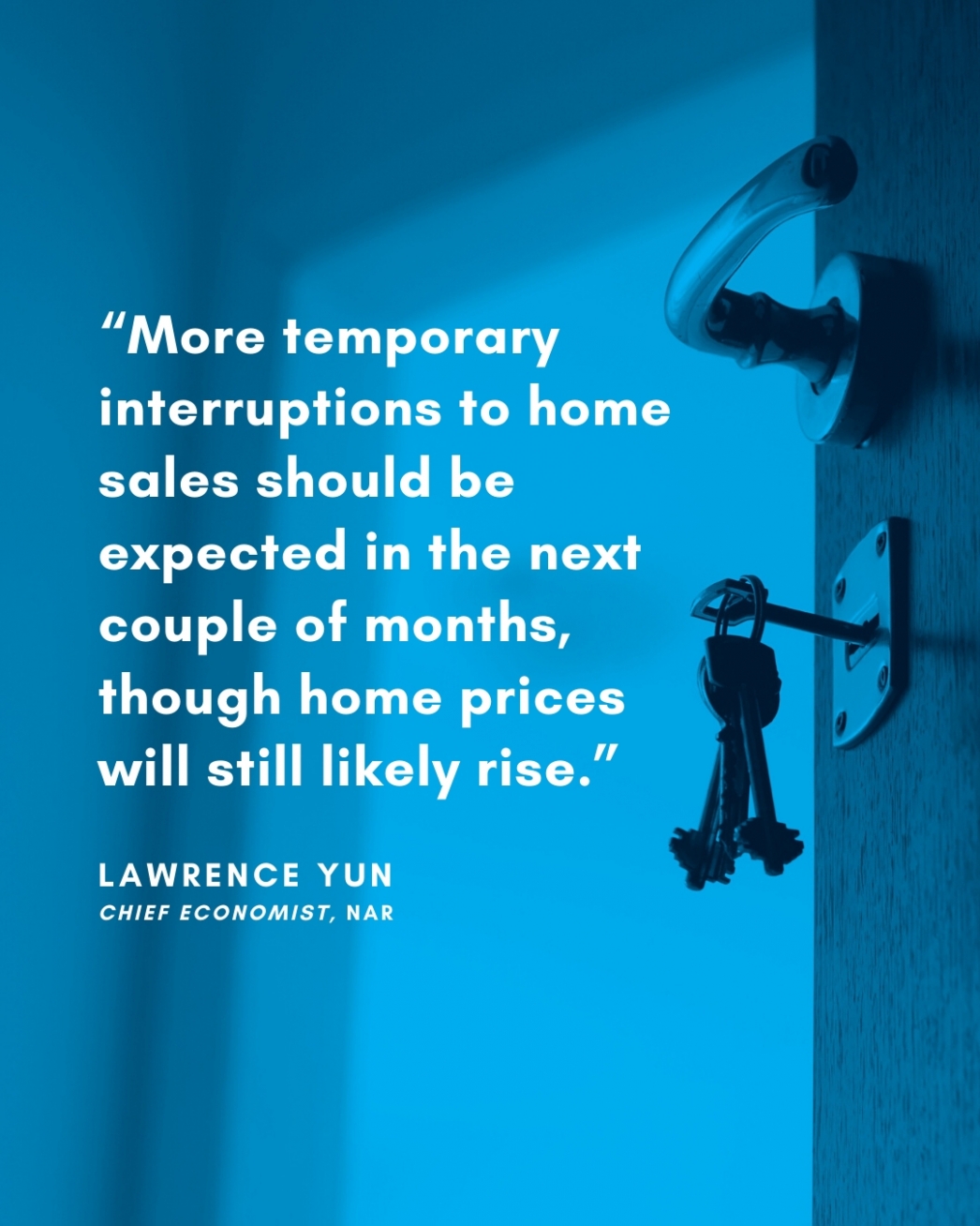 Some Highlights
According to Lawrence Yun, Chief Economist at NAR, home prices are forecasted to rise.
Results from the Existing Home Sales Report note that home sales declined in March due to the coronavirus, but prices are still strong.
Let's connect so you can better understand your home's value today.
Were you shopping for a new home when the coronavirus crisis started? Have you put your homebuying dreams on hold out of fear the financial market will take an even bigger turn for the worse?
While it's true the market has taken a big hit in recent months, that doesn't mean the housing market is in crisis along with it. In fact, history shows that down markets are traditionally a better time to shop for a home.
So, with a limited ability to shop for homes in person, how are buyers keeping the process going? The tips below can help you keep your dreams of homeownership alive during this difficult time.
Turn to the experts.
The first step is to inquire about your home purchasing interest with a real estate agent. The market is tricky to understand, especially during tough economic times. As an industry expert, they'll be able to guide you through the process, and will be honest with you about your prospects.
Be prepared.
Just because buyers may have the advantage in a down market doesn't mean that you won't have to act quickly to get a good deal. Start preparing your finances now, and apply to be pre-approved for a mortgage so the process isn't delayed. Once your finances are in order, you'll be in a better position to make an offer that will be enticing to sellers.
Just ask.
If a seller is really looking to sell quickly, they may be more willing to comply with add-ons to the deal, such as paying for closing costs. As the buyer, you will likely have an upper hand when it comes to finalizing the sale. Not comfortable with negotiation? Your agent can help you, so don't be afraid to let them know what you want.
Know your limits.
Buyers may still be looking to negotiate, but don't give in on your budget because you're worried a better deal won't come along. There should still be plenty of people looking to sell, and the first home you like that comes along won't necessarily be the last. Take your time and weigh your options to ensure you make a choice you're comfortable with. At the end of the day, it's the home you'll have to live in—it should be the right fit for you and your family.
What's most important to remember is that whether it's a buyer's or a seller's market, there will always be homes available and the real estate industry will keep moving. Don't sacrifice your dreams of homeownership. Be patient, and use these tips to have a positive experience.

Los Angeles, Santa Monica,
Woodland Hills, Camarillo,
Ventura
Office
The information contained, and the opinions expressed, in this article are not intended to be construed as investment advice. Keeping Current Matters, Inc. does not guarantee or warrant the accuracy or completeness of the information or opinions contained herein. Nothing herein should be construed as investment advice. You should always conduct your own research and due diligence and obtain professional advice before making any investment decision. Keeping Current Matters, Inc. will not be liable for any loss or damage caused by your reliance on the information or opinions contained herein.
https://chrisbjohnsonrealtor.allisonjamesinc.com/ask/f3dbcb3921f86f5ee5557c696489bc96
5 Star Rated REALTOR #ChrisBJohnsonREALTOR
Sell Your Home For More and Pay Less Using A 5 Star Rated Realtor
https://biteable.com/watch/sell-for-more-pay-less-chrisbjohnsonrealtor-1959786/afffdc699004f8b15891489c4de17b4cbd4e3a75
https://biteable.com/watch/xome-super-seller-1954842
https://www.ratemyagent.com/real-estate-agent/chris-b-johnson-xu316/reviews
http://www.VCNeighborhoodValues.com
http://www.ChrisBJohnsonRealtor.AllisonJamesInc.com/blog.php
http://www.ChrisBJohnsonRealtor.AllisonJamesInc.com/
https://ajirealestate.com/chris-johnson/  
http://my.flexmls.com/ChrisBJohnsonRealtor               IDX
https://www.xome.com/auctions/agent-listings/Chris-Johnson/11009531
https://www.idealestate.co/profile/76080/profile
https://www.simplifyingthemarket.com/en/?a=97822-26df5ea08f8689012df0225866ae0bf1
https://www.linkedin.com/today/author/chrisbjohnson
https://www.linkedin.com/in/chrisbjohnson/detail/recent-activity/posts/
https://www.linkedin.com/pro/chrisbjohnson
http://www.linkedin.com/in/chrisbjohnson
https://activerain.com/profile/chrisbjohnson
https://activerain.com/blogs/chrisbjohnson
https://www.youtube.com/c/ChrisBJohnsonRealtor
http://chrisbjohnsonrealtorluxuryhomes.blogspot.com/
https://moorpark-short-sale-specialist.business.site
https://chris-b-johnson-realtor.business.site/
https://g.page/Chris-B-Johnson-Realtor/  
http://www.facebook.com/ChrisBJohnsonRealtor
http://www.ChrisBJohnsonRealtor.com
http://www.twitter.com/CBJRealtor
https://www.pinterest.com/chrisbjohnsonre/