Has the Coronavirus Affected Your Real Estate Market?
There is one question I hear every week, and nearly every day. Has the Coronavirus affected the local real estate market? My response is "it depends." It depends on how you look at it, what you look at, and are the numbers sufficiently different from past markets?
April is most likely the first full month where you can see some "cause and affect" difference in numbers. Houses that closed in March were most likely contracted in late January, throughout February and into March. Houses that closed in April were likely contracted in late February, throughout March and April. The real impact may not be known until May, but there are differences in the numbers in April. The differences may surprise you.
The total real estate closings (Bright MLS statistics) for Frederick, Clarke, Warren, and Shenandoah Counties and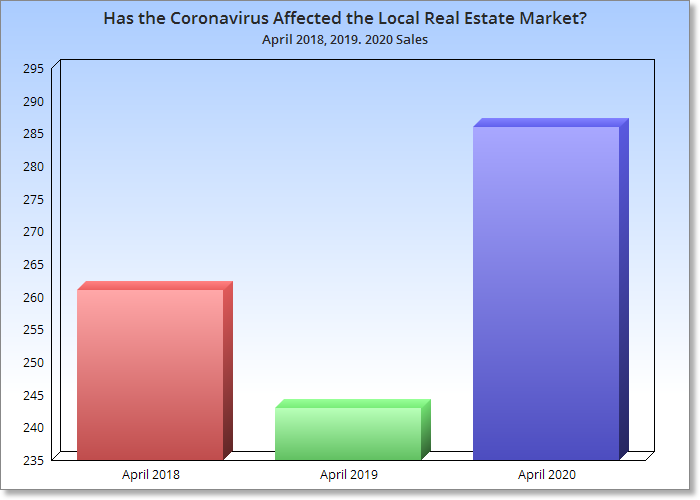 Winchester City were 286. That does not sound like a lot. Ironically, in 2019, that number was 324. Those numbers show a 12% decrease in closings. But 2020 is a 9.6% increase over 2018, which had 261. When you factor in the first four months of 2020, the area had 1035 closings compared to 2019 at 982 closings. That is a 5.4% increase in total number of sales in the first third of the year. The difference between April 2020 closings and April 2018 closings was an 11% increase. The same period difference between 2018 and 2019 was 5.25%. You can see in those numbers, that there is a progression year to year. 
If you are looking for the impact the virus is having on local real estate between last year and this year, it depends on the numbers you look at. If it is simply comparing individual months in two separate years, it is a 12% decline over the past year, but a 5.4% increase in year to date closings over that same period.
What about properties that are pending? Is anything selling? Will that tell us anything? The number of properties under contract and pending in April 2020 were 248. April of 2019 had 243, and April of 2018 had 278. April of 2018 had better pending sales than April 2019 or April 2020. From 2018 to 2019, pending sales dropped 12.6%, but pending sales in the same month of 2019 compared to 2020 grew 2.1%. Here again, it is hard to extrapolate any real impact the virus is having on the market. May 2020 may be the true indicator of impact.
The stock market is said to climb a wall of worry. When looking at the real estate market and economic influencers, I prefer to say the real estate market climbs the staircase of certainty. When the American people finally start to worry about keeping their homes, their jobs, and their possessions, then that certainty will be shaken. If the leadership and talking heads in Washington, D C can give the people some sense of confidence that this circumstance will end soon, the markets may only feel a hiccup. If this circumstance carries in the Fall of 2020 or into 2021, this may make 2008 look like a practice run for another Great Depression. 
This post was originally posted at www.cornerstonehomesales.com: Has the Coronavirus Affected the Local Real Estate Market?. #mikecoopersellshomes, #cornerstonehomesales, #marketreportsandthe virus.