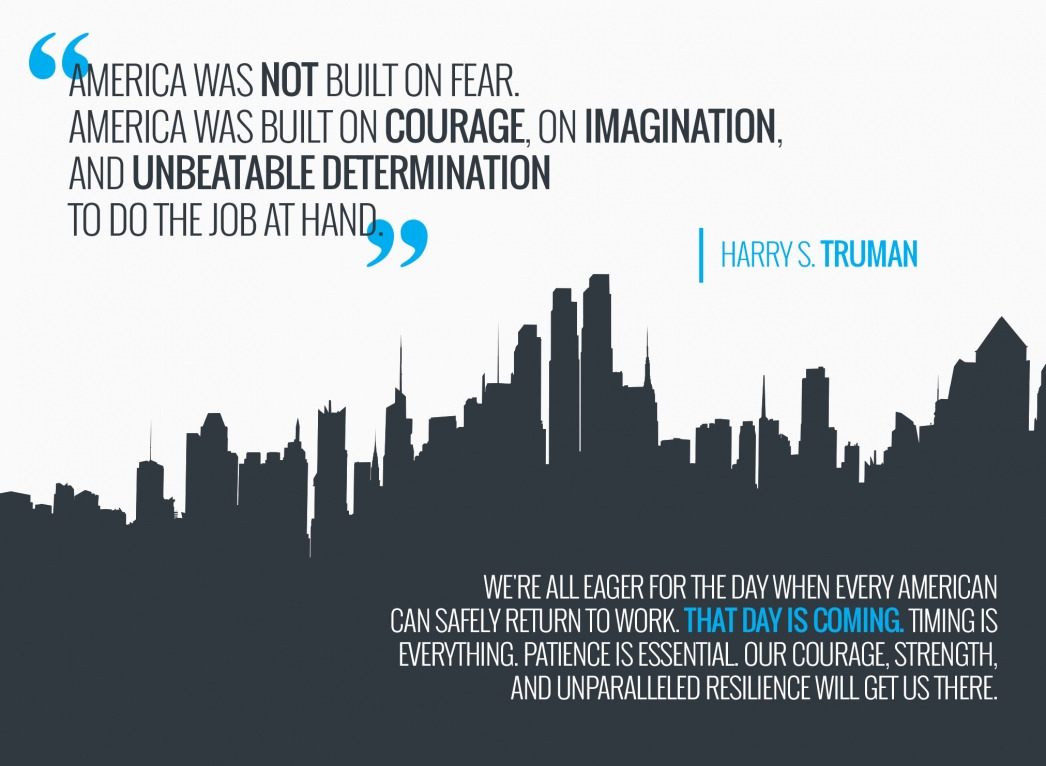 Some Highlights
Taking a moment to reflect upon what we've heard from historical leaders can teach us a lot about getting through the many challenges we face today.
We're all eager for the day when every American can safely return to work. That day is coming. Timing is everything. Patience is essential.
Our courage, strength, and unparalleled resilience will get us there.
Are you looking for ways to mix up your daily routine during quarantine? Here are some ideas for things you can do around the house that you may have not thought of yet to quell feelings of boredom.
Make tie-dye place settings
I'm sure you've seen people tie-dying sweatpants and T-shirts left and right, but it doesn't stop there! For funky place settings that you can use for future parties, or, heck, even now for dinner, turn to this family tie-dye project that kids will love.
Bake something new
Brownies, chocolate chip cookies, and banana bread are staple desserts for a reason—they're easy to make and the perfect treat at the end of a long day. But challenge yourself to bake something out of the ordinary, even if that includes trying cake or cupcake decorating for the first time or experimenting with flavors in your cabinet that are often overlooked. Churro cupcakes, anyone?
Host a faux "party"
Put those tie-dye napkins to use and host a "party" with the people in your home! Pick a theme (this summer of '69 theme will get you excited for summer), get dressed up, and cook a meal with whatever you have in your pantry.
Create a reading nook
If you finally have the time to get around to that reading list, make this activity all the more enjoyable by creating a space just for picking up a book. Choose a spot near a window for optimal lighting and add decorative pillows to your favorite cozy chair.
Switch up your gallery wall
Look through old photo albums and change up the picture frames around your home. It's a great way to reminisce and tell stories, while also making a much-needed decorative change.
Pick a painting project
Whether it's your front door, the mailbox, or a piece of old furniture, now's an ideal time to spruce up certain objects around your home with a fresh coat of paint. New painted house tiles is an easy project to start with.
The information contained, and the opinions expressed, in this article are not intended to be construed as investment advice. Keeping Current Matters, Inc. does not guarantee or warrant the accuracy or completeness of the information or opinions contained herein. Nothing herein should be construed as investment advice. You should always conduct your own research and due diligence and obtain professional advice before making any investment decision. Keeping Current Matters, Inc. will not be liable for any loss or damage caused by your reliance on the information or opinions contained herein.