As the real estate industry continuously incorporates more advanced technology in marketing properties, it has taken a massive step towards creating a high-end viewing experience for prospective clients. This is made possible through Matterport, a three-dimensional camera system that allows the creation of accurate and realistic virtual tours. With this refined system, potential buyers can take an in-depth tour of residential or commercial real estate properties anytime, anywhere through their computers, mobile devices or even a VR headset. Never has viewing a property been more accessible and immersive as it is with Matterport!

Matterport works through a simple but sophisticated process. With a Matterport subscription plan, you can easily produce a 3D twin of any property. This allows you to capture accurate data, depth and imagery; process your scans of a space through the Cortex AI platform that creates the space's 3D digital twin; customize your 3D walkthrough; and publish the 3D version of your property on different platforms including social media, your own website, Google Street view and Realtor.com, or generate 4K print quality of the property in multiple file formats (photos, videos, animated GIFs, JPG, PDF). Ultimately, Matterport SDK gives you the power to provide an immersive, interactive experience for your customers by integrating third-party services, and building entire applications using Matterport's 3D data and Showcase app.

Advantages of Matterport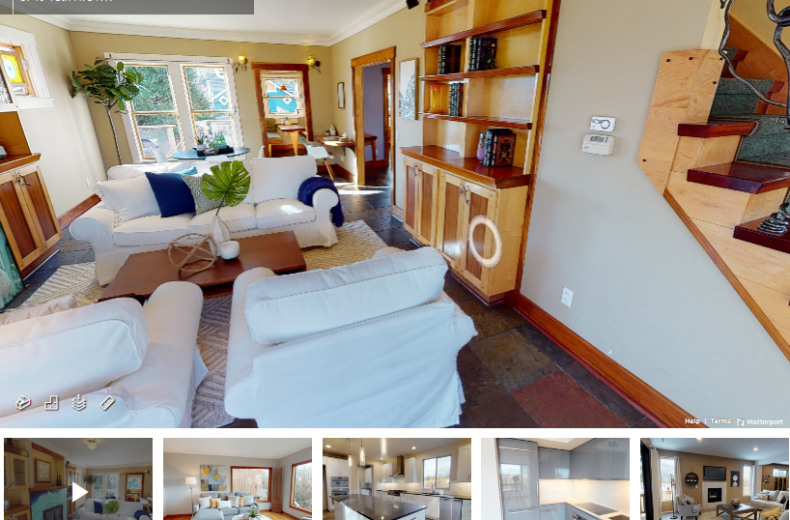 •    High Quality. With the use of Matterport, you can create highly realistic virtual versions of any property that gives the viewer a feel of the space without physically being there. The 3D renderings provide an interactive experience without compromising quality. Moreover, it allows the viewer to explore the location from any angle from a first-person viewpoint and get a 360-degree view of the property.

•    Versatility. This system is very versatile for it opens the possibility of virtually scanning any space which benefits many industries such as residential, commercial, construction and hospitality sectors.

•    Precision. One of the best things about using Matterport is its precise system that allows you to scan up to 10,000 square feet per project. Impressively, the scan results are dimensionally accurate within 1% and can create spatially accurate schematic floor plans, which enables your customers to have exact and in-depth information about the property.

•    Customer Satisfaction. Given that most customers want to see a property before they actually come to visit it in person, providing accurate information on what the property has to offer increases clients' confidence in their decision to physically tour the property, and adds to the professionalism of your business. The great customer experience and professional image provided by a virtual tour can become your edge in the competitive world of real estate industry.

•    Audience Expansion. Creating a virtual tour that can be viewed anytime, anywhere will generate a larger pool of potential clients. This is because providing a 3D tour of a property to customers who live far away from the location and to those who have no time to do viewings in person is a means of proactively meeting your customers' needs. And really, opening this whole new experience for prospective buyers might just be the boost you need to up your sales.

•    Flexibility. Lastly, Matterport gives you a wide range of cameras that can accommodate all your capture needs. This gives you enough flexibility to create any property's 3D digital twin of any size, scale and complexity.
    
If you want to benefit from the innovative features that Matterport offers, here are 6 Matterport 3D Cameras you can use as you begin your journey in 3D scanning for real estate:

1.    Matterport Pro2 3D Camera

On top of this list is the 3D camera that is considered the "gold standard for 3D capture" which works with Matterport Professional and Business plans. The Pro2 3D camera can be used for both simple residential properties and large, complex commercial spaces. It captures exceptional 3D accuracy within 1% and superb image quality. Furthermore, it features 134 megapixels and a long lasting battery for the price of $3,395.

2.    Insta360 One X

This 360 camera has a leading image quality of 5.7K resolution that ensures the sharpness of your 360 degree videos. It features Flow state stabilization and Drift shots, giving you smooth shots of impressive angles. This is great for marketing vacation and nightly rentals. Fortunately, Insta360 One X works with all subscription plans.

3.    Leica BLK360

This LIDAR based camera boasts the highest level of 3D accuracy within 0.1% and a 150 megapixel full-dome capture. It is great for large spaces or outdoor locations, and it features a 3-camera system. You can use this camera to capture 3D digital twins of a property with either the Matterport Professional or Business plan.

4.    Ricoh Theta V

Just like the Insta360 One X, Ricoh Theta V also works with any subscription plan. For $272.99, you can purchase this easy-to-use and lightweight spherical camera which you can bring to shoot everywhere. It is equipped with the advanced image processing device Snapdragon, giving you a high image quality and stunning stitching of your real estate scans. Moreover, it allows you to smoothly shoot 360 degree videos even in the most demanding conditions.

5.    Ricoh Theta Z1

Ricoh Theta Z1 can be used with any Matterport subscription plan to capture high-definition 360 degree images in 23 megapixels and videos at 30 fps in 4K. This offers superior noise reduction performance and RAW shooting. Moreover, this 360 camera is equipped with an organic EL panel on a compact body that allows you to see the battery level, shooting mode, remaining numbers of images that can be shot, as well as the F value and ISO value.

6.    iPhone

The Matterport system is also compatible with iPhone 6s and later models. With a Matterport subscription plan, you can simply use your iPhone camera to capture any space in 3D. This is especially perfect for scanning rooms and small spaces that you want to share with your friends, family and colleagues, which can easily be done through social platforms. You can choose to avail a free Matterport subscription plan or the ones that are ranging from $9 to $309/month depending on your needs.

    
With these many cameras to choose from, you should pick the one that suits your capture needs as well as your budget. Be bold in capturing your properties with the Matterport system and soon enough, you may just find more of your listings being sold one after another.