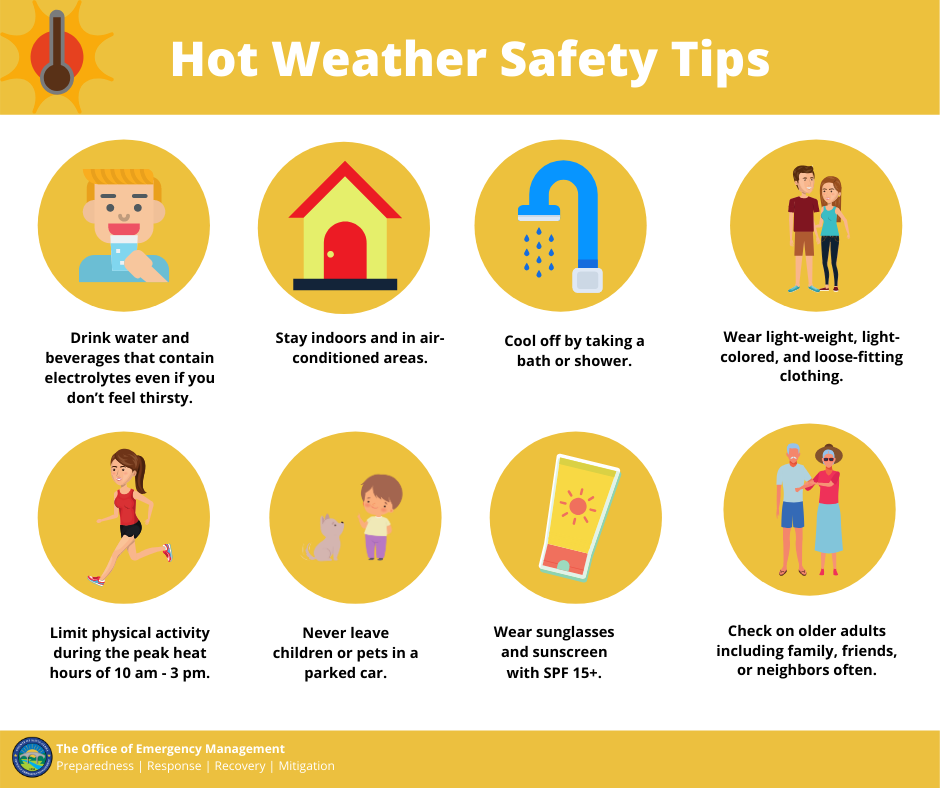 ☀️ Safety Tips to Stay Cool & Beat the Heat ☀️
It is going to be another hot day in Silicon Valley.
To help folks stay safe, the Campbell Police Department shared these safety tips via NextDoor. Please follow these hot weather safety tips to help protect yourself and loved ones from heat-related illnesses. Special precautions should be taken by those that are at increased risk such as the elderly, children, pregnant women, those with chronic illnesses/disabilities, or those that are socially isolated.
☀️ Stay hydrated
☀️ Avoid physical activity during the hottest time of the day, between 10:00 am - 3:00 pm.
☀️ Never leave children or pets in a closed, parked car
☀️ Stay in air-conditioned areas
☀️ Cool off by taking a bath or shower
☀️ Wear lightweight, light-colored and loose-fitting clothing that breathes and allows sweat to evaporate
☀️ Wear sunglasses and cover your head with a wide-brimmed, vented hat or use an umbrella when outdoors to prevent absorption of heat
☀️ Wear sunscreen with SPF 15 or higher when outdoors
☀️ Rest often in shady areas when outdoors
☀️ Check on elderly family, friends, or neighbors often
Check on the availability of local cooling centers if air conditioning is not available at one's residence.
The City of Campbell Cooling Center will be open May 27 and May 28 from 1:30pm to 8:00pm, at the The Roosevelt Room Q-80 at the Campbell Community Center, 1 W. Campbell Ave., Campbell.
🔹Please Note: Attendees will need to self-screen for COVID-19 and wear a mask at all times. Tables and chairs are placed a minimum of 6-feet apart. Stay cool, stay safe and beat the heat.
Images courtesy of Campbell Police Department.
Thanks for reading "Tips to Beat Silicon Valley Heat on May 27 & May 28."