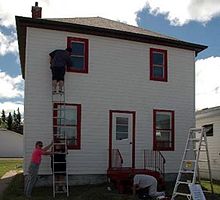 May 29 is Paperclip Day Celebrating Trading Up to a House!
Did you know a man traded up a single red paperclip up to a single family house? Invented sometime in the 1870's, paperclips make sorting papers easier for office workers worldwide. 
As defined in www.wikipedia.org, a paperclip is a device used to hold sheets of paper together, usually made of steel wire bent to a looped shape. Most paper clips are variations of the Gem type introduced in the 1890s or earlier, characterized by the almost two full loops made by the wire.
According to the Early Office Museum, the first patent for a bent wire paper clip was awarded in the United States to Samuel B. Fay, in 1867. This clip was originally intended primarily for attaching tickets to fabric, although the patent recognized that it could be used to attach papers together. 
The most common type of wire paper clip still in use, the Gem paper clip, was never patented, but it was most likely being produced in Britain in the early 1870s by "The Gem Manufacturing Company". In Norway, paperclips are still referred to as Gems, similar to the way that tissues are often referred to as Kleenex.
One red paperclip is Canadian blogger Kyle MacDonald's website where he tracked his trades online, from a single red paperclip to a house in a series of fourteen online trades over the course of a year.
Kyle MacDonald reportedly was inspired by the childhood game Bigger, Better. "A lot of people have been asking how I've stirred up so much publicity around the project, and my simple answer is: 'I have no idea'", he told the BBC.
Here is the list of MacDonald's fourteen trades from the one red paperclip to the house.
Today there's a statue of a red paperclip in Bell Park in the city of Kipling, Saskatchewan, near the house where Kyle MacDonald now lives, thanks to one red paperclip.
I currently have a handful of colored paperclips in my possession today and I am open to trading them up to a San Jose house in Silicon Valley, Calif.-or something else? What will you trade me for one of my red, yellow, blue or green paperclips?
Images courtesy of www.wikipedia.org. 
Thanks for reading "May 29 is Paperclip Day Celebrating Trading Up to a House!"