These days almost everyone in Europe is watching the European Soccer Cup or Football as it is called. As a disclosure my team is Germany and I was very disappointed with Thursdays lost against Croatia.
But what does Euro 2008 and the real estate have in common? Like in sports things don't always happen the way you are expecting them to turn out when it comes to buying or selling a house. In the example of the German team, they were amongst the favorites to win, now they have to worry about even making it into the next round. Or who would have thought the World champions Italy are in trouble so early on in the competition and what about France, they are already out.
Anyway my point things don't always happen exactly the way one would expect them to happen. To get back to the real estate market buyers and sellers alike have expectations and they want all their expectations to happen even if they are not very realistic. At this point it is less likely for Germany to win, but I still believe the German team will end up as the European Champions. Until the facts are proofing me to be wrong I keep believing.
As a Realtor my job is to provide my clients with as many facts as possible for them to make an educated decision. Will they always make the decision I expect them to make, probably not, but I believe in helping my clients to make the unlikely happen. Champions aren't born overnight, they have to work hard on becoming champs and it takes countless hours working out to become a star like Michael Ballack and company.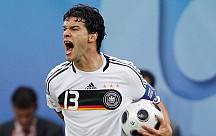 It is the same working with buyers and sellers. Nothing just happens overnight. It take hard work, countless hours and more, to make the unlikely happen. After all we work for our clients and the goal should always be 100 % client satisfaction. If I am able to help my clients nett more on the sale of their house, or help them spend less money buying a house, I am likely to have happy clients. *
My conclusion, in sports, like in real estate you will not get very far without working hard and smart.
Having said that go Germany......
* As a side this doesn't mean Realtors should work with clients that are completely out of touch with reality since this would be a waste of the Realtors as well as the clients time. Hard and smart work only get you so far, but they will not overcome market reality.
Claudia Sabine Nelson
Prudential Carruthers REALTORS
*******************************************************
Oh... by the way, I'm never too busy for your Referrals
*******************************************************
Office: 703-497-7788
Cell: 202-299-7671
Office Fax: 703-497-8857
Website: www.Claudia.Nelson.pcragent.com