- Mott Marvin Kornicki, Notary Public -
Cell-Text 786-229-7999
Services Offered
We offer all types of notarial services including apostille, authentications, witnessing, wedding officiant, motor vehicle recovery documents, birth, and death records, travel documents, oaths, certified copies, school transcripts, business documents, wills, estates, and more.
               Notary & Apostille
My name is Mott Marvin Kornicki and have been a duly appointed - bonded and insured notary public in and for the State of Florida since 1980 - there is no notarial act that I am not familiar with! I typically travel to my customers - but am also available at my office.
Let Me Tell You More...
I moved to Miami from New York in 1972 and attended Nautilus Junior High School of Miami Beach, Miami Beach Senior High School and University of Miami. My studies included Business Law as well as Real Estate. I'm a Miami Native, having been a resident for over 40 years! I take pride in providing quality services at a reasonable price. I'm Mott Marvin Kornicki - a duly appointed, bonded, and insured Florida Notary Public and Apostille.
 Customer Service Areas
We proudly serve the following communities; Aventura, Bal Harbour, Bay Harbour Islands, Belle Meade, Brickell, Coconut Grove, Coral Gables, Davis Harbor, Eastern Shores, El Portal, Fisher Island, Golden Beach, Indian Creek Village, Keystone Point, Miami, Miami Beach, North Bay Village, North Beach, North Miami, North Miami Beach, South Beach, Sunny Isles Beach, Surfside, The Waterways and Williams Island. 
What Documents Are in a Real Estate Closing Package?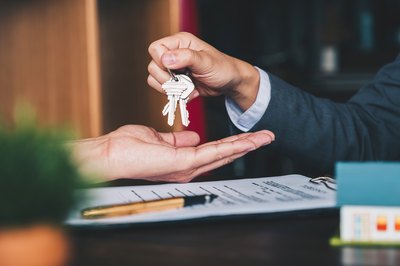 After you've done the hard work of submitting all the paperwork necessary to secure the financing for your new home, it's time for the closing process.
After you've done the hard work of submitting all the paperwork necessary to secure the financing for your new home, it's time for the closing process. At this time, you'll obtain the title to your new property and ultimately the keys for you to move in. During the closing meeting that usually includes you, the seller, your real estate agent and closing agent, you'll review several pages of documents in a closing package and sign them as necessary.
Some common closing papers you can expect include your completed loan application, mortgage promissory note, deed of trust, loan estimate and closing disclosure, bill of sale, title insurance documents, affidavit of title, escrow statement, tax documents and a notice of right to cancel. This list isn't comprehensive and will depend on your specific transaction, lender, mortgage program and location.
Closing Package Contents
The most common closing papers include numerous real estate transfer documents and home loan documents, but your exact package will depend on factors like your lender, mortgage program, and location-specific requirements. Your lender usually provides many of these documents from your real estate closing package a few days before your closing date to give you time to review them for accuracy.
Mortgage Loan Application
Unless you didn't need to finance your home purchase, you filled out a mortgage application with information about each borrower, income sources, employment, liabilities, and assets as well as made declarations your lender asked you about. Behind the scenes, your lender had filled out a comprehensive loan application that included the loan terms, information for the purchased property, your housing expenses, and existing debts along with other transaction details. You'll find a copy of your signed application in your real estate closing paperwork, and you should check it to make sure the information is all still accurate.
Mortgage Promissory Note
The mortgage promissory note acts as the official promise that you will repay your mortgage according to its terms. It contains basic information such as the loan's interest rate, original principal amount, payment dates, and loan term. It will also show you what you can expect to pay in total over the term and whether your payments stay fixed or are subject to change. Lastly, the note mentions the penalties for not making your mortgage payments on time and informs you how to make payments, including where you can mail them in or pay electronically.
Loan Estimate and Closing Disclosure
A few days after you submit your mortgage application, your lender responds with a loan estimate form that shows your mortgage payments, interest rate, any relevant expenses, potential closing costs, and services that you may have to pay for. Your closing package will contain your loan estimate document for your reference so that you can compare it against your mortgage promissory note and closing disclosure. This will ensure that the loan you're taking on lines up with the terms you originally agreed to.
Similar to the loan estimate form, your lender usually sends the closing disclosure a few days before your scheduled closing. It may include updates such as a new interest rate if rates have changed since the original estimate. It will also have your final closing costs in an itemized listing, projected payments, loan disclosures, contact information for all parties involved in the transaction, and detailed transaction information.
Deed of Trust or Mortgage
The exact term for this crucial document can depend on where you buy the property. But in any case, its purpose is the same: to act as a security instrument, where your home is the security (or collateral) in case you default on your loan payments. This gives your lender, who owns the home until you pay it off, permission to foreclose on the home if you stop paying. You'll also find a detailed explanation of the borrower's rights you have along with your lender's rights.
Affidavit of Title
Your closing package's affidavit of title serves to protect you as the homebuyer in case problems occur with the seller and the home's title. For example, this document has statements saying the seller is only selling the property to you and not some other party, that the property doesn't have any liens on it and that the seller has the rights to sell the property. It usually also has a statement that the seller's not currently in the bankruptcy process and may address the issue of any current mortgage the seller has on the property.
Title Insurance Documents
You'll usually receive a title insurance commitment document after you open the escrow account. This document serves to assure you the title company will give you rights to your new home after you have a successful closing. It includes details about the current title owner along with any liens or judgments that may be on the house. If there are any problems with the home's title, the seller must take care of them before you can close on the home.
You may also find other title-related documents in your real estate closing documents. These can include notices about any legal professionals working with the seller to resolve title issues, limitations in your title insurance policy, and whether your lender has some affiliation with the title insurance company. You'll usually also sign a form that verifies your identity.
Proof of Homeowners Insurance
You'll need to assure your lender that you have insurance that will cover the home's replacement value in case something happens to the property. Therefore, you'll have to purchase a homeowner's insurance plan before you close on the home. Your lender will have you submit proof of the insurance that you'll need to show at closing. If you live in an area prone to flooding, you may have to obtain flood insurance and submit proof of that policy as well as part of your closing documents.
Bill of Sale
This document will address the personal property that you receive along with your new home and serves to transfer ownership from the seller to the buyer. This can range from appliances and systems like air conditioners and light fixtures to cable TV and home security systems. Expect to see an itemized list for your reference, and you should review the document to ensure that you're getting all the items the seller agreed to when they accepted your offer.
Certificate of Occupancy
If you had a brand new home built or purchased an existing new home, you'll have a certificate of occupancy in your closing papers that will verify the building meets local building codes for safety and quality. This document usually shows zoning information along with building classifications and descriptions of the allowed usage for the property. You may also get this document if you bought a property zoned for another use, such as commercial, and will use it for residential purposes instead.
Notice of Right to Cancel
If you're refinancing your primary home or taking out a home equity line of credit, you will review and sign a notice of right to cancel form. This form states that you'll have three business days after you sign the document during which you can contact the lender to cancel the loan. The document may provide the deadline or have you estimate it yourself; you can ask your lender if you have any confusion about how long you have to cancel.
Initial Escrow Statement
Your lender allocates part of your mortgage payments to your escrow account to pay for property taxes and homeowner's insurance premiums. Your closing package will have a disclosure statement that states the amounts of your monthly payment going toward the loan principal and interest along with the escrow expenses. You'll also see a list of a year of projected escrow deposits and disbursements along with total starting and ending amounts. Your statement will often mention how your escrow deposits may change due to fluctuations in property taxes or insurance costs along with what happens to any excess amounts collected.
Tax-Related Closing Papers
Checking with your state's department of taxation or your local government's website will let you know if you have to pay any property transfer fees as part of the home purchase process. If so, you'll find a transfer tax declaration document in your closing package that will help you determine the tax you owe based on the home's purchase price.
You can also expect to find some tax documents related to your lender requesting a transcript of your tax return. You'll find IRS Form W-9, which is needed due to the mortgage interest deduction you can take on your property.
Property Inspection Documents
As part of the home inspection process, your lender may require that you obtain a termite inspection. This will require having the inspector fill out a certification about your property and may require you to get any necessary treatment as well as repairs before closing on the loan. Although you may not have this requirement for conventional loans, the Federal Housing Administration and Veterans Affairs loan programs make it a requirement.
Your lender may want to see the results of a radon test as well as a water test if you use well water. The latter usually involves presenting a government certification that the water meets sanitary standards and that the system is up to code.
Other Real Estate Closing Paperwork
In addition to the items listed previously, you can expect to review additional documents specific to your mortgage program or the state where your property is located. Your lender will inform you of any specific documents you need to fill out or review for the closing process.
For example, if you obtained a VA or FHA loan, you can expect to read and sign an addendum to your loan application to agree to the terms of that mortgage program, such as any upfront fees or mortgage insurance premiums. You may also have to certify you meet the requirements for that program; this can include agreeing that you don't have other loans taken out that you didn't disclose. If you participated in any special down payment or closing cost assistance programs, you'll find similar terms and conditions documents in your closing papers.
Governmental documents with a surveyor's description of your purchased property and a compliance agreement from your lender are also usually a part of closing paperwork. Location-specific documents informing you about your rights as a borrower are also common. If your home came with a warranty, a closing document with the warranty terms and contract will likely be included.
Keeping Closing Paperwork
After completing your closing papers and getting the keys to your new home, you may feel tempted to not keep the large number of documents your lender or realtor has given you. This can happen especially when your lender gave you paper rather than electronic copies. However, it's a good idea to store your closing papers somewhere secure since you may need to reference them for purposes such as making claims, selling your home, proving ownership and reviewing terms and conditions.
While you should maintain all documents if possible, some of the most important ones to keep on hand – in the original versions, if possible – include the purchase agreement, deed, closing statement, and promissory note. If you don't get one, you can also request to download your closing files from your realtor or whoever completed the transaction.
MIAMI NOTARY & APOSTILLE
Mott Marvin Kornicki, Florida Notary
E-Mail: MottKorn@iCloud.com
Phone/Text: 786-229-7999