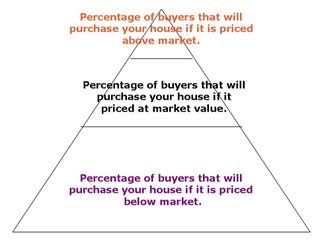 Another geometry lesson...I call this one Who Will Buy at What Price? It's really quite simple once we break down the triangle.
Starting at the base, we can see that the largest percentage of house buyers will purchase a property that is priced below fair market value. Even if the house is not exactly what a buyer is shopping for, the majority of buyers will flock to an undervalued property.
Just the opposite, only a small percentage of buyers will decide to buy an overpriced listing. It doesn't matter how special the house or the amount of amenities, the market will reject an overpriced house.
Another substantial part of the population will decide to buy a house that is priced correctly. Not everyone is looking "for a deal". Many shoppers are content to pay fair market value. This is the scenario that creates a win-win.