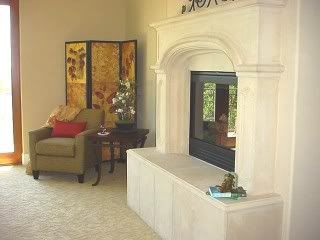 "Staging?" What does this term mean with respect to residential real estate? I'm sure you've heard about staging; the TV home shows, especially the real estate ones, have greatly contributed to this burgeoning trend. In fact, these shows make staging seem like an everyday real estate occurrence coast-to-coast. Like almost all real estate trends that become standard practice, staging originated on the Pacific and Atlantic coasts and moved inwards toward middle America.
According to professional stager Lori Matzke, "Professional home stagers are practiced in the art of preparing a home for resale. They work with the 'flow' of a home, eliminate clutter, edit and arrange furniture, and even assist in enhancing curb-appeal. With the aid of a professional home stager, your house can make a notable first impression on potential homebuyers."
Staging is a new concept here, a practice still in it's infancy in Katy real estate sales. During the 19+ years that I've been a Katy Realtor, only recently has home staging become a topic to discuss at listing appointments. Don't be fooled by the slow start as staging is rapidly becoming the standard and not the exception. Every seller wants "a leg up" on the competition and staging is often that very edge.
The new construction industry has always employed "merchandisers", someone who is a combination of an interior decorator and marketer. A merchandiser is responsible for decorating a builder's models and implementing "theme rooms" like nurseries and media rooms. Stagers create very much the same ambience for resale homes; usually, they use the homeowners own furniture and decorative pieces.
There is now a national professional organization, Real Estate Staging Association, RESA, that includes stagers with a wide range of training, certifications and designations. The Real Estate Staging Association is the member run trade organization for professional stagers in North America. They provide support services and educational resources for professional stagers in addition to providing vital information regarding the benefits of staging to Realtors and consumer. They have a fascinating website: www.RealEstateStagingAssociation.com.
So, what's this cost? There's a variance in pricing depending on many factors including the length of time a stager has worked professionally; whether they will have to bring their own decorative pieces into the home; and, how much time you will employ the stager. If you are interested in visiting with a stager prior to putting your house on the market, feel free to contact me, www.get-me-to-katy.com or 713-818-2404. I will be pleased to give you a list of Katy area stagers.