Oak Ridge, Tennessee is a small town about 12 miles northwest of my home.
It's a small town that has done some very big things, i.e. developed and manufactured the atomic bombs that ended World War II, leaders in nuclear research, have one of the 5 fastest supercomputers in the world, and lots of other things we don't know about because a great deal of their work there is highly classified.
Every year they have a festival to celebrate their World War II heritage with the technological advancements that are ongoing within the City of Oak Ridge.
For those non history majors the City of Oak Ridge was only built in 1943 when the United States learned Germany was working on developing their own atomic bomb and knew we had to build one first.
Both the laboratory and the nearby city of Oak Ridge were built by the United States Army Corps of Engineers in less than a year on isolated farmland in the mountains of East Tennessee. Oak Ridge became a "secret city" that within two years housed more than 75,000 residents. The rest as they say is history.
One of the events in the Secret City Festival is a reenactment of a D Day battle (some great battle footage here) staged by WW II reenactors.
I went over today to watch the action. It was quite a show (noisy show) with about 100 'soldiers' on each side with lots of World War II era equipment including some tanks, half tracks, cannon, and one of the strangest motorcycles you've ever seen.
It was an epic battle that lasted about 45 minutes with lots of blank ammunition being shot, "cannon shells" exploding all around, and lots of great acting.
This is an M5A1 Stuart light tank
Motorcycles like this one carried messages between commanders
This is the grandfather of the current Army Hummer, the Original Jeep
This was the German Army's counterpart to the American Jeep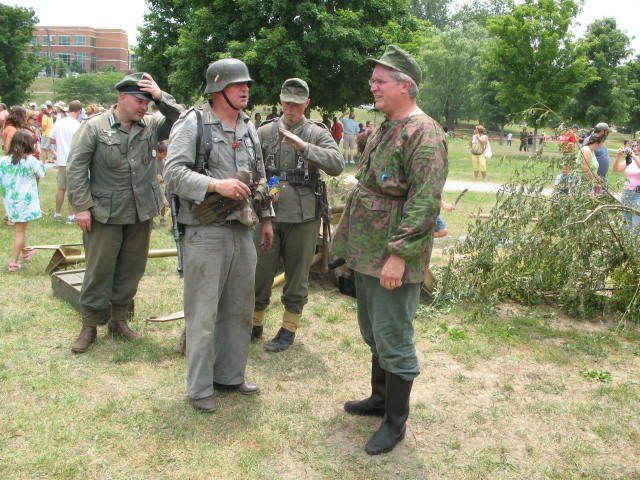 Some of the "German Army" taking a break between battles.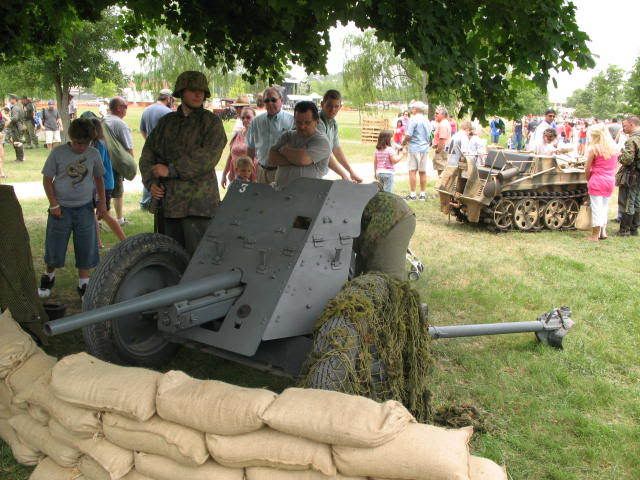 This is German Army light anti tank cannon
This very strange looking motorcycle is called a "Kettenkrad"; it a cross between a motorcycle and half track. It has a fascinating history. It was abandoned after the war and was used for many years by a farmer in Holland to pull a plow. Tom Arter, a WWII battle re-enactor restored it and rides it in several battles a year.
If you're ever around east Tennessee in late June be sure and schedule a visit to Oak Ridge's "Secret City" Festival; there are event for all ages and the battle reenactment is always a hit. The crowd today was estimated at over 9,000 spectators.
It's not all shooting and war stuff; here's a schedule of events. The headline show this year is a concert by Mary Wilson of the singing group "The Supremes".